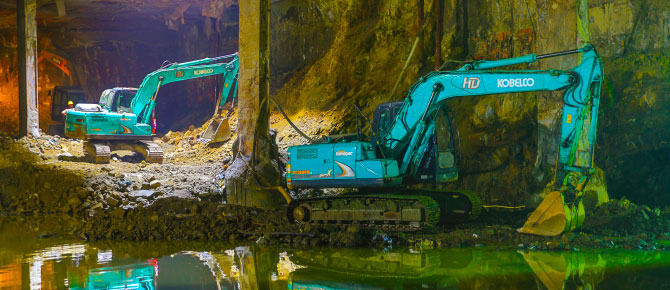 Kobelco machines are 10th Generation machines, at par with Global Technology
KOBELCO has always focused on delivering greater VALUE to the Customer through innovative features and solutions Kobelco offers machines that are versatile and cover a range of applications as well as ones that are purpose-built for highly specialized applications. In an exclusive interview to CONSTRUCTION OPPORTUNITIES, E. MOSES – EXECUTIVE VICE PRESIDENT – DIVISION HEAD, KOBELCO CONSTRUCTION EQUIPMENT INDIA PVT. LTD, speaks about the mining industry, his company's products, aftermarket services and a lot more.
Give a brief overview of the mining equipment industry, market dynamics, latest trends and the sector challenges.
With potential in the coal, mineral, and metal mining industries, the future of the mining equipment industry looks promising. The main drivers of this market are the expansion of mining operations and the rising demand for metal and mineral products in developing nations like India.
Recent years have seen the emergence of several trends that have an impact on mining equipment, such as a move towards sustainable mining and the use of equipment leasing as a business strategy. Mining businesses are aiming for net zero emissions and energy-saving mining techniques into their operations in order to fulfill their social, environmental, and corporate governance objectives. Of lately, there seems to be a trend towards renting and leasing earthmoving equipment. Thanks to tax advantages and flexible financing options, leasing is anticipated to expand. Telematics has proven to be a game-changer in the mining sector. Reduced downtime due to failures is ensured by features like Geo Sensors, which can provide feedback to the fleet manager and aid in the planning of maintenance tasks.
Other trends that have been noticed include the use of equipment of various sizes and the introduction of modern technology in the equipment sector. The ergonomics of the machinery have been improved to enhance operator comfort and lessen fatigue. Beyond building effective, durable, and reliable machines, equipment manufacturers also integrate cutting-edge user-friendly technology solutions into their products, enabling operators to work more productively and efficiently. Technology developments to enhance the working conditions for mine workers' health and safety are also gaining popularity.
Large equipment is also being employed more frequently as projects develop in size and scope. This offers sales efficiency and lowers operating expenses. Where we used to give our 30-ton excavators are now demanding 50-ton model. But with the growing demand for the outsourcing model, smaller-sized equipment is also frequently used due to cost economics and operational flexibility.
With these trends there are some challenges faced by the mining equipment industry. Cost competition and equipment finance are two of the major issues the mining equipment sector is currently facing. The use of lower priced equipment by mine operators, particularly government clients, makes it extremely difficult to standardize equipment pricing. It is difficult for equipment makers to set the pricing of their products in a way that both generates profit margins and maintains cost competitiveness. Meanwhile, a sizable portion of a mining company's investment budget goes into the purchase of equipment. The purchase of new equipment becomes difficult when cash flows are tight, and the sector's overall growth is modest. Additionally, as the inventory of equipment grows, so do the costs of routine maintenance and the working capital cycle.
Other difficulties the mining equipment industry faces include insufficient information on technology and automation. A significant problem is the shortage of skilled workers, which eventually results in a reduced level of equipment utilization for a corporation.
Tell us of your various product offerings, applications and their demand in the Indian market. Any new products launched or enhancements to the existing product line, detail us on the same.
Kobelco has a range of excavators, the mini excavator range starts from 3-ton. In the excavator range, we offer a 14-ton, 20-ton excavators, and it goes all the way up to 38-ton for projects like road, infra, sand etc. For mining we have 52-ton and 85-ton excavators. Depending on the scope of the work at hand, we encourage and guide our customers to make the right selection to get optimum results. Kobelco has been known for continuous innovations in its product lines. Our excavators have been trendsetters in terms of technology and quality of material. These machines are silent, and their decibel levels are very low. In terms of technology, the machines use the highest level of Mechatronics. The engine and hydraulic components combination works as per the required load. So, if there is a lighter load, it will use a lighter cycle and if it's harder work then it will switch as per requirements. Kobelco's Generation 10 series delivers a set of values which take performance to the next level. Best-in-class fuel efficiency, faster operating cycles, highly durable structures, enhanced filtration systems, lower carbon footprint, longer service life of all major components, etc are collectively delivering tremendous value to our customers.
Detail us about the cutting edge technology in your machines in terms of telematics, smartness and IoT. What are the USP's of your machines.
In Indian machines, telematics was incorporated about ten years ago, but it took some time for users to recognize its value in improving fleet management. The increased use of telematics data by machine owners is mostly a result of cellphones' introduction. They may now view their machines' location and performance information such as utilization, idle time, fuel consumption, operating mode, service maintenance warnings, etc. from any place.
Kobelco machines are 10th Generation machines, at par with Global Technology at the same time manufactured under Global Quality Standards, has been introduced with the Geoscan (which is advanced than a general telematics), App enabled aftermarket support, Globally communicating platforms, etc. Additionally, our telematics (Geoscan) is equipped with self-diagnostic tools that warn the support staff via error codes so that they may resolve them even remotely. IoT is also a typical element in most modern machines where different parts may connect with one another and provide the optimum overall productivity. A sizable collection of data that is produced from each machine is then properly handled and examined. Owners of the machines are informed of insightful summaries and trends that helps them boost the effectiveness, functionality, and maintenance of their machines.
Factors such as safety, operator comfort, ease of operations are crucial in mining equipment. What are the steps undertaken by you for providing the same.
We at Kobelco build our machines keeping safety of operator at the most priority. We know if the operator feels safe in the machine, automatically his productivity increases. Safety and ergonomics are in the DNA of our organization. We provide the cabin as the first shield of safety for the operator. Our cabins are designed with large working space, good visibility, standard fitment of aircon, ergonomically placed controls to minimize operator's fatigue for long hours working. Seat design is complied with the mining demand to provide more comfort. The entire machine is fenced by safety alarms and sensors like rear view camera, FOPS/ROPS, fatigue indicators etc. to ensure the safety & protection at Job sites. For mining we also provide options for front and top safety guards, beacon light, rock breaker kit, etc.
Training or skilling programs undertaken by your company to ensure maximum productivity.
We at Kobelco had identified the need of Training and upskilling long back. We have our Training Centers at strategic locations which are equipped with all levels of Training starting from Basic to Advanced. Kobelco Service Mechanics/ Technicians are trained under a structured training program with suitable training syllabus which includes e-learning through the Training portal. The training is a mix of theoretical content and practical work on the machine & their components. It has basic, intermediate and advanced levels with qualifying tests. Refresher courses are also conducted from time to time. In addition, training is also imparted to Customer Operators and maintenance staff as per mutual convenience and benefits.
To what extent are aftermarket services a strategic differentiator.
The reliability of its machines has been one of the biggest differentiating factors for Kobelco which in-turn comes from our exceptional aftermarket support. In-fact our business is spined by aftermarket which collectively offers customized site solutions for mining as well as construction applications. Our machines are known for a relatively higher life of its key aggregates like engine, undercarriage, travel device, swing device, hydraulics, etc. Our Ultra Care Warranty' facility offer 10,000 hrs or 4 years of protection and never before benefits which increases machine uptime, lowers the maintenance expense, and results in a higher resale value for your Kobelco Excavators.
Your strategy to play in a price sensitive market.
Cost is something in any excavator business; we call it a return on investment. One is the initial cost and the second is operational cost. If your technology can help reduce operational cost by taking an initial extra cost, you can off-set it by operational cost.  In fact, in the long run, you will be much more profitable than an ordinary technology machine. Kobelco's strategy is to offset what you pay in the original price in the operational costs. Let's say an excavator with technological advancement costs you X, and we try to give it back in terms of fuel savings within a short span. What you save for the remainder of the time is your additional saving. Our customers benefit greatly from our best-in-class fuel efficiency, quicker operating cycles, extremely robust structures, improved filtration systems, reduced carbon footprint, extended service lives of all major components, etc. These enhancement in both tangible and non-tangible benefits maintain an equilibrium between technology and the cost.
Tell us about your manufacturing facilities and dealer network in India
Kobelco Construction Equipment India offers unique solutions involving earth movers and cranes for construction sites. These solutions make creative use of technology, are environment-friendly, and are customized for each jobsite condition. Kobelco Construction Equipment India Pvt. Ltd. (KCEI) was established in 2007 and is a subsidiary of Kobelco Construction Machinery, Japan. Manufacturing excavators and cranes in Sri City, Andhra Pradesh. The Indian plant is spread across 68,000 square meters at Sri City SEZ in Tada. The plant has the capacity to produce 2500+ units per year which includes manufacturing of 14-ton to 85-ton excavators. KCEI is also fully equipped to meet customer expectations in terms of service and parts with over 33 dealers and 140 outlets in India, Nepal, and Bangladesh.
Emerging trends in the equipment finance and rentals in mining equipment. To what extent is consumer behavior influenced by cost.
The way mining businesses source equipment for both new and existing operations has significantly changed over the past ten years, with finance, leasing, and rental now playing a major role in the process. In India, the "pay-as-you-use" business model is becoming more popular because it reduces expensive breakdowns and does away with storage costs. In the past, customers would purchase a machine from an OEM along with its after-market services. They would then own and utilize the unit till its shelf life. Today the customer has shifted from owning a machine from OEM to collaborating with a partner who can offer a solution ideally for as long as the customer needs it. So as the cost of equipment is increasing, the consumer is more comfortable in renting than owning the equipment.
What sort of support or policy changes from the government would you like to propel growth of the mining sector.
The mining industry is positioned to experience tremendous growth in the coming years due to the government's ongoing efforts to expand the sector and growing participation from the private sector. Ideally, the economy should be smooth for a period of 10-15 years so that various timelines can be ensured, and cost overruns can be avoided. Presently the nation is bearing the brunt of both these issues. We expect government to take some initiative on policy reforms, like the one taken for relaxing mineral exploration norms. Government of India has taken a lot of initiatives in the past years like – Amendment in MMDR Act (The Mines and Minerals (Development and Regulation)), promoting ease of doing business like introduction of e-auction in mining lease brought transparency. With such initiatives, results are now yielding. Such major reforms were the need of mining development.
Future outlook for the mining industry and from a company perspective
The mining industry, which has faced its share of difficulties in the past, is anticipating a promising future. By 2030, India aims to more than triple the amount of its renewable energy capacity. The ministry has also developed the Sustainable Development Framework (SDF) for the sector with the aim to lead mining sector growth in a sustainable manner. In fact, in the "atmanirbhar" project's success, the mining sector is playing a vital role in generating employment and other opportunities.
According to a report, the government's ongoing push to create infrastructure will increase cement consumption this fiscal year by 8–9% on top of a 9% growth in FY22. Along with that a staggering 14.56 GW of coal-fueled power is anticipated to come on stream this fiscal year, serving as a reminder that India, the world's fastest-growing major economy, requires a variety of energy sources and in-turn equipment to sate its enormous energy appetite.
Now to increase mining capacity OEMs should first focus on availability, utilization and productivity which is dependent on technology and digitization. We can proudly say that Kobelco machines are known for their reliability and most importantly for superior technology. We inherit the Japanese technology making the machine for Indian soil. In terms of technology and material quality, our excavators have set the standard.