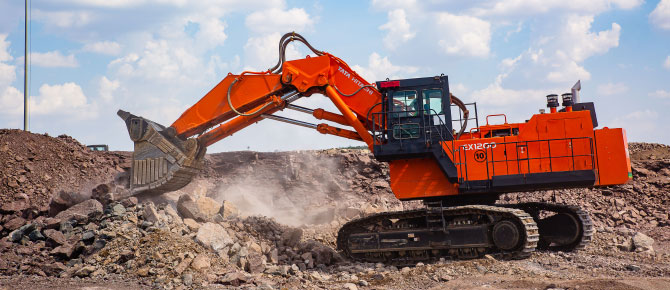 The design philosophy at Tata Hitachi centres around the needs of the customer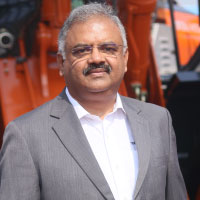 Through innovative techniques, the company has always developed solutions that cater to the needs of Indian customers, working under tough conditions in a competitive market. In an exclusive interview to CONSTRUCTION OPPORTUNITIES, BKR PRASAD, GENERAL MANAGER – MARKETING, TATA HITACHI CONSTRUCTION MACHINERY, speaks about the mining equipment industry, his company's offerings, after market services and a lot more.
Give a brief overview of the mining equipment industry, market dynamics, latest trends and the sector challenges.
The mining sector has seen consistent growth in recent years. The rise in infrastructure development, automotive production, power, and cement industries has been driving growth in the metals and mining sectors of India.
The mining sector, which includes fuel minerals as well as non-fuel minerals, continued to perform well even during the pandemic. Coal, which contributes to over 50% of the overall mineral production in India, has grown steadily at 7-8% on a year-over-year basis, as the growth has been driven by requirements in the power sector. A reduction in the import of coal also fuelled growth in the coal sector.
Metal minerals, like iron ore, also registered growth, along with non-metallic minerals like limestone. However, minor minerals, especially granite, faced some challenges as exports for these minerals faced several issues, which are now gradually getting resolved. The demand for mining equipment, which includes loading tools like excavators and hauling tools like dumpers, as well as support equipment like wheel loaders, etc., has accelerated due to the increased production of minerals. The environment has been a thrust in the recent past, and hence alternatives are being explored to minimise dust and pollution in the mines. "Blast Free Mining" was one of the alternative approaches to mining initiated where the usage of attachments on excavators like Rock Breakers, Vibro Rippers, etc. has started increasing. This also addresses the challenges of reducing the noise around mining areas where there is habitation.
Tell us of your various product offerings, applications and their demand in the Indian market. Any new products launched or enhancements to the existing product line, detail us on the same.
Tata Hitachi has the widest range of mining excavators, starting from 2.5 CuMup to 6.5 CuM bucket capacity, which are manufactured in India under the "Make in India" initiative of the Indian Government. Since we are a joint venture and subsidiary of Hitachi Construction Machinery in India, we also promote the mining machinery manufactured by HCM, which starts at 10 CuM bucket capacity and goes up to 45 CuM with options of diesel and electric-driven system. We also have dumpers from Hitachi that have advanced AC drive systems. These are in 190T, 240T and 300T capacities. We are seeing the demand of such advanced mining equipment going up. The latest addition to our mining portfolio is the inclusion of high-capacity mining Wheel Loaders starting with 5T capacity for the Indian market. Tata Hitachi recently launched a 5T wheel loader model ZW225-6, which is an addition to the high-capacity Wheel Loaders introduced by Hitachi: the ZW310-5A and the all-new hydraulic excavator ZX670H. We also have reinforced our excavators for mining attachments like Rock Breakers, Vibro Rippers, etc., which will help contribute to "Blast Free Mining". As far as service functions of mining machines go, Tata Hitachi has been a forerunner in full maintenance for over two decades, ensuring uptimes of over 90% – ensuring the best reliability of running equipment for customers.
Detail us about the cutting-edge technology in your machines in terms of telematics, smartness and IoT. What are the USP's of your machines.
Hitachi has been at the forefront of developing technologies well ahead of time, looking at customer needs and working on incorporating them into our equipment. The latest machines have IoT features, ConSite, which give customers a snapshot of machine performance in their laptops, smartphones, and computers: ensuring better information for the customers. Hitachi equipments have been known for their reliability, giving customers an edge with better uptime and lower operating costs.
Factors such as safety, operator comfort, ease of operations are crucial in mining equipment. What are the steps undertaken by you for providing the same.
We have the utmost concern when it comes to the safety of equipment while working in the mines. We have inbuilt safety features like FOPS cabins, handrails, anti-slip pads, an environment friendly engine, rear view cameras, safety belts, fire suppression systems, a centralized lubrication system, etc., which are beyond the compliance requirements in mining.
Training or skilling programs undertaken by your company to ensure maximum productivity.
Tata Hitachi has been keeping abreast with technology to suit the Indian market, be it for a new product, service, spares, etc. We have been upskilling our teams to maximise the efficiency of the company. We introduced Mining Electrical Excavators during 2016–17 and parallelly, the service team was trained on how to handle these excavators. These trainings are totally in-house and are conducted by experts from Tata Hitachi/Hitachi Construction Machinery Japan.
To what extent are aftermarket services a strategic differentiator.
After-market service is a key differentiator when it comes to mining machines. As the equipment used in mining is expected to have a longer life as the utilization is over 20 hours a day. The expectation here is high on reliability and low on running costs as well. We have customized options for after-sales services like Annual Maintenance Contracts, Full Maintenance Contracts, Site Support Agreements, etc., which are offered as per the customer's requirements. Tata Hitachi has been operating these contracts for over two decades and has the rich experience of running these contracts while ensuring high availability. We have the highest number of touch points for any customer working in mining areas to provide support for the working machine.
Tell us about your manufacturing facilities and dealer network in India.
Tata Hitachi has manufacturing facilities in Kharagpur and Dharwad. Both the Plants have the latest technology in CNC machining centres, Robotic centres, and a wide range of fixtures and manipulators for manufacturing world-class products. The facilities available are supported by highly skilled manpower to produce components and machines of the highest quality. Also, we emphasize continuous improvements in the processes by developing a culture of innovation amongst all employees.
Kharagpur- The largest Construction equipment manufacturing facility in South Asia. This is a state-of-the-art plant (Spread over 250 acres) with an integrated facility for component manufacturing and assembly of final machines. This Plant manufactures Hydraulic Excavators starting from 20-Tonne to 120-Tonne class and Wheel Loader from 3-Tonne to the newly launched 5-Tonne.
Kharagpur plant has comprehensive manufacturing processes like Material cutting and preparation, Welding, Heavy and Light machining, Painting facility, Assembly facility, R&D facilities catering to a wide range of testing setups, Full-fledged Design and Development facilities, Tool Room facility for Production Support, 10.5 MW Solar power plant to cater to Power requirements and lower our Carbon footprint by using renewable energy, Zero Discharge Plant with facilities like Effluent Treatment plant, Water treatment plant, Sewage Treatment Plant and a Green Building certified Administrative office. The plant has been recognized by Hitachi Construction Machinery (HCM), Japan as a hub for exporting machines to its global network. So far, this plant has exported 1600+ machines to different parts of the world.
Dharwad- Spread over 118 acres, the manufacturing facility in Dharwad is operational since 1999. This plant manufactures Hydraulic Excavators up to 20-Tonne class and Shinrai Range of Backhoe Loaders. The Dharwad plant is continuously upgrading its facilities to improve its capacity & capability focusing on improving the Safety, Quality & Delivery parameters considering the environmental aspects. The current major facilities in the plant are, Assembly shop for Mini Excavator, Midi excavator and Backhoe loaders, Fabrication & Machining facilities, Transmission Assembly Shop, Paint shop, Testing and Dispatch Complex, Incinerator for burning hazardous waste, and Sewage & Effluent Treatment Plant to achieve Zero discharge from plant.