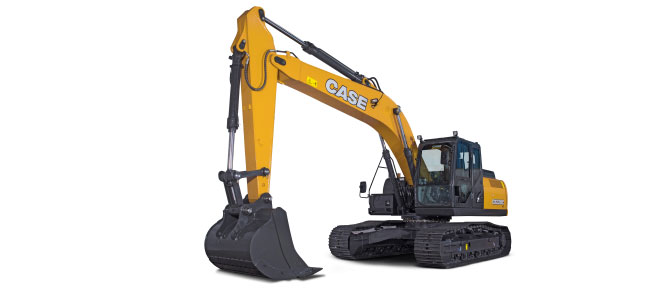 Our machines stand out in the market due to their cutting-edge technology, which enhances productivity, efficiency, and overall performance.
CASE Construction Equipment is built on the principle that simple is better. The company's equipment is an evolution of fine-tuned products designed to solve real world challenges. In an exclusive interview to CONSTRUCTION OPPORTUNITIES, SATENDRA TIWARI, HEAD OF MANUFACTURING – PITHAMPUR, CNH INDUSTRIAL, speaks about his company's products, cutting edge technologies and a lot more.
Tell us of your various product offerings, applications and their demand in the Indian market. Any new products launched or enhancements to the existing product line, detail us on the same.
CASE construction offers a comprehensive range o f solutions to meet various needs. Our machines are intelligently designed to reduce the reliance on additional labor, prioritize operator comfort and convenience, and ensure safety.
Our product offerings include the Crawler Dozer L Series and the, each equipped with advanced features and built to deliver outstanding performance. The Crawler Dozer L Series is a 1150L/1650L Crawler Dozers powerful and efficient machine with hydrostatic transmission and a common rail engine. It offers excellent controllability and customizable working parameters, making it suitable for various applications. The L Series has a strong engine that provides high torque back-up under load and works with high torque at lower engine rpm, reducing engine wear.
It has a dual path hydrostatic transmission, robust undercarriage, and a tiltable cab for easy serviceability. The L Series also features low-effort blade hydraulics and a comfortable, operator-friendly cab.
On the other hand, the CX220C and CX220C LC Crawler Excavators are designed for tough terrains and come with advanced features. They are powered by a reliable FPT "NEF 6" Series Industrial engine, offering high productivity with low fuel consumption. The excavators have three working modes and multiple auxiliary hydraulic settings for different applications and attachments. The CX220C LC has a stronger structure for mining terrains and offers various arm and boom lengths, bucket sizes, and digging forces. It comes with CASE Intelligent Hydraulic System (CIHS) for exceptional machine control and improved productivity. The excavators also feature a spacious and safe cab with excellent visibility.
With the anticipated upgrade of emission norms to BS V next year, CASE Construction is actively preparing to align with the new standards. The company recognizes the importance of reducing environmental impact and is dedicated to manufacturing equipment that meets the latest emission requirements. By proactively upgrading their construction machinery, CASE Construction aims to contribute to a cleaner and more sustainable future. Their commitment to embracing these advancements demonstrates their commitment to staying ahead of regulatory changes and ensuring their customers have access to environmentally responsible equipment.
Detail us about the cutting edge technology in your machines in terms of telematics, smartness and IoT. What are the USP's of your machines.
Our machines stand out in the market due to their cutting-edge technology, which enhances productivity, efficiency, and overall performance. In response to the evolving trends in the construction industry, we have integrated advanced features and smart capabilities into our equipment. Telematics systems, enable real-time monitoring of machine parameters, maintenance tracking, and utilization analysis. This empowers customers to optimize their operations, reduce downtime, and improve overall efficiency.
Additionally, our machines are designed to be versatile and adaptable to various applications and materials. Whether it's the 1107EX Soil Compactor with its smooth drum and pad foot drum options, or our Loader Backhoes with their state-of-the-art engine technology, our equipment can handle a wide range of tasks, from compacting cohesive materials to handling uphill terrains and dozing applications.
Customization is another key feature of our machines. We understand that every customer has unique requirements, and our equipment can be tailored to meet specific preferences and project needs. This flexibility allows customers to choose the configurations that best suit their applications, ensuring maximum efficiency and productivity.
With our focus on incorporating cutting-edge technology, providing telematics and smart capabilities, offering versatility and adaptability, and allowing customization options, our machines offer unmatched advantages in the Indian market. These features enable our customers to achieve higher productivity, reduce costs, and stay ahead in the competitive construction industry.
Factors such as safety, operator comfort, ease of operations are crucial in mining equipment. What are the steps undertaken by you for providing the same.
One of the major priorities at CASE when manufacturing equipment is to meet safety standards and regulations while prioritizing operator comfort. This is achieved through various features such as air-conditioned cabs, ergonomic controls, and adjustable seating. The machines are designed to be user-friendly, with intuitive controls and interfaces that enhance accessibility for customers. In addition to equipment design, we also offer safety training and certification programs for operators. These programs ensure that the equipment is operated safely and responsibly.
As a responsible brand, CASE Construction strives to provide equipment that is safe, comfortable, easy to use, and efficient. Our focus on these aspects aims to increase the productivity and profitability of our customers.
Training or skilling programs undertaken by your company to ensure maximum productivity.
CASE Construction Equipment places a strong emphasis on skill development and productivity enhancement through its training programs and initiatives. The company has established a dedicated training center at its Pithampur plant premises, where engineers from both the company and dealerships receive equipment- and technology-related training. This state-of-the-art center is equipped with multi-mode facilities, enabling both on-ground and virtual training through the company's online training portal.
Furthermore, CASE India has recently inaugurated the Skill Development Center named "Hunar" to provide specialized training in Loader Backhoe operation. This center, located in Sonvai, Rau near Pithampur, contributes to the Skill India Mission by training and developing 240 professionals annually. With dedicated classrooms for theory classes and counseling, the Skill Development Center ensures that individuals receive comprehensive training, empowering them with the necessary skills for maximum productivity. These initiatives underscore CASE India's commitment to continuous learning and fostering expertise among its workforce, resulting in enhanced performance and efficiency.
To what extent are aftermarket services a strategic differentiator.
Aftermarket services play a crucial role in differentiating CASE from its competitors and providing added value to customers. To begin with, all CASE equipment, regardless of its size or type, is backed by a standard base warranty of one year from the date of delivery. This warranty gives customers peace of mind and ensures that any potential issues or defects are addressed promptly.
Recognizing that financing can be a significant concern for customers, CASE offers a range of financing options through their in-house retail finance company, CNHi Capital. This allows customers to overcome financial constraints and acquire the equipment they need to drive their business forward.
CASE goes beyond warranty and financing support by offering extended warranties and service packages through their 'CASE Protect' and 'CASE Care' programs. These programs provide additional coverage and support to customers, enabling them to optimize the performance and lifespan of their equipment. This aftermarket support helps to build trust and long-term relationships with customers.
Your strategy to play in a price sensitive market.
Our ability to provide top-notch equipment at reasonable prices is greatly influenced by our sourcing strategy in India. At CASE, we prioritize obtaining various components, including engines, engine parts, forgings, and other crucial parts, from local vendors. By doing so, we can offer cost-effective equipment to our customers.
Furthermore, our products are designed with technological advancements that aim to reduce the frequency of maintenance and lower fuel consumption. These features contribute to minimizing operating costs for our customers. We are committed to delivering equipment that not only meets high-quality standards but also helps our customers save on expenses.
Tell us about your manufacturing facilities and dealer network in India
CASE India operates its manufacturing facility in Pithampur, Madhya Pradesh. It has been manufacturing in Pithampur for over three decades, since 1989. The facility serves as the company's sole manufacturing plant in the country and is equipped to produce a wide range of CASE equipment, including both light and heavy machinery.
In terms of the dealer network, CASE India has an extensive presence across the country. The company has established a strong network of authorized dealers who are responsible for sales, service, and support of CASE equipment. These dealerships are strategically located to ensure nationwide coverage and provide convenient access to customers. By partnering with reputable and knowledgeable dealers, CASE India ensures that customers receive reliable and prompt assistance for their equipment needs.
Future outlook for the mining industry and from a company perspective
According to recent reports, there has been a significant growth in mineral production, particularly in sectors such as coal, gold, iron ore, and copper concentrate which showcases the potential of the mining industry in India. The Indian government has made significant investments in infrastructure development, leading to a surge in the demand for core materials. This focus on infrastructure has also resulted in a holistic approach to accelerating projects for efficient and seamless development across various sectors. As the industry experiences growth and increased project development, the demand for essential mining equipment such as crawler dozers, excavators and loader backhoes, is expected to rise.
At CASE Construction Equipment, we are dedicated to meeting the needs of our customers and being a trusted partner in their projects.