Highland Media Publishers Pvt. Ltd is a dynamic and young publishing house headquartered in India's commercial capital and business heartland, Mumbai. The organisation is committed to its policy of providing Authentic, Timely, Researched, Intelligent and Business linked information on opportunities, products and services in the Construction, Infrastructure, Projects and Realty space.
In the 12th Five Year Plan India Inc has undertaken an infrastructure building programme in excess of $ 1 trillion. Such is the enormity of the task and the challenge that Highland Media thought it fit to contribute to the development space by launching a new business development magazine CONSTRUCTION OPPORTUNITIES which could serve as a vehicle both for chronicling the progress – or lack of it – made by the country in the construction/infrastructure and real estate space and to offer readers a clear picture of the AREAS OF OPPORTUNITY, existing POLICIES, CHALLENGES in implementation of projects – economic, environmental, financial, land acquisition, legal and statutory clearances – and to provide SOLUTIONS  for the various players to go forward.
The magazine will seek to examine the track record of Public Private Partnerships in different sectors of the economy besides offering domestic and international case studies, articles of current interest, interviews with sectoral movers and shakers, expert opinion, company profiles (including performance – financials, status of existing projects, new projects on the anvil, timeline for completion, investments required, problem areas and expansion plans), tips to manage the business and surveys.
Mission: The team at Highland Media is committed to excel on the strength of Honesty, Integrity, Respect and Transparency – and aims to set new benchmarks in service to its readers and customers.
The company thru its publications targeted at the Construction, Infrastructure, Projects and Realty sectors aims to empower end users with not just a wealth of information of the challenges and opportunities but one that also facilitates business. With its Mission "Connecting People to Business , the magazine thru its content is committed to empower and enhance its readers a wealth of up-to-date, intelligent, well researched and critical information needed to keep pace in today's competitive landscape and connect with the who's who of the industry.
It will always be our endeavour to keep the reader and end user informed and ahead in the opportunity race. In doing so, it will also be our great privilege of having contributed, in howsoever small a way, to the noble task of Building India.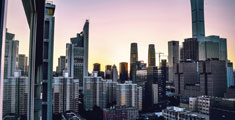 LEAD STORY - TALL BUILDINGS