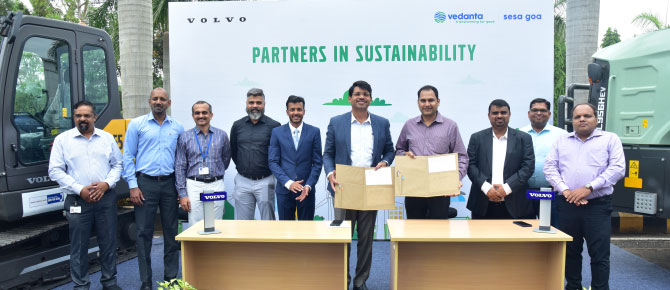 Vedanta Iron Ore Karnataka and Volvo CE India sign a landmark MoU to usher in a sustainable future
In a first-of-its-kind initiative, the companies aim to keep it clean and green, and further sustainability with one-stop electromobility solutions for the mining and construction industry.
Vedanta Iron Ore Karnataka (IOK) and Volvo CE India have signed a landmark MoU to deploy sustainable power solutions such as zero-emission electric off-road machines, at Vedanta IOK's mines in Chitradurga on a trial basis.
With the pilot project commencing at Vedanta IOK, the company has deployed Volvo's recently launched EC55 all-electric excavator and its subsidiary SDLG's L956H electric wheel loader for its iron ore mining operations.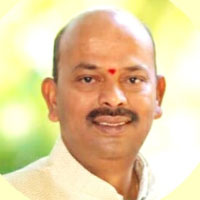 "At Vedanta, we are committed to the cause of sustainability as we continue to be a frontrunner in adopting sustainable mining technologies. Our ESG focus is aligned with the goal to achieve net-zero carbon by 2050 or sooner," said M. Krishna Reddy, COO – Mining, Sesa Goa, Vedanta Limited. "Partnering with Volvo will help us accelerate our journey towards achieving carbon neutrality. Our mission of transforming for good continues to drive us towards a greener and cleaner future for all."
Vedanta Limited has set itself on a transformational journey to reach its ESG goals, aligned with GoI's commitment to decarbonise India's economy. The company aims to achieve net zero carbon by 2050 or sooner and take forward their vision of building a self-reliant India, empowered to lead a greener future. Whereas, at Volvo CE, sustainability is at the heart of everything the company thinks and works on. As one of the leading manufacturers of construction equipment across the globe, the company believes it has a responsibility to accelerate solutions that will help usher in a world we want to live in. This MoU agreement between Vedanta IOK and Volvo CE India marks a new beginning of transforming India into a sustainable nation, making it a first of its kind agreement with Volvo CE in the Indian Iron Ore Mining fraternity.
"It's great to partner with someone on something we are equally passionate about – promoting sustainable development across the country," said Dimitrov Krishnan, Head – Volvo CE India. "This is just the beginning. With our highly advanced zero-emission site-level solutions, the blue sky is really the limit to how we can create a greener future."
Vedanta IOK and Volvo CE India will use the pilot project as a case study. They have begun collaborating and assessing various parameters for sustainable operations, starting from site surveys to operational requirement mapping, to charging infrastructure deployment. Based on the learnings and outcomes from the pilot project, the companies will further look into feasible options to collaborate for achieving their ESG goals through deployment of zero-emission machinery at their operations.
About Vedanta IOK:
Vedanta Limited, a subsidiary of Vedanta Resources Limited, is one of the world's leading Oil & Gas and Metals company with significant operations in Oil & Gas, Zinc, Lead, Silver, Copper, Iron Ore, Steel, and Aluminium & Power across India, South Africa and Namibia. For two decades, Vedanta has been contributing significantly to nation building. Governance and sustainable development are at the core of Vedanta's strategy, with a strong focus on health, safety, and environment. Vedanta has put in place a comprehensive framework to be the ESG leader in the natural resources sector. Vedanta is committed to reducing carbon emissions to zero by 2050 or sooner and has pledged $5 billion over the next 10 years to accelerate the transition to net zero operations. Giving back is in the DNA of Vedanta, which is focused on enhancing the lives of local communities. The company's flagship social impact program, Nand Ghars, have been set up as model anganwadis focused on eradicating child malnutrition, providing education, healthcare, and empowering women with skill development. Under the aegis of the Anil Agarwal Foundation, the umbrella entity for Vedanta's social initiatives, the Vedanta group has pledged Rs 5000 crore over the next five years on social impact programmes with a thrust on nutrition, women & child development, healthcare, animal welfare, and grass-root level sports. Vedanta and the group companies company have been featured in Dow Jones Sustainability Index 2020, and was conferred Frost & Sullivan Sustainability Awards 2020, CII Environmental Best Practices Award 2020, CSR Health Impact Award 2020, CII National Award 2020 for Excellence in Water Management, CII Digital Transformation Award 2020, ICSI National Award 2020 for excellence in Corporate Governance, People First HR Excellence Award 2020, 'Company with Great Managers 2020' by People Business and certified as a Great Place to Work 2021. Vedanta's flagship Nand Ghar Project was identified as best CSR project by Government of Rajasthan. Vedanta Limited is listed on the Bombay Stock Exchange and the National Stock Exchange.
For more details visit www.vedantalimited.com 
About Sesa Goa Iron Ore Business
Sesa Goa Iron Ore Business of Vedanta Limited is engaged in exploration, mining, and processing of iron ore. The company was founded in 1954 as Scambi Economici SA Goa and acquired by Vedanta. Since then, it has grown to be one among the top low-cost producers of iron ore in the country. During 1991-1995, it diversified into the manufacture of pig iron and metallurgical coke. It has also developed indigenous and environment-friendly technology for producing high quality metallurgical coke. Sesa Goa Iron Ore also has two waste heat recovery power plants of total capacity 60 MW that produces clean power by using the waste heat recovery from its coke ovens and blast furnace gas. Sesa Goa Iron Ore operations in India are in Goa & Karnataka.
About Volvo CE India:
Volvo CE is a major international company that develops, manufactures, and markets equipment for construction and related industries driven by passion, curiosity and by our purpose: To build the world we want to live in.
We don't only offer a broad range of products, but also efficient worldwide service and a range of customer solutions in, for example, financing and used equipment. With a rich heritage spanning over several decades, Volvo CE has established itself as a trusted industry leader known for its commitment to innovation, sustainability, and superior quality.
Our wide range of products and services are offered in more than 150 countries through our global distribution network. We continue to drive progress and shape the future of the construction industry through our unwavering commitment to innovation, sustainability, and customer-centric solutions. With our dedicated team of professionals, extensive product range, and global network, we are poised to empower our customers to build a better tomorrow.
For more details visit: www.volvoce.com