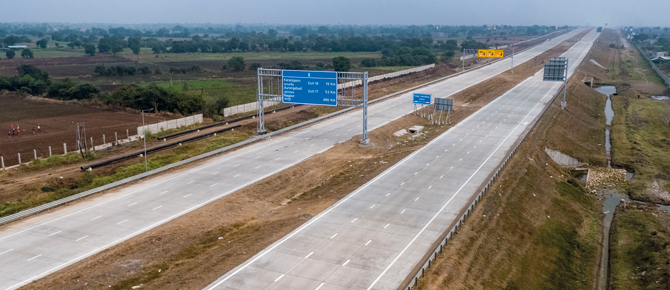 Wirtgen Group machines with great performance on Samruddhi Expressway
The new Samruddhi Expressway, also known as Mumbai–Nagpur Expressway, is currently under construction and will connect the Indian cities of Mumbai and Nagpur on a total length of 701 km. When completed, this expressway will link India's largest container port JNPT in Mumbai to MIHAN in Nagpur simplifying import and export activities throughout the country. Additionally, interconnecting highways and feeder roads are constructed to connect all important cities and tourist places along this route.
The Samruddhi Expressway mahamarg project consists of 16 packages and was awarded to 13 companies: Megha Engineering & Infrastructures (Pkg-1&9), Afcons Infrastructure (Pkg-2&14), NCC (Pkg-3), PNC Infratech (Pkg-4), Sadbhav Engineering (Pkg-5), Apco Infratech (Pkg-6), Reliance Infrastructure (Pkg-7), Iron Triangle (Pkg-8), Larsen & Toubro (Pkg-10), Gayatri Projects (Pkg-11), Dilip Buildcon (Pkg-12), GVPR Engineers (Pkg-13), and Navayuga Engineering Company (Pkg-15&16).
Wirtgen slipform pavers show their potential all the way
With a speed limit of 150 km/h, the expressway is the fastest in all of India, reducing the travel time between Mumbai and Nagpur from 16 to 8 hours. This calls for maximum concrete paving performance both in terms of output and quality to ensure the drivers' comfort and safety on their journey. Along the whole 701 km, 16 Wirtgen slipform pavers SP 1600 were in operation to lay the concrete surface. Concrete is the ideal material for a gigantic project like this: It is cost-effective, extremely durable and requires very little maintenance. Over a working width of 15 m, pavement quality concrete (PQC) in a depth of 310 mm was used. The proper reinforcement could be managed by an automatic dowel bar inserter and 3 longitudinal tie bar inserters. These make sure that the cracks which are invariably produced as a result of stresses and temperature fluctuations are diverted into the concrete pavement in a controlled manner.
Highlights of Wirtgen slip form paver SP 1600:
Working width of up to 16 meters (Special paving heights and widths up to 18.75 m are available on request.)
Cost-effectively paves concrete surfaces for traffic areas, roadways, industrial areas or surfaces at airports, such as runways or taxiways
Unparalleled concrete paving performance
Long-term reliability
Ergonomically designed, walkthrough operator's platform for non-tiring, productive working
High-powered, fuel-efficient diesel engine for concrete paving in the optimum performance and torque ranges
Spreading plough for even distribution of the freshly delivered concrete in front of the inset paving mould
Electrically driven vibrators for reliable concrete compaction
Automated insertion of longitudinal joint tie bars to prevent the slabs from drifting apart
Inset paving mould suitable for mounting between the track units, underneath the machine
Pivoting legs for full adjustment of the track units to the conditions prevailing on site
Wirtgen Group service impresses on site
When it comes to the experience and day-to-day handling of their equipment, there is unanimity: Everyone is more than happy with the performance of the machines. "They are doing very well, and we are extremely satisfied with their services," said Neeraj Sharma, Quality Incharge (Sr. Manager) at Apco Infratech Pvt. Ltd., responsible for package 5. "They are good in technology, quality and output." Wirtgen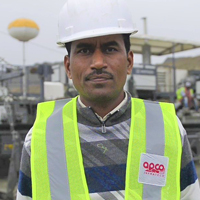 India, the local subsidiary of the Wirtgen Group, is always at hand, should there be any customer requirements: "They always care for our needs and challenges. From time to time, they guide our team and help. Whenever challenges arise, they are always there."
"The machines are doing very well, and we are extremely satisfied with their services."
Neeraj Sharma, Quality Incharge (Sr. Manager), Apco Infratech Pvt. Ltd.
Facts and figures for the works of package 9 on the Samruddhi Expressway
Parameters
| | |
| --- | --- |
| Length of the job site | 4 lanes on 54 km (section 9 of 16) |
| Used material | PQC (Wirtgen slipform pavers) | DLC (Vögele pavers) |
| Working depths | 310 mm PQC | 150 mm DLC |
| Working widths | Wirtgen slipform pavers 15 m |Vögele pavers up to 4.75 m |
Machines
| | |
| --- | --- |
| Wirtgen slipform pavers | 1 SP 1600 | 1 SP 94 |
| Wirtgen texture curing machines | 2 TCM 180 |
| Vögele pavers | 2 SUPER 1800-3 |
| Hamm tandem rollers | 2 HD 99 |
| Hamm soil compactors | 3 Hamm 311 |
| Kleemann screens | 1 MS 703 EVO |
| Kleemann scalpers | 1 MS 800 |
For more details visit:
Email: sales.india@wirtgen-group.com
Website: www.wirtgen-group.com/india