Our machines are equipped with various smart features which help in monitoring their performance, security and efficiency in real-time.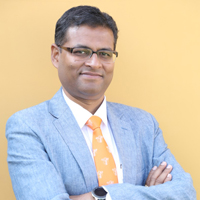 CASE has always been a technology first brand and it's products are replete with advanced features. The company strives to create products that can ease the work and provide power, productivity and efficiency. In an exclusive interview to CONSTRUCTION OPPORTUNITIES, PUNEET VIDYARTHI, HEAD OF MARKETING & BUSINESS DEVELOPMENT – INDIA & SAARC, CASE CONSTRUCTION EQUIPMENT, gives an overview on the CE industry, Cutting edge technology featured in his company's products, after sales service and a lot more.
Give us an overview and market dynamics in the construction equipment industry. How is the industry reshaping the technological future?
The construction equipment industry in India is experiencing a positive impact from the fast-paced development of the infrastructure and construction sector in the country. Recent market reports indicate that this growth trend is likely to continue in the coming years. The sales of construction equipment grew by 8% YoY in the second quarter of FY23 and 12% over the previous quarter (Q1, FY21). The industry is expected to maintain a Compound Annual Growth Rate (CAGR) of 23.3% from 2021 to 2027.
The industry is leveraging technology to improve safety, efficiency, and sustainability in construction projects and this trend is expected to continue as technology continues to advance. With the current market situation of rising fuel and labour costs, construction companies are increasingly seeking cost-effective and highly productive equipment. Customers prefer machines that increase their efficiency while reducing downtime.
What are the types of equipment offered by your firm? Cutting edge technology featured in your products. What distinguishes your products from competitors?
CASE construction provides full range of solutions for construction or infrastructure development related requirement. All of our machines are designed to be smart that reduces the need for extra labour, offer operator comfort and convenience, and prioritize safety.
With close to two centuries (180 years) global legacy and domestic experience of three decades, CASE has the highest focus on details research and innovative technology based products. Our focus has been on manufacturing world-class equipment with superior technology supported by comprehensive research and feedback gathered from various sources. Hence, our machines are sturdy and have a lower upkeep interval as they are made of high-quality materials and components. In fact, our technological advanced products ensures lower cost of ownership and comes with longer service intervals. In addition, concentrating on our core philosophy of customer centricity, our emphasis has been on providing and high proficiency with operational features and cost effectiveness to our customers through an array of product.
As a market leader in vibratory compactors, CASE has always offered best in class compactors. The new 1107EX PD Soil Compactor features a standard drive and smooth drum for multi-purpose activities and standard compaction jobs. The 1107EX PD with pad foot drum and double drive is designed for compressing materials that are more cohesive. It also offers a 25 mm drum and turbocharger with pre-cleaner as a part of its clean and quality design.
CASE 770 NXe Loader Backhoe is a highly versatile machine that features a cutting-edge Electro-Hydraulics variable displacement pump, coupled with the proven FPT S8000 engine. The engine, designed and developed to offer higher productivity, is known for its class leading torque delivery, which provides incomparable performance in tough loader applications with faster response time and high fuel efficiency. The 770 Nxe gives up to 24% fuel efficiency with 26% less maintenance cost and over 10% increase in productivity.
CASE CX220C LC Crawler Excavator is designed to handle tough applications and is powered by a proven FPT engine to ensure high productivity with low fuel consumption. The CX220C LC gives 8% fuel efficiency and is highly suitable for stone quarries, road works, general construction, and earthwork.
Please provide details on your emphasis on technology, research, design and innovation? What is your focus on technological up gradation in respect of your products? What are the advancements you have introduced or plan to introduce?
At CASE, our machines are equipped with various smart features which help in monitoring their performance, security and efficiency in real-time. We incorporate the SiteWatch technology in our machines, which allows operators or fleet owners to remotely monitor the machine's working status. It collects the data on its functioning including fuel consumption, location, service alarms, etc. for necessary corrective action. This his highly beneficial to the customers in the proactive maintenance of the equipment. Furthermore, CASE SiteWatch empowers the customer with the knowledge to make positive changes and balancing in fleet management and operators requirements. The platform also complies with the Association of Equipment Management Professionals (AEMP) 2.0 Telematics standard —that allows you to view your entire fleet through single interface.
CASE Excavators are equipped with CASE Intelligent Hydraulic System (CIHS) that is in-built into the machines, which helps improve the fuel efficiency and provide smooth control over the machine. The advanced hydraulic system offers higher breakout forces, improved swing speeds and greater swing torque, resulting in faster cycle times and a 5% increase in productivity.
Similarly, our latest Loader Backhoe – 770 NXe offers three working modes– ECO, STANDARD and POWER, which helps the machine to smartly and efficiently use the fuel. The ECO mode delivers the best fuel efficiency with a working reach of up to 22% as compared to the EX series and a lower maintenance cost of up to 12%, as compared to its counterparts. The STANDARD mode gives a perfect balance of fuel efficiency and productivity while the POWER mode offers increased productivity.
CASE construction equipment manufactured in India are at par with global technology adoption and is developed basis customer's interest as a focal point.
Factors such as safety, operator comfort, ease of operations and skilling operators are crucial. What are the steps undertaken by your company for providing the same?
All CASE equipment are designed to meet safety standards and regulations and provide maximum operator comfort, with features like air-conditioned cabs, ergonomic controls, and adjustable seating. Ease of use, with intuitive controls and user-friendly interfaces, make the machines more accessible for customers.
We also offer operators safety training and certification programs to ensure that equipment is operated safely and responsibly. CASE India recently inaugurated a Skill Development Center – Hunar, to provide a good understanding and training on Loader Backhoe operation. The initiative contributes to the Central Government's Skill India Mission by training 240 professionals each year. We also have a training centre at our state-of-the-art Pithampur plant where along with regular operator training, we are also planning tie-ups with large training organizations to educate operators as well as create new entrepreneurs in the field.
As a responsible brand in the industry, CASE Construction strives to provide equipment that are safe, comfortable, easy to use, and efficient, thereby increasing the productivity and profitability of its customers.
Your strategy in this price sensitive market. To what extent is consumer behaviour influenced by cost?
A key factor in enabling us to offer high-quality equipment at affordable prices is our sourcing of parts and components from India. At CASE, we obtain the components ranging from engines and engine parts to forgings and other essential parts from the local vendors. We are committed to providing cost-effective equipment to our customers. Our products incorporate technological advancements that reduce maintenance frequency and fuel consumption, helping to ensure that operating costs are minimized for our customers.
Give us an understanding of the after-sales services offered by your company?
CASE is committed to providing a holistic ownership experience, and as such, we place equal importance on our after-sales services and solutions. In India, we have a vast network of 70 dealers and 200 touchpoints staffed by trained and certified personnel who ensure the best aftermarket support. Additionally, we have a state-of-the-art 75,000 sq. ft. central warehouse in Indore, capable of holding 13,000 SKUs at any given time, along with two depots in Faridabad and Guwahati for easy access throughout India.
All of our CASE equipment, whether light or heavy machinery, comes with a standard base warranty of one year from the date of delivery. We also offer various extended warranties and service packages through our 'CASE Protect' and 'CASE Care' programs to support our customers. Furthermore, we provide operator skills and development training to enhance their ability to use the machines with care and efficiency.
Which are the areas, which will drive your business going forward?
CASE is one of the leading brands in the global as well as domestic construction equipment market. The company offers excellent quality equipment for quarrying & mining, road and highways infrastructure development, building construction, agriculture and equipment for other construction applications. Hence, we are ready to cater to any requirement related to any infrastructural development business.
With the rising attention on the road and highway construction industry, as it is experiencing tremendous growth and development. The government has approved a large budget allocation of Rs. 111 lakh crore under the National Infrastructure Pipeline to be completed until 2025. In addition, the Gati Shakti master plan is aimed at developing infrastructure in order provide last-mile connectivity and stimulate economic growth. Moreover, the extension of Bharatmala Yojna, has offered more opportunities for the industry. These new highway projects across the country are some of the most important demand generators for high-quality equipment.
Your comments on the financing of equipment, how fast and easy is it for a customer to get finance. What according to you will enthuse customers to buy equipment and thereby increase sales?
We offer a range of financing options to our customers through our in-house retail finance company, 'CNHi Capital.' This helps to alleviate any financial strain that customers may face. In addition to financing, we also provide various extended warranties and service packages through our 'CASE Protect' and 'CASE Care' programs to further support our customers.
We believe customers are primarily looking for the balance between improved productivity and reduced operational costs. Manufacturers who are able to offer innovative and advanced features that improved equipment performance, fuel efficiency, and reliability are more likely to attract customers and increase sales. This is enhanced by reduced maintenance requirements, and longer-lasting components. Moreover, aftersales services and support are critical to building customer loyalty and ensuring repeat business.
Additionally, in the current market, technological advancements and sustainability of equipment are also factors that appeal to customers.
What is your outlook for the construction equipment industry and your company going forward?
We are excited about the potential in the construction and infrastructure industry for the upcoming fiscal year. The Construction Equipment market in India is benefitting from the rapid development of infrastructure and construction sector in the country. Based on recent reports about the market, we believe that the Indian construction equipment will witness continuing growth for the next few years.
Major construction projects are in progress, especially those related to the National Infrastructure Pipeline, the Bharatmala project, the Sagarmala project, and the PM Gati Shakti Framework. It is worth emphasizing that Construction Equipment makes up almost 14% of the overall project expense, which amounts to roughly USD 1.4 trillion, envisioned by the National Infrastructure Pipeline.
As excavators, loader-backhoes, and compactors are utilized at most such projects for a variety of resolutions, we believe that as a result, there will be rising demand for mining, construction, and earthmoving equipment. We, at CASE look forward to contributing to this growth by providing our complete line of intelligent and efficient construction equipment.