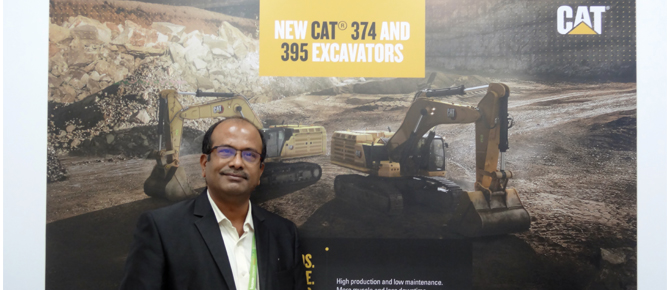 Caterpillar has always been a technological driven company
Caterpillar is known for providing products and services of the greatest value for its customers. The company's products are designed to facilitate ease of operation, safety and efficiency for its customers. In an exclusive interview to CONSTRUCTION OPPORTUNITIES, MANI RAJAN, DISTRICT MANAGER – APD, CATERPILLAR INDIA PVT LTD, speaks about the latest trends, cutting edge technologies in his company's products and a lot more. Caterpillar is known for providing comprehensive product solutions and services to improve productivity, efficiency, safety, and profitability of its customers.
Give us an overview and market dynamics in the construction equipment industry. How is the industry reshaping the technological future?
According to International Monetary Fund (IMF), India's economy is expected to grow at 6.8% in the current fiscal year, making it one among the highest and fastest growing large economies in the world. Investment in infrastructure has been a key driver of growth and employment. Under the Prime Minister Gati Shakti – the National Master Plan for Multi-modal Connectivity, and National Infrastructure Pipeline, Government of India is significantly increasing its investments for the construction of infrastructure, including roads, railways, ports, airports, affordable housing, and urban planning (smart cities), among other things.
In terms of technology, every customer wants to get the job done with better productivity and more efficiently. Caterpillar is committed to provide technology and solutions designed to improve productivity, efficiency, safety, and profitability of our customers. We are committed to sustainability by offering integrated and differentiated solutions and leadership in technology by offering cutting-edge facilities that challenge the status quo.
What is your focus on technological up gradation in respect of your products? What are the advancements you have introduced or plan to introduce?
Caterpillar has always been a technology driven company with around 100 years of presence in the industry. Our commitment is to leverage technology and innovation to improve sustainability of products, services, and solutions for the customers. With every product and service, we get one step closer to fulfilling the purpose to help our customers build a better, more sustainable world. With the following advanced technology combined with the unmatched support and experience of our dealer network, we help customers maximize their fleet efficiency and profitability. 
Cat® Product Link™, along with GPS connect, which not only help improve traceability and visibility but also enable the systems to observe, identify and understand different facets of heavy machinery operation without human intervention and improves the maintenance and operation of machines. Similarly, Cat® Grade with Assist for excavators uses machine position sensors and operator-defined depth and slope parameters to automate boom and stick movements for more accurate cuts with less effort to help increase operator efficiency. With more than 1.4 million connected assets capturing and reporting machine condition around the world, customers are now availing solutions like Cat Productivity , a cloud-based productivity management tool and VisionLink® to help increase uptime and maximize profitability. VisionLink connects customers with a comprehensive overview of their entire fleet to optimize equipment performance and gives the customers confidence in their operation and access to actionable information
By working with our customers, we are helping improve their productivity by sharing insights about machine and parts usage as well as about the overall health of the fleet. The improved analytical and service capabilities such as telematics, inspections, SOS Services, as well as eCommerce platforms like Parts.Cat.Com, and other dealer specific mobile applications are making it easy for our customers to own, operate and maintain the equipment at a click of a button.
At Caterpillar, we continually look for opportunities to broaden our product and service offerings, to address our customer needs and help them to succeed in their business.
What are the value solutions offered by Caterpillar?
Caterpillar has been active in India since the 1930's and we are manufacturing in India for more than past 50 years. At present, there are over 7,300 people work at Caterpillar and about 4,000 people work at Cat dealers. We are committed to understanding the needs of our customers and delivering pioneering products by growing our reliance on services with a focus on digital-enabled solutions and aftermarket to increase customer loyalty thereby strengthening our relationships with our customers.
Our long-standing Cat dealers in India, Gainwell Commosales India Pvt Ltd and Gmmco Ltd have all the technical information, training, access to the latest updates to provide reliable services to our customers. When it comes to value solutions, we cater our customers with customised solutions as per their requirements. For retail customers, the solutions include the offerings from Cat Finance like how the financing of parts could be done etc. For corporate customers, the overall productivity, and the speed with which they want to operate is important. The following are some of the solutions we offer to our customers:
Through Cat Financial, customers can avail various financing, and leasing options as well as extended protection packages. Cat Financial can support customers in making the best choice to support their business, no matter how big or small, whether it be for new or used Cat machines or for repair/rebuild options to keep their current machines operational.
Similarly, Customer Value Agreements' (CVAs) can support hassle-free service to customers at any point in the machine lifecycle to help maximize machine performance and utilization. Customers can contact their dealer to know more about CVAs and other offers.
Cat Reman and Rebuild product offerings as well as the range of repair options help to lower the equipment owning costs. Cat equipment is built to be rebuilt and recondition and the Cat Certified machine Rebuild options can transform the used machines, bring new life to assets with like-new performance at a fraction of the cost of a new machine. Cat Reman uses less resources and helps meet global customer demand while supporting a circular economy and building a better, more sustainable world.
As earlier mentioned, we use telematics as the next level of communications with Caterpillar machines. Through Visionlink, we are able to understand how customers use their machines. By working together with our customers, we can help improve their productivity by sharing insights into machine and parts usage as well as overall health of their machines. This helps to keep their machines in optimal working condition.
With our focus on eCommerce customers can also plan to order spare parts or any service with just the click of a button on our cutting-edge platform – parts.cat.com
What are the steps undertaken by your company for providing training and skilling of operators?
Our dealers are at the forefront because they are the ones who first interact with our customers. So, it is more of a collaborative approach where we train the dealers while keeping in mind the technology driving the customer's machines and ensure that the dealer provides the customer with pertinent training. Our dealers receive hands-on training in using our machines in the most productive ways at our global learning centre and regional simulative-based training programmes, so they can then teach our customers how to do the same.
What is your outlook for future and your company going forward?
India is all poised for growth, and this era is the golden era for Indian infrastructure with so many projects being planned and implemented by the government. We at Caterpillar are in full readiness to support our customers with our latest technologically advanced machines and solutions and playing an important role in building a new India.