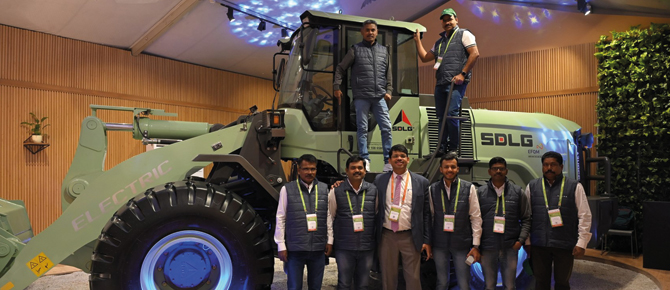 SDLG India showcases E6135Fi Hydraulic Excavator and L933H Wheel Loader at bauma 2023
A member of Volvo Group, SDLG offers solutions to complement sustainable road construction & infrastructure projects.
A Member of Volvo Group, SDLG India showcased SDLG Machines at bauma CONEXPO at India Expo Centre recently. SDLG India displayed their machines at bauma CONEXPO (January 31st and February 3rd, 2023) happening at the India Expo Centre in Greater Noida / Delhi NCR.
The two machines kept on display were E6135Fi Hydraulic Excavator and L933H Wheel Loader. The machines are configured and manufactured keeping India-centric work conditions and customer needs in mind. Each one of them is a true value for money product promising sustained returns on investment, in particular for road and retail segments.
The E6135i Excavator is a 13-ton machine designed and built for heavy lifting. It features powerful four-cylinder DDE engine coupled with energy-saving, load-sensing hydraulic system and delivers best-in-class performance. A genuinely versatile and stable machine, the E6135i excavator is ideally suited for a variety of urban and rural applications.
The L933H Wheel Loader is a feature-packed machine widely preferred at construction sites and aggregate plants, and for bulk material operations. It is powered by advanced CEV-IV engine and fully-hydraulic load-sensing steering system assuring remarkable flexibility and ease of operations. The engine is fitted with a diagnostic interface that, along with state-of-art instrument panel system, ensure smart checks and controls at every stage of operation. 
Apart from the regular machines, they also showcased their capabilities on the futuristic technology & machines to meet the customer & environment needs towards Zero Carbon Emissions. The SDLG Electric Wheel Loader L956HEV was introduced to the Indian market at this event. It comes powered with shock absorption technology, prolonging the life of lithium-ion batteries even is the most harsh applications.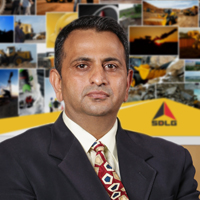 Surat Mehta, Head of SDLG Business in India, explained, "SDLG Growth Machines have captivated customers across India in the quarrying, mining, roads, railway siding, and port segments. They are ecstatic about the profitability they can extract from SDLG machines, as well as their ease of adaptability to a wide range of applications."
There is a noticeable shift in procurement of equipment, especially in road & retail segments. Customers are now looking at comprehensive packages to improve overall efficiency in their day-to-day operations and generate additional value for their businesses. SDLG offers far-reaching solutions to complement sustainable road construction & infrastructure projects. These include structured packages like a range of repair and maintenance agreement, financial services, and operator training services at site. All SDLG India products are backed by countrywide dealer network assuring robust tech support, ready availability of parts and after-sales service – anywhere in the country at anytime.
During this four-day exhibition, SDLG India and SDLG Financial Services (Brand processed by Volvo Financial Services (India) Pvt Ltd) will jointly offer business growth solutions through on-spot credit approvals and attractive loan and lease solutions.
About VCE
Volvo Construction Equipment (Volvo CE) is a leading international manufacturer of premium construction equipment, and with over 14,000 employees, it is one of the largest companies in the industry. Volvo CE offers a wide range of products and services in more than 140 countries through its global distribution network. Volvo CE is part of the Volvo Group. The Volvo Group drives prosperity through transport and infrastructure solutions, offering trucks, buses, construction equipment, power solutions for marine and industrial applications, financing and services that increase our customers' productivity. Founded in 1927, the Volvo Group is committed to shaping the future landscape of sustainable transport and infrastructure solutions. The Volvo Group is headquartered in Gothenburg, Sweden, employs almost 100.000 people and serves customers in more than 190 markets. In 2021, net sales amounted to about SEK 372.2 billion (EUR 35.8 billion). Volvo shares are listed on Nasdaq Stockholm.
For more details visit: www.volvoce.com/india/en-in/
About SDLG
SDLG is a leading global brand in the construction equipment industry. Founded in 1972, the brand is a part of the Volvo Group since 2006 and has evolved as 'Your Growth Machine' with products and services that maximize productivity and lower operating costs to deliver optimum customer value.
SDLG's collaboration with the Volvo Group helped the company get management experience and technical support boosting its international progress. In 2007, Volvo Construction Equipment, a part of the Volvo Group, made additional investments in SDLG doubling its productivity from 15,000 units to 30,000 units resulting in fast-paced development for the brand. SDLG's global product range has a long list of equipment ranging from excavators, loaders, graders, backhoes to compactors.
Present in India since 2009, SDLG brings to the Indian market its high performing, fuel-efficient Wheel Loaders, Motor Graders and Excavators that offer the best value for money and promise to be 'Your Growth Machine' in every application. Certified by the Automotive Research Association of India (ARAI), SDLG products are customized for the Indian environment. SDLG is the supplier-of-choice to some of the country's leading contractors in the quarrying, mining, roads, railway siding and ports segments. With a pan-India presence via a strong dealer network, the brand delivers unmatched after-sales service support, and parts availability.
For more details visit: www.sdlgindia.com