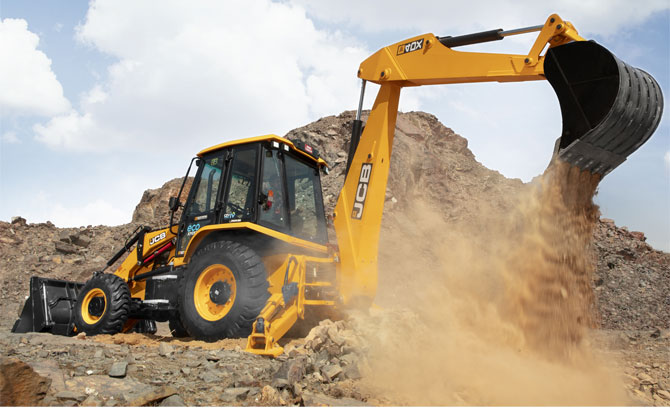 JCB's commitment lies in enhancing the attributes of our machines to provide unparalleled performance, reliability, and durability
The Backhoe Loader has always been the first choice of customers in India due to its versatility in applications with quick inter and intra-site machine movement. Backhoe Loaders remain the largest selling Construction Equipment in the Industry. The machine has made a significant contribution in the development of a new India and almost every work site, in both Urban and Rural India, has a JCB Backhoe Loader machine working on it
In line with the changing business scenarios, JCB has over the past three years, introduced fuel-efficient and low-periodic maintenance products, leading to a significant improvement in the Total Cost of Ownership (TCO). JCB today offers the largest range of Backhoe Loaders to serve different customer segments and applications.
Deepak Shetty, CEO & Managing Director, JCB India, says " We launched the JCB Eco XPERT Range with CEV Stage IV engines to enhance profitability for customers. We continuously focus on every opportunity to reduce costs ensuring minimal price increases for customers. JCB has set a vision and roadmap to reduce carbon footprint by improving fuel efficiency. We are committed to ensuring lower operating costs for JCB Backhoe loaders, ensuring continued operations and maximum return on investment for our customers. We are celebrating the achievement of 4 Lakh+ JCB customers, which has made JCB synonymous with trust."
Critical Value Propositions
JCB products consistently stand at the forefront of technological advancements, offering unparalleled value to our customers. Within our ecoXpert range, our latest backhoe loader models are equipped with the highly fuel-efficient JCB 444 engine, providing approximately 10% enhanced fuel efficiency and a robust 15% reduction in maintenance costs.
Through its state-of-the-art in-house Design Centre, the company has crafted the JCB Range with best-in-class engine technology, eliminating the need for any after-treatment while ensuring highly efficient hydraulics.
Among several other initiatives aimed at reducing maintenance costs, JCB has implemented a 100% increase in hydraulic oil change intervals and introduced features such as Auto Stop, Auto Idle, Economy Mode, and Roading Mode, allowing our customers to conserve more fuel and achieve an overall reduction in Total Cost of Ownership (TCO). For higher loading applications, our 4X4 Range of 4WD machines delivers superior output and fuel efficiency.
Moreover, JCB's newly integrated digital display provides real-time information about the machine's health, along with service reminders and fault codes. Ensuring minimum downtime, JCB's finest service support and extensive service network guarantee that its machines remain fault-free and operate seamlessly.
To further enhance customers' experience, JCB machines are equipped with the advanced New Livelink 4.0, featuring 4G connectivity and a complimentary 6-year subscription. This revolutionary system offers detailed analyses of machine utilisation and performance parameters, ensuring its customers stay informed and up to date. This advanced Telematics Technology gives real-time updates on the Service, Operations and Security of the machines. JCB has over 2,25,000 connected machines in the market today.
With the introduction of the Electronic Engine with CEV IV Range, JCB has engineered products that deliver outstanding performance with a 74hp engine. These machines are designed to offer low initial costs, minimal periodic maintenance expenses, and trouble-free operation without requiring any after-treatment.
Improved Addons
JCB's commitment lies in enhancing the attributes of its machines to provide unparalleled performance, reliability, and durability. The introduction of the new JCB ecoXpert range marks a significant advancement, with enhanced efficiency, productivity, and a proven track record of performance in rigorous Indian conditions.
Prior to product launch, the company conducts extensive field testing. This rigorous testing process ensures that its machines are built to withstand and excel in real-world scenarios. Among the notable features of its machines is the incorporation of a new efficient variable displacement hydraulic pump, complemented by a robust fuel filtration system.
With the inclusion of the CEV IV Range, JCB offesr two distinctive modes to cater to different operational requirements. The "plus mode" enhances excavator operation speed, while the "loading mode" optimises loader performance.
Safety and operator comfort are paramount in the company's design philosophy. The company has equipped its machines with a spacious and comfortable cabin, which includes an improved seat and an effortless throttle.
Moreover, the company has taken measures to reduce cabin noise by 7%, providing a quieter working environment for operators. The integration of a new digital display with trip meters and digital speedometer further enhances the operator's experience, offering a range of valuable information.
To address operator fatigue and boost front-loading productivity, the company's variants are equipped with an easy shift gear mechanism. This thoughtful addition streamlines the machine's operation and contributes to a more efficient workflow.
Exports
JCB India is an embodiment of the vision of an Atmanirbhar Bharat. JCB's made in India machines are today exported to 130+ countries. This has been possible by adhering to the One Global Quality principle. These included some of the most developed markets such as US, USA and Australia. JCB India maintains superior product quality for all its customers, whether Domestic or International. The concept of One Global Quality flows right through the supply chains thus making products deliver high performance globally.
Dealership Network
JCB is proud of offering the industry's best service support, with an extensive network of 65+ dealers, over 700+ outlets and 5,000+ trained service engineers. These outlets strive to meet all customer service and parts requirements. This is further bolstered by the presence of 5 strategically located warehouses. JCB continually improve the effectiveness of its distribution system to ensure optimal regional alignment, wide customer reach, and seamless dealership operations.
The JCB ecoXpert range features an innovative Intelli-diagnostics system. This cutting-edge technology enables seamless communication between dealers' service engineers and machines through a Bluetooth dongle and mobile devices, effectively eliminating the need for a laptop. The Intelli-diagnostics system empowers service engineers with valuable information and guidance to swiftly resolve any faults.
JCB has also introduced the Parts Application for Online Ordering of parts for its customers. This new facility has significantly improved the experience for its customers all over India. Furthermore, JCB takes great pride in Livelink 4.0, extensively used by its customers to monitor performance, location, and various parameters related to service, operation, and safety.
As a company, JCB is committed to expand its reach into rural areas, striving to develop additional touch points to cater to its valued customers with genuine parts and impeccable service.
For more details visit: www.jcb.com/en-in