CASE Construction's legacy of innovation and commitment to cutting-edge technology are apparent in their backhoe loaders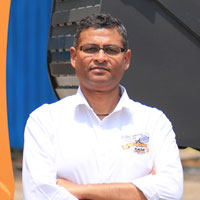 CASE Construction has always prioritised the customers' needs and has offered products basis their requirements. The company's Backhoe Loaders are tailor-made for tough applications, versatile operations across terrains, and fulfil all the demands of the discerning Indian market. In an exclusive interview to CONSTRUCTION OPPORTUNITIES, PUNEET VIDYARTHI, HEAD OF MARKETING & BUSINESS DEVELOPMENT – INDIA & SAARC, CASE CONSTRUCTION EQUIPMENT, gives an overview on the backhoe loader market, his company's backhoes, emphasis on technology, research, design, innovation and a lot more.
Briefly give us an overview of the Backhoe Loader market in India, the latest trends, current business drivers, sector challenges and market dynamics?
The Backhoe Loader market in India is a significant segment within the larger construction equipment industry, which has been showcasing robust growth trends. In the third quarter of the previous fiscal year, the Indian construction equipment industry experienced remarkable year-on-year sales growth of 23%. This upward trajectory can be attributed to the impressive performance across various equipment segments, including earthmoving, material handling, material processing, and road construction equipment.
Factors contributing to this growth in construction equipment sales include the accelerated pace of metro and high-speed rail construction, which has driven demand. The resurgence of road construction activities, a major contributor to construction equipment demand, also played a role, along with increased mining activities. Post-monsoon resumption of business and stabilization of global commodity prices added to the positive momentum.
Detail us on the range of backhoe loaders offered by your company, in terms of types, capacities and applications.
CASE Construction introduces a diverse range of backhoe loaders, each designed to meet specific requirements and excel in distinct applications. The 770 NXe Loader Backhoe stands out as a versatile powerhouse, perfectly balancing power and efficiency. Armed with a cutting-edge Electro-Hydraulics variable displacement pump and the reliable FPT S8000 engine, this machine thrives in demanding loader applications. Its rapid response times and impressive fuel efficiency lead to remarkable savings of up to 24% on fuel costs. Operating in three modes – ECO, STANDARD, and POWER – the 770 NXe caters to various needs, offering fuel economy, productivity, and boosted efficiency, respectively. The inclusion of the trusted CARRARO axle and transmission system guarantees the capability to handle substantial loads in challenging scenarios. Its distinctive S-shaped boom not only enhances reach, transport height, and visibility but also exudes our commitment to innovative design. The spacious cabin encompasses ergonomic controls, ensuring operator comfort and safety, while user-friendly features and excellent visibility create an optimal operating environment.
For those seeking robust performance and cost savings, the CASE EX Series Loader Backhoe (770EX and 770EX Plus) presents an enticing choice. Powered by the H4C4 electronic Engine, this series promises potent performance and swift response times. Notable for its fuel savings of up to 13% and a productivity increase of 5%, these backhoes are meticulously re-engineered to deliver unmatched breakout force, amplified loader lift capacity and reach, and roomy cabs. The structural frame design, crafted through robotic welding, guarantees strength, stability, and easy maintenance. The incorporation of a heavy-duty front axle and front counterweight ensures stability, even in challenging terrains. The S-shaped backhoe boom not only enhances operation visibility but also underscores our commitment to functional design. This series is offered in three configurations and features a power shuttle synchromesh transmission for seamless operation, coupled with hydraulically shifted clutches for dynamic direction and speed changes. Maintenance is hassle-free with easy access features, and the convenience of ground-level servicing elevates operational efficiency.
What are the USP's of your products Vis-à-vis competition?
With a rich heritage spanning 180 years, our commitment to delivering technologically advanced solutions that cater to diverse customer needs is deeply ingrained. Our machinery is equipped with a range of features meticulously designed to prioritize performance, security, ease of operation, fuel efficiency, and real-time equipment monitoring. Operator comfort and safety remain at the forefront, exemplified by ergonomically crafted rotating seats, the RH Pillar mounted GVAC control system, secure storage spaces on the RH Cluster for operator convenience, and an informative AV system. Our engines are thoughtfully engineered with lockable hoods, while rear-view visibility is optimized for operator safety. CASE offers versatile, Made-in-India products, with over 90% localization levels that are suitable for the Indian terrain. We also provide comprehensive aftermarket support, complete with warranties and robust customer service, reflecting our dedication to ensuring a holistic ownership experience for our valued customers.
Detail us on the Safety features and operator comfort in your machines.
Incorporating a holistic approach to operator safety and comfort, our machines like 770EX series showcase a range of cutting-edge features. To ensure operator well-being, we've integrated advanced telematics for real-time monitoring, an audio-visual warning system with over 25 alerts, and engine protection shutdown to minimize downtime. Moreover, our machines prioritize visibility with spacious cabins and enhanced sightlines, while ergonomic seats and intuitive controls create a comfortable working environment.
Furthermore, our commitment to operator comfort extends to innovative spacious cabins, and an increased swing frame height for improved maneuverability. With features like Eco Mode and Auto Idle, we not only enhance fuel efficiency but also reduce noise levels, ensuring that operators stay productive and comfortable even during extended shifts.
Detail us on your aftermarket services as a strategic differentiator.
Our commitment to customer satisfaction goes beyond sales, emphasizing after-sales services as a key business strategy. Our vast network of 70 dealers and 200 touchpoints across India, staffed by certified experts, ensures convenient access to support and genuine parts. Complementing this network is our advanced 75,000 sq. ft. central warehouse in Indore, storing up to 13,000 SKUs, supported by depots in Faridabad and Guwahati, ensuring swift parts availability nationwide.
Each CASE equipment comes with a standard one-year warranty, extendable with 'CASE Protect' and 'CASE Care' programs, tailored to diverse customer needs. We also prioritize operator proficiency, offering skills and development training, ensuring safe and efficient equipment operation. Our comprehensive after-sales services enhance operational efficiency and equipment longevity.
Please provide details on your emphasis on technology, research, design and innovation?
CASE Construction's legacy of innovation and commitment to cutting-edge technology are apparent in their backhoe loaders. With a 172-year history, the company has consistently provided reliable solutions to meet diverse customer needs. This dedication is showcased in the EX series of backhoe loaders, where their innovative spirit continues. The EX series introduces variants with power options of 76 HP, 86 HP, and 96 HP, all featuring the renowned reliability and fuel efficiency of FPT engines. This integration of advanced engines aligns with the company's leadership in engine technology.
The EX series also emphasizes thoughtful design for enhanced functionality. A tilt able engine hood facilitates efficient servicing, reducing downtime. Heavy-duty axles reinforce durability for demanding work conditions. The spacious and comfortable cabins in the EX series create an exceptional work environment, prioritizing operator comfort. This commitment to innovation and technology, coupled with a heritage of reliability, has made the EX series India's fastest-growing TLB (Tractor-Loader-Backhoe) model. This success reflects CASE Construction's ability to seamlessly merge reliability, performance, and comfort, reaffirming their leadership role in the construction equipment industry.
Tell us about the indigenization efforts undertaken by the company to meet the market requirements?
CASE Construction's commitment to indigenous manufacturing and contributing to the 'Make in India' and 'Atmanirbhar Bharat' initiatives is deeply ingrained in our operational strategy. Our approach resonates with these campaigns, focusing on producing equipment in India for both domestic and global markets.
Our factory shows how serious we are about this promise. We make machines right here in India, but they are made to be just as good as ones from anywhere in the world. This way, we can sell our machines in many different places and still keep our connection to India strong. We also make sure to use materials from India. This helps the businesses here and makes our country's economy stronger. A great example of this is our Vibratory Compactors and Loader Backhoes. These are our main products, and most of the parts for them come from India. This shows how much we care about our country and want to help it grow. It also makes our products better and gives people more reasons to buy from us.
Our journey of indigenization and local sourcing aligns seamlessly with the 'Make in India' vision, emphasizing self-reliance and domestic manufacturing prowess. By sourcing locally and heavily localizing our products, we not only enhance our competitive advantage but also contribute to the broader goal of making India a global manufacturing hub.
What sort of government policies or measures will foster growth for backhoe loaders and Future outlook for the backhoe loader industry and from a company perspective.
Government policies and actions play a pivotal role in driving growth for the construction equipment sector, particularly backhoe loaders. Ongoing infrastructure projects like the National Infrastructure Pipeline, Bharatmala project, Sagarmala project, and PM Gati Shakti Framework are creating a heightened demand for construction machinery such as excavators, loader-backhoes, and compactors. In the recent budget, the government's strong focus on infrastructure is evident through significant allocations, including Rs 2.7 lakh crore for road infrastructure, Rs 2.4 lakh crore for railways, and plans for new airports. Additionally, initiatives like the urban infrastructure development fund and provisions for private investment through the Infrastructure Finance Secretariat further underscore the commitment to growth. At CASE, we are excited about these prospects and are determined to contribute by offering our intelligent and efficient construction machinery solutions. From a future perspective, the backhoe loader industry is poised for growth. With India's projected GDP growth and substantial investments in infrastructure, the demand for construction equipment, including backhoe loaders, is likely to surge. This trend is further reinforced by the fact that construction equipment accounts for a substantial percentage of the total project cost under the National Infrastructure Pipeline.
We at CASE are enthusiastic about the opportunities that lie ahead in the construction equipment industry. The rapid development of infrastructure, road networks, and other civic projects aligns perfectly with the expertise and product range we offer. Our commitment to providing intelligent and efficient construction equipment positions us well to contribute to this growth. We anticipate a positive future outlook as we continue to offer innovative solutions, robust machinery, and comprehensive after-sales support to meet the evolving needs of the construction industry.