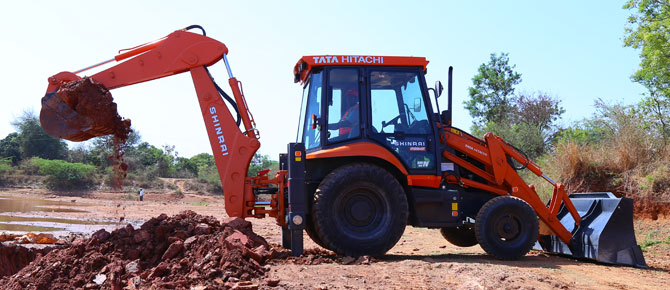 In continuation of our "Chalo Desh Banaye" theme, we have developed many products locally and indigenized global products as well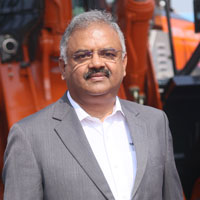 The design philosophy at Tata Hitachi centres around the needs of the customer. Through innovative techniques, the company has always developed solutions that cater to the needs of Indian customers, working under tough conditions in a competitive market. In an exclusive interview with CONSTRUCTION OPPORTUNITIES, BKR PRASAD, GENERAL MANAGER – MARKETING, TATA HITACHI CONSTRUCTION MACHINERY, speaks about his company's backhoe loaders, cutting-edge technology, aftermarket services, and a lot more.
Briefly give us an overview of the Backhoe Loader market in India, the latest trends, current business drivers, sector challenges and market dynamics?
In FY 2022–23, the market rebounded strongly, clocking a growth rate of around 30%. This growth is also attributable to the low base of the first quarter of FY 2021–22. Apart from this, investments and activities across the infrastructure space positively impacted demand throughout the year. This growth was primarily led by the self-use segment, as hirers initially shied away from the purchase process owing to the price increase but they are now back in business.
The demand drivers largely remain the same: government and private investments. Government investment is led by rural and urban housing, rural roads, rural irrigation and watershed development, lake development, urban development, AMRUT, and the Jal Jeevan Mission, among others. Private investment is largely led by real estate, housing, agriculture, and utilities. The market therefore recovered, with an increase in rental rates across the country. In addition, customers adjusted to increased prices and, in some cases, modified their businesses with new innovative methods like job- and quantity-based pricing rather than per-hour rentals.
Detail us on the range of backhoe loaders offered by your company, in terms of types, capacities and applications. 
Tata Hitachi has been offering backhoe loader solutions to the Indian market for more than 20 years.
Tata Hitachi offers a full range of Backhoe loaders to cater to the market. We have two main variants in our stable, namely the SHINRAI Pro 49HP Backhoe Loaders and the CEV-IV-compliant SHINRAI Prime 74HP. SHINRAI Prime has multiple variants, like a Loader version, an AC version, and a 4WD version. Both SHINRAI Pro and Prime are offered with a variety of options like rear general purpose and heavy-duty tyres, front wider tyres, standard and 6-in-1 loader bucket, general purpose bucket, heavy-duty backhoe bucket, trench bucket and ditch cleaning bucket.
Tata Hitachi also offers a full range of attachments to work across applications like rental work, municipal work, garbage handling, crusher, hopper loading, quarrying, earthmoving, ditch cleaning, trenching, optical fibre laying, pipe laying, lifting, log handling, loading, unloading, road construction, well digging, and building construction, to name a few.
The range of attachments on offer for SHINRAI Backhoe Loaders are jib crane, forklift, auger, rock breaker, quick coupler, mulcher, ripple tooth, grapple, dozer blade, booster loader bucket, long backhoe arm extension, hedge trimmer, trencher, and bale handler.
Have you launched any new variants to you existing product portfolio? Detail us about the cutting-edge technology used in your machines. What are the USP's of your products Vis-à-vis competition 
Recently, Tata Hitachi has launched SHINRAI Pro, SHINRAI Prime Loader version and a variety of attachments like the Jib Crane, Booster Bucket, and Long Arm attachment. Both models are gaining traction in the market. Very soon, we are going to launch a new model specific to the eastern region of India.
Tata Hitachi SHINRAI backhoe loaders are developed on the principles of reliability, capability, and trust. To bring the best of the world to our customers, we pick and choose the best aggregates from renowned manufacturers. Expert component manufacturers are providing the best technology to us, like Japanese Engine technology, Italian Transmission and Axle technology, British Cabin design, American Telematics Systems, etc. These components, integrated with Hitachi's expert hydraulic technology, fabrication, and manufacturing, give a truly global product that is made in India. As a result, we get unmatched performance. Tata Hitachi SHINRAI is now known in the market for its lower fuel consumption, superior productivity, and reliability.
With InSite (the telematics system) for connected machines, we provide all relevant information like fuel consumption, location, operation hours, alarms, alerts, etc. on the mobile devices of machine owners. We provide InSite because we understand how relevant the information is to our customers, how to get the best ROI from machines, and how to bring a culture of transparency into our relationship with customers.
Detail us on the Safety features and operator comfort in your machines.
Tata Hitachi SHINRAI comes with a variety of in-built and optional safety items like a battery cut-off switch, FOPS cabin, Parking brake interlock, travel motion alarm, fuel theft alarm, and fire extinguisher seat belt with alarm, among other such advanced features.
InSite, the built-in telematics suite in our SHINRAI machines, provides suitable alarms and notifications, allowing customers and operators to closely monitor the machine. SHINRAI Backhoe Loaders are designed as per the ISO 20474 safety standard and Tata Hitachi's own internal safety criteria.
SHINRAI Backhoe Loaders comes with a spacious cabin, a fan, an optional air-conditioned cabin, ergonomic controls, music system with FM/AM/AUX/USB/Bluetooth, a comfortable operator and helper seat, ample storage space, and dual white lights inside the cabin.
Detail us on your aftermarket services as a strategic differentiator.
The SHINRAI range of backhoe loaders has a dedicated team with regional champions to ensure timely service and reduced breakdown time.
We have trained service engineers across India who undergo practical and classroom training at Tata Hitachi's training centres in Dharwad and Kharagpur.
To ensure non-stop machine operation, we have extended the service intervals. Parts availability is also ensured through Tata Hitachi warehouses, dealer warehouses and outlets. We regularly review our parts availability to improve fulfilment and delivery.
We have invested in digital technologies to reach customers far and wide through social media and through our in-house e-Dost portal. The portal is a one-stop-shop for all customer needs, including accessing the right products for various applications, market information, procurement, service support and parts. Our dedicated call centre ensures prompt connection with customers and routes queries and requirements to concerned Tata Hitachi teams for addressing the same.
Our dealer network is constantly expanding, and the dealers themselves are also investing in support infrastructure such as field diagnostic vehicles, machine care facilities, and mobile workshops to assist customers in the best way possible.
To sum up, Tata Hitachi provides comprehensive aftermarket services for our backhoe loader customers, including a dedicated team, trained service engineers, longer service intervals, parts availability, digital communication channels, an extensive dealer network, and continuous training for service personnel.
Please provide details on your emphasis on technology, research, design and innovation? 
Tata Hitachi takes a comprehensive approach to innovation and technology in the design and manufacturing of backhoe loaders, particularly in the Indian market, where the backhoe loader segment is nearly twice the size of the excavator market.
At our Dharwad facility, we have a dedicated design and development team for backhoe loaders. This team possesses strong technical and commercial acumen to effectively address customer needs and requirements. We prioritise capturing customer expectations through our product development teams and aligning our operational decisions and innovations accordingly.
Tata Hitachi's commitment to innovation, technological advancements, and customer satisfaction has allowed us to gain market share, earn customer acceptance and trust, and expand our offerings to meet diverse market requirements.
Tell us about the indigenisation efforts undertaken by the company to meet the market requirements?
In continuation of our "Chalo Desh Banaye" theme, we have developed many products locally and indigenized global products as well. Our backhoe loaders, SHINRAI Prime, SHINRAI Pro, and SHINRAI Power, were developed by our design and development team in India. We have a high percentage of local content in our machines, which are made for the Indian and global markets. Using truly global technologies that are made in India for the world is our motto.
Your take on the rentals market for backhoe loaders.
Backhoe loaders are versatile construction equipment widely used in India for various purposes, including excavation, digging, trenching, and loading. The rental market for backhoe loaders in India has been experiencing steady growth due to several factors:
Construction and Infrastructure Development: India has been witnessing significant infrastructure development, including roads, highways, real estate, and urban projects. These projects drive the demand for construction equipment like backhoe loaders. The growth of this industry is steady; customers are looking for reliable and high-performance equipment like SHINRAI.
Cost-Effectiveness: Renting backhoe loaders can be more cost-effective for smaller construction companies or projects that don't require continuous equipment use. With the expectation of lower costs of operation due to low fuel consumption and maintenance costs, SHINRAI is a great option for a cost-effective solution for the rental market. Renting eliminates the need for large capital investments, maintenance costs, and storage expenses.
Seasonal Demand: Some construction activities are seasonal, and renting equipment allows companies to acquire the machinery only when needed, reducing idle time and costs. SHINRAI is versatile equipment with a variety of attachments available to cater to various segments like Agriculture, Construction, municipalities, etc.
Market Players: Various rental companies and dealers offer backhoe loaders for rent, increasing the accessibility of equipment across different regions of India. Although the Indian backhoe market is still fragmented, Tata Hitachi itself provides support for rental machines. Organised players can rely on our business for machines while they focus on their core deliverables.
Government Initiatives: Government initiatives aimed at boosting construction and infrastructure development also indirectly contribute to the demand for backhoe loader rentals.
With the recent "Jal Jeevan Yajna" and boost for road construction, we have seen an increase in demand for equipment across India.
Your comments on the financing of equipment, how fast and easy is it for a customer to get finance. What according to you will enthuse customers to buy equipment and thereby increase sales.
In India, financing options for equipment, including construction equipment like backhoe loaders, are available through various channels, including banks, non-banking financial companies (NBFCs), and equipment manufacturers themselves.
Several factors can encourage customers to buy equipment and subsequently boost sales in the construction equipment market:
Attractive Financing Options: Offering competitive and flexible financing options can significantly motivate customers to make a purchase. Low interest rates, longer repayment periods, and minimal documentation requirements can entice customers.
After-Sales Support: Providing robust after-sales support, including maintenance, servicing, and spare parts availability, can instill confidence in customers that their investment will be well taken care of.
Leasing and Rental Options: In addition to outright purchasing, offering leasing or rental options can attract customers who prefer flexible short-term arrangements.
What sort of government policies or measures will foster growth for backhoe loaders.
To foster growth for backhoe loaders and the overall construction equipment industry in India, the government can implement various policies and measures. These initiatives can create a conducive environment for increased demand, manufacturing, and utilisation of backhoe loaders. Here are some potential policies and measures that could help promote growth in this sector:
Infrastructure Development: Continued investment in infrastructure projects, such as roads, bridges, ports, and urban development, will naturally drive the demand for construction equipment like backhoe loaders.
Public-Private Partnerships (PPPs): Encouraging PPPs in infrastructure projects can attract private investment, leading to increased construction activity and consequently, demand for equipment like backhoe loaders.
Skill Development: Establishing training and skill development programmes for operators of backhoe loaders and other construction equipment can enhance the efficiency and safety of their operation.
Reduced Import Duties: Reducing import duties on critical components and parts required for manufacturing backhoe loaders can incentivize domestic production and assembly.
Research and Development (R&D) Incentives: Offering incentives for R&D activities related to improving the efficiency, emissions, safety, and technology of backhoe loaders can drive innovation in the sector.
Ease of Doing Business: Simplifying regulatory processes, obtaining permits, and ensuring ease of doing business can attract both domestic and foreign investors to the construction equipment industry.
Financial Support and Access to Credit: Facilitating easier access to financing for purchasing backhoe loaders can encourage small and medium-sized enterprises to invest in these machines.
Local Manufacturing Support: Supporting the establishment of local manufacturing facilities for backhoe loaders can lead to job creation and reduced dependence on imports.
Environmental Standards: Enforcing and promoting adherence to emission and environmental standards can drive the adoption of cleaner and more efficient backhoe loader technologies.
Infrastructure for Equipment Rental: Developing a robust ecosystem for equipment rental, including backhoe loaders, can provide access to machinery for smaller construction companies without the need for large upfront investments.
Trade Agreements: Formulating favourable trade agreements that promote exports of domestically manufactured backhoe loaders to other countries can boost the industry's growth.
Awareness and Promotion: Running campaigns to promote the benefits of mechanised construction and the use of backhoe loaders can increase awareness and adoption.
Waste Management and Recycling Incentives: Providing incentives for using backhoe loaders in waste management and recycling activities can create additional avenues for equipment utilisation.
It's important to note that a holistic approach that combines various policies, regulatory changes, and incentives is more likely to have a comprehensive impact on fostering growth in the backhoe loader and construction equipment sectors. Additionally, the government should engage with industry stakeholders to understand their needs and challenges while formulating and implementing these policies.
Future outlook for the backhoe loader industry and from a company perspective
We believe that in this pre-election year, the execution of various government schemes will intensify across the board. This coupled with a record of 10 lakh crore in capex announced in the recent budget, increased outlays on infrastructure from state governments, and a likely 5th normal monsoon, will bode well for driving growth in the backhoe loader market this year too. The market will be transitioning to CEV-V norms in April 2024, and this could also lead to some pre-buying before the end of the year. We therefore believe that the market will once again see double-digit growth this year, coming close to the previous high achieved in 2018–19.
We have already addressed the range of backhoe loaders that are on offer from Tata Hitachi. Also at play is the full range of attachments for work across applications. Further, apart from innovating on the product front, we are also partnering with financiers to make the purchase of our backhoe loaders easier for customers.