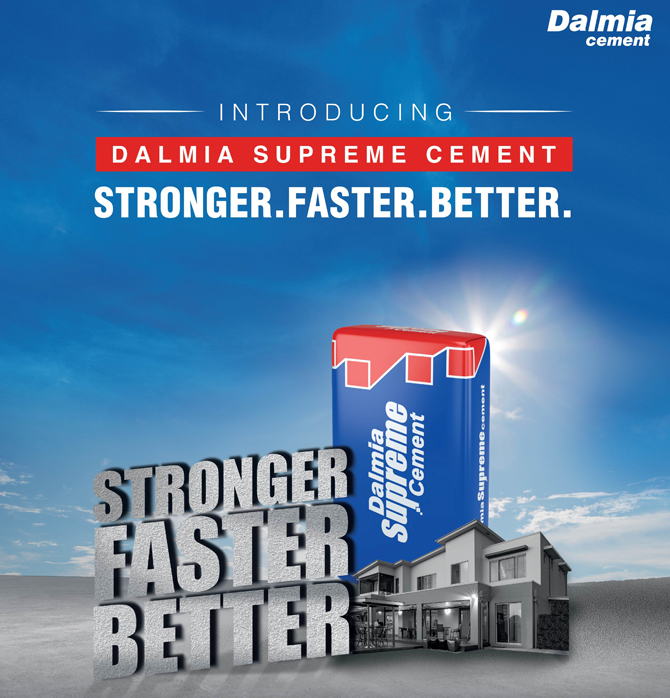 Dalmia Cement launches new brand – 'Dalmia Supreme Cement'
Strengthens its offerings in the Eastern markets of India – West Bengal, Odisha, Bihar and Jharkhand
The premium brand offers triple benefits – superior strength, faster setting and better workability for home construction.
Dalmia Cement (Bharat) Limited (DCBL), aleading Indian cement major has announced the launch of its new brand, Dalmia Supreme Cement for the eastern states and will be available for retail consumers in the markets of West Bengal, Odisha, Bihar, and Jharkhand from 1st May 2023. The premium brand is a high-quality Portland Pozzolana Cement (PPC) product type offering triple benefits of superior strength, faster setting and better workability, making it the perfect choice for constructing strong and durable houses. The brand will be sold through all existing retail channels in the eastern region.
Commenting on the launch of the brand Rajiv Prasad, Sr. Executive Director and Head Sales, Logistics, Technical Services & Marketing, DCBL said, "We are excited to introduce Dalmia Supreme Cement in the eastern market. In line with the company's customer centric approach, this new offering is to cater to the growing needs of a specialized product for Stronger, Faster and Better construction. With its superior strength and durability, Dalmia Supreme cement is ideal for home construction projects. The new brand is an addition to our existing portfolio of established brands like Dalmia Cement, Dalmia DSP Cement, Konark Cement and Dalmia Infra Pro "
Dalmia Supreme Cement is a specialized, best-in-class product that is formulated for all kinds of construction applications along with improved workability, higher density and offers better resistance against chemical attacks. It is made with fine pozzolanic material for superior strength and enables faster setting, directly and positively impacting construction cost. The LPP packaging is superior, thus ensuring higher shelf life. As part of Dalmia Cement portfolio, this product too has been designed through intensive research and development and combined with over eight decades of expertise in providing quality that lasts a lifetime.
Dalmia Supreme with its superior strength and durability is ideal for home construction projects and would help in complimenting existing Dalmia DSP Cement which is our Dhalai Expert. Dalmia Cement (Bharat) not only delivers top quality cement but also extends superior technical services to its consumers as a post sales service in terms of Onsite Supervision, Engineering services and many more.
Alongside its vision to become a Pan India cement company, Dalmia Bharat will continue to grow its strong presence in the East. The company owns manufacturing plants across all the four key states of the Eastern region. Apart from East, Dalmia Cement (Bharat) also has operations in South, North East, West and Central region as the fourth largest cement maker in the country with an installed capacity of 41.1Mnt.
About Dalmia Cement (Bharat) Limited 
Dalmia Cement (Bharat) Limited (DCBL), a subsidiary of Dalmia Bharat Limited (BSE Code: 542216|NSE Symbol: DALBHARAT and listed in MSE), is a leading player in the cement manufacturing segment and has been in existence since 1939. Dalmia Cement (Bharat) Limited prides itself on having one of the lowest carbon footprints in the cement world globally. It is the first cement company to commit to RE100, EP100 & EV100 (first triple joiner) – showing real business leadership in the clean energy transition by taking a joined-up approach. With a growing capacity, currently pegged at 41.1 MnT, Dalmia Cement is the fourth-largest cement manufacturing group in India by installed capacity. Spread across ten states and fourteen manufacturing units, the company is a category leader in super-specialist cement used for oil well, railway sleepers and airstrips and is the country's largest producer of Portland Slag Cement (PSC).
For more details visit: www.dalmiacement.com