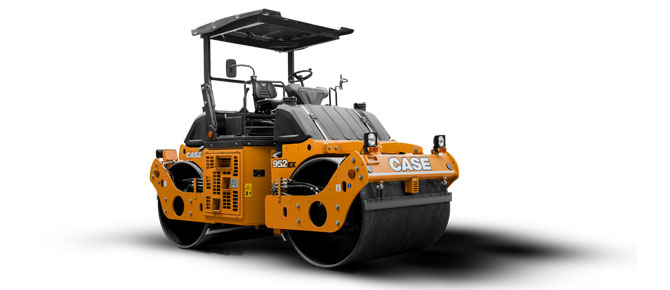 Our latest addition, the 1107EX PD Soil Compactor, is tailored for versatile applications and typical compaction tasks.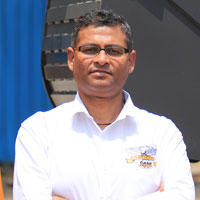 CASE India is a premium brand, offering 'Best-in-Class' Compactors, Motor Graders and top line machines available in India. In an exclusive interview to CONSTRUCTION OPPORTUNITIES, PUNEET VIDYARTHI, HEAD OF MARKETING & BUSINESS DEVELOPMENT – INDIA & SAARC, CASE CONSTRUCTION EQUIPMENT speaks about the latest trends, his company's offerings, after market services and a lot more.
Give us an overview of the Compaction & Paving equipment industry in India, latest trends and market dynamics.
The compaction and paving equipment industry in India is currently experiencing a robust upswing, driven by the nation's ambitious infrastructure projects and the increasing demand for efficient road construction and maintenance machinery. Recent sales data indicates a substantial year-on-year growth of 18% in the first quarter of FY24. This remarkable growth is attributed to the government's emphasis on infrastructure spending and the imperative to complete projects promptly ahead of the significant Lok Sabha elections scheduled for 2024. Additionally, the government's plan to allocate the majority of funds in the current calendar year is expected to further bolster sales in the second and third quarters of FY24. This positive trend underscores the industry's resilience and its essential role in facilitating India's rapid urbanization and modernization endeavors.
Notably, in India, the government has embarked on transformative initiatives like the Bharatmala Project, aimed at the comprehensive development and enhancement of the national highway network. Compaction sector assumes a pivotal role in shaping infrastructure landscapes, prompting a proliferation of road and highway construction endeavors across various regions. Moreover, India's National Infrastructure Pipeline (NIP) is poised to expedite the development and modernization of road and highway networks. NIP, steered by the government, identifies transportation as a critical priority and has allocated a staggering $1.4 trillion for infrastructure investments by 2025.
Tell us about the range of Compaction & Paving equipment offered by you, in terms of types, capacities and applications.
Our Compaction & Paving equipment portfolio is designed to cater to a wide range of compaction and road construction needs. One of our key offerings is the CASE 952EX Soil Compactor, a robust machine built for medium to heavy-duty tasks. Equipped with a state-of-the-art diesel oxidation catalyst (DOC) system, it ensures comprehensive after-treatment and up to 5% higher fuel efficiency. This compactor features an electronically turbocharged engine compliant with BS (CEV) IV (India) regulations, guaranteeing improved responsiveness and overall performance. Safety is a paramount consideration, with features like a secondary braking system, exceptional front and rear visibility, a sliding operating seat, and excellent ground clearance for effortless maneuverability. The advanced console provides a clear and intuitive display with 19 visuals and 10 auditory warnings, including crucial information such as water in fuel, low engine oil pressure, and more. For added practicality, it includes a 12V power socket for mobile charging. Compact and highly portable, the 952EX is an excellent choice for various construction and road compaction applications.
Additionally, our latest addition, the 1107EX PD Soil Compactor, is tailored for versatile applications and typical compaction tasks. It offers a standard drive and smooth drum along with a pad foot drum and double drive for compressing cohesive materials. This machine incorporates advanced features like ECO mode and One Touch Idle mode, delivering up to 6% improved fuel efficiency. Furthermore, it boasts a low-maintenance design thanks to its state-of-the-art engine technology, aligning perfectly with the evolving needs of the road construction market. We have recently upgraded the edition of Vibratory Compactor (VC), which is the sole one in the sector that incorporates telematics, underscoring our dedication to pioneering advancements.
CASE's C-series of Motor Graders (845C and 865 C) are powerful machines with the FPT 6.7L turbocharged BS (CEV) IV, electronically controlled diesel engine. The intelligent hydraulic system with a load sensor allows operators to regulate the moldboard from the cabin itself, resulting in increased productivity and operator comfort. The motor generates variable Horsepower at 220 rpm – 193HP /205 HP / 220 HP and is ideal for mining applications.
Intelligent machines, telematics and IoT are becoming a trend with equipment, your comments. Cutting edge technology featured in your machines. What distinguishes your equipment from competitors.
At CASE, we lead in integrating cutting-edge technology into our equipment. Our machines boast intelligent features for enhanced performance, security, and real-time monitoring. SiteWatch technology lets users remotely track machine status, fuel consumption, and service alerts for proactive maintenance. It aligns with AEMP 2.0 Telematics standards for fleet management. Our equipment prioritizes operator ease and safety with comfortable seats, advanced controls, ample storage, and AV systems. Safety features include lockable hoods and improved rear-view visibility.
Smart features, like Telematics, provide real-time data on fuel usage, battery status, and security, aiding in maintenance and reducing downtime.
Detail us on your company's emphasis on Research, Design and innovation.
At CASE, our commitment to research, design, and innovation is the cornerstone of our mission to deliver cutting-edge compactors and construction equipment. We are dedicated to incorporating state-of-the-art technology and advanced features into our machines to enhance their performance, efficiency, and safety. From smart features and SiteWatch technology for real-time monitoring to the CASE Intelligent Hydraulic System (CIHS) that optimizes fuel efficiency, we prioritize staying at the forefront of technological advancements. Our state-of-the-art manufacturing facility in Pithampur, has a Research & Development center for product development which also takes into consideration the customer feedback and requirements. Furthermore, our parent company CNH Industrial's India Technology Center, located at Gurgaon SEZ (Cyber City), is a strategic footprint for providing R&D capabilities and collaboration for global technology-led projects including Digital and Product Development. Our focus is on providing our customers with equipment that not only meets but exceeds industry benchmarks, ensuring they have access to the most advanced and reliable solutions for their construction needs.
Factors such as safety, operator comfort, ease of operations are crucial. What are the steps undertaken by you for providing the same?
At CASE, ensuring safety, operator comfort, and ease of operations are paramount considerations in our equipment design and support programs. All our CASE equipment are meticulously designed to meet stringent safety standards and regulations, offering operators maximum comfort during their work. Features such as ergonomic controls and adjustable seating are integrated to enhance the operator's working environment. These elements ensure that operators can work efficiently and comfortably, reducing fatigue and enhancing productivity. We prioritize ease of use by incorporating intuitive controls and user-friendly interfaces into our machines. This makes our equipment more accessible to customers, regardless of their experience level, allowing them to operate our machines with confidence.
To further underscore our commitment to safety, we provide operators with comprehensive safety training and certification programs. At our, Skill Development Center – Hunar in India, aimed at providing in-depth training on Loader Backhoe operation. This initiative aligns with the Central Government's Skill India Mission and trains 240 professionals annually. Additionally, we operate a training center at our state-of-the-art Pithampur plant. Here, we not only conduct regular operator training but also plan collaborations with prominent training organizations to educate operators and foster new entrepreneurs in the field.
As a responsible industry leader, CASE Construction is dedicated to providing equipment that prioritizes safety, operator comfort, ease of use, and efficiency. Our unwavering commitment to these principles ultimately enhances the productivity and profitability of our valued customers.
Aftermarket services as a strategic differentiator.
CASE recognizes the critical role of aftermarket services as a strategic differentiator in ensuring customer satisfaction and success. Our commitment to delivering a comprehensive ownership experience extends to providing exceptional after-sales services and solutions.
In India, we have established a vast network comprising 70 dealers and 200 touchpoints, all staffed by highly trained and certified personnel. This extensive network ensures that our customers receive the best possible aftermarket support, including prompt assistance and expert guidance. To streamline our service offerings, we operate a state-of-the-art 75,000 sq. ft. central warehouse in Indore. This facility is equipped to stock a staggering 13,000 SKUs at any given time, enabling us to meet our customers' needs efficiently. Additionally, we maintain two depots in Faridabad and Guwahati, strategically positioned to provide easy access to our services throughout India.
Our commitment to customer satisfaction extends to the warranty and service packages we offer. All CASE equipment, whether light or heavy machinery, comes with a standard base warranty of one year from the date of delivery. Recognizing that each customer's needs are unique, we provide various extended warranties and service packages through our 'CASE Protect' and 'CASE Care' programs. Additionally, through our in-house retail finance company 'CNHi Capital,' we offer various financing options to the customer reducing the economical strain on them. These programs are designed to offer tailored support and peace of mind to our customers. We ensure that our customers receive not only top-tier equipment but also comprehensive support and solutions that contribute to their success.
What sort of government policies or measures will foster growth for the compaction & paving equipment industry?
Government initiatives not only drive infrastructure development but also help create a robust demand for advanced equipment, aligning with India's vision for a modern and well-connected road network.
For instance, the Union Budget has also emphasized on growth and development, placing infrastructure development as one of the seven priority areas with 50 new airports being targeted, INR 2.7 lakh crore being allocated for road infrastructure and INR 2.4 lakh crore for railways in the year. The announcement of an urban infrastructure development fund and the opportunities presented for private investment in infrastructure through newly established Infrastructure Finance Secretariat, reiterate India's focus on strengthening the infrastructure of the country. Moreover, industry experts are optimistic about the future growth of the industry, as both domestic and export markets have performed better than the previous year.
While the policies and initiatives that promote infrastructure development greatly contribute to the growth of construction equipment sector, investment in skill development in the industry as well as focus on sustainability, can create positive impact on the sector as well.
Future outlook on the industry and from a company perspective?
The Construction Equipment market is poised for significant growth as the nation's infrastructure and construction sector rapidly expands. Recent market reports reinforce our belief in the sector's robust prospects, driven by major projects including construction of roads, airports and major metro and railway expansion.
At CASE, we are ready to contribute to this growth with our intelligent and efficient construction equipment. Committed to being a driving force in the industry's expansion, we offer innovative solutions aligned with evolving sector needs, emphasizing performance, efficiency, and sustainability. We eagerly anticipate shaping the industry's future and supporting India's infrastructure development goals. We are enhancing our product portfolio and preparing to launch new offerings in the Indian market. Notably, we've established a dedicated assembly line for Skid Steer Loaders, led entirely by a team of women. Furthermore, our expansion plans include increasing our production capacity by 50%, with the goal of manufacturing 12,000 units annually by 2025. In line with our commitment to environmental responsibility, we are planning to transition to TREM V emission norms in the near future across all our products. This underscores our dedication not only to performance, efficiency, and safety but also to environmental sustainability, ensuring our Compaction & Paving equipment remains a top choice for construction and road compaction applications while adhering to the latest emission standards.