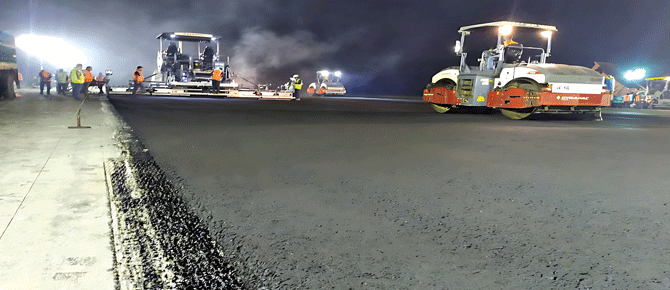 COMPACTORS & PAVERS
Faster,  Smarter  &  Safer
The road building industry in the country and globally has been continually staying at the forefront of equipment innovations and construction techniques, ultimately aiding in building long-lasting infrastructure for the communities. Current trends in road construction equipment are putting a spotlight on greater efficiency and improved operation with less environmental impact than ever. Right now, manufacturers are continuing to push for greener technologies like battery-powered and alternative-fueled equipment, but they're also focusing on increasing efficiency and output quality, as well as safety. Intuitive and efficient operations are driving innovations for manufacturers of pavers, as well as compaction equipment, writes PRERNA SHARMA.
Let's start with an interesting narrative to understand the criticality of pavers & compaction equipment… Ahmedabad Airport has a single runway, designated 5/23. The runway is 3489 meters long and 46m wide and surfaced with concrete and asphalt. The runway enhancement project included runway overlaying, strip grading and slope assessment, grading of the runway end safety area, stormwater drains construction, and the reinstallation of signages. The re-carpeting project was estimated to be completed in two phases that would span three calendar years. Later, the target was set at 90 days, but it was achieved in just 75 days! AICPL played a significant role in fulfilling the project's essential requirements. Together with Adani Airport Holding Limited (AAHL), they only used nine hours of Notice to Airmen (NOTAM) daily. During the 75 days of re-carpeting work, AMD kept the runway open for 160 daily flights for almost 15 hours a day.
AICPL, along with Dynapac, was able to achieve an impressive world record. The re-carpeting of the 3.5 km runway was done in a record time of 74 days – an all-time best amongst brownfield runways in India. It is estimated that the amount of asphalt laid during the re-carpeting of the runway was equivalent to a 200km stretch of road, and the concrete used for the runway drainage system was enough to build a 40-story structure. In order to complete the runway in record time, Dynapac's full fleet of equipment was used. This included Dynapac 9 wheeled CP275 PTR, CC425 Tandem Roller & SD2530CS Paver. During the project, the company also achieved the milestone of laying 4178 metric tons of asphalt using the Dynapac Paver in the front row in just 9 hours. That's how significant is the role of these two equipment!
According to Global Market Trends report, the Compaction and Paving Equipment Market is growing as a result of several significant factors. First and foremost, industry has experienced a transformation owing to swift technological advances that have made it feasible to develop new products & services. Additionally, the demand has grown as a result of shifting consumer choices and growing Compaction and Paving Equipment awareness among consumers. Government regulations and supportive policies have also promoted industrial expansion and investment. The global Compaction and Paving Equipment Market is anticipated to expand steadily over the ensuing years as a result of a mix of ongoing technical developments, rising environmental consciousness, and the expanding demand for efficient business practices.
As per Off-highway Research estimates, India's ambitious road building programs will continue to require large volumes of compaction equipment. "Compaction equipment demand in the country is mainly met through local production, and imports remained insignificant at 1% in 2021. The scale of planned infrastructure development in the country, especially the road sector, is huge, which will continue to drive the compaction equipment market for many years to come, which is projected to reach 5,000 units by 2026," stated the report.
Trends Update
Both soil and asphalt compaction are essential to a well-performing and long-lasting road structure. While many contractors may think soil compaction has little impact on the end result of a job, the opposite could not be more true; if proper soil compaction is not achieved initially, it can lead to catastrophic issues for the entire success of the project down the road. In terms of asphalt compaction, the same can be said. Under compaction will most likely result in inadequate densities, which could potentially result in fines or rework, depending on what the job specification requires while over-compaction often results in breaking the aggregate which would ultimately lead to premature failure.
Manufacturers have been working to take the guesswork out of compaction for years through technology. Intelligent Compaction (IC) is one such technology with many different facets that has gained attention in the asphalt compaction industry. According to the Federal Highway Administration (FHWA), IC refers to "an improved compaction process using rollers equipped with an integrated measurement system that consists of a highly accurate GPS, accelerometers, onboard computer reporting system, and infrared thermometers for hot mix asphalt feedback control. By integrating measurement, documentation, and control systems, the use of IC rollers allows for real-time monitoring and corrections in the compaction process.
According to Ashitech blog, the road paving machines help in laying the asphalt flat on the surface of the road. They also provide basic level compaction prior to being compacted with a roller machine. These paver machines are equipped with top-grade hydraulic loading legs that can ensure easy loading and transportation of the paving material. They can also assist the users when they are trying to change the width of the operation quickly. This is why road paving machines are helpful in managing such paving tasks. The technology that is used for the production of road paving machines has greatly improved in recent years, thanks to the ingenuity of companies that are actively involved in their research and development. This has also made it possible for them to develop well-constructed road paving machines that can deliver the requisite performance.
The future in road building is here with Vögele's latest-generation SUPER 1900-5(i) and SUPER 2100-5(i) Road Pavers. These Highway Class pavers are the best in class whether on highways or handling other demanding large-scale projects. The SUPER 1900-5(i) manages pave widths between 2.55 m and 11.5 m, the SUPER 2100-5(i) up to 14 m. Both Dash 5 pavers feature a flexible, modular system that takes into account economy and sustainability as well as ease of use and process automation.
Vögele has made user requirements a key focus of development, resulting in further optimisation of the ErgoPlus operating concept, which with its touchscreen and smartphone shelf, delivers even greater convenience for digital road construction. The control unit positioned on the screed allows all the initial steps such as switching on lights, starting the diesel engine, booting up the machine control system, putting up the hardtop and locking it in position, as well as lowering the screed, etc. to be performed safely and conveniently from the ground level. This promotes safety and saves time as the paver operator cannot forget to lock the hardtop in position and can start heating the screed as soon as he has arrived on the paver operator's platform.
The automation of processes has been intensified in the SUPER 1900-5(i) and SUPER 2100-5(i) road pavers using assistance and control systems. Process automation not only prevents paving errors, but it also considerably increases efficiency as well as paving quality. Given the rise in raw material prices, economy is also becoming more and more of a factor in the success of road construction, which is why with its Dash 5 pavers, Vögele has ensured reduced setup times, improved logistics, and increased machine availability. The new material handling control prevents load peaks and facilitates an optimum head of mix in front of the screed throughout the entire paving process. The hydraulically extending limiting plates for the auger tunnel ensure an optimum level of material in front of the screed, even with hydraulic extensions fully extended.
Both pavers are equipped with a powerful, liquid-cooled 6-cylinder diesel engine from John Deere. This ensures that in line with our motto "Close to our customers", road construction companies get services from a single source. ECO mode, which is adequate for many jobs, reduces costs and facilitates particularly low-noise operation. The new Dash 5 pavers are also equipped with a further optimized Vögele EcoPlus low-emissions package. The tried and tested functions of the Dash 3 generation, such as the splitter gearbox, the energy-optimized tamper drive, and the controlled hydraulic oil temperature circuit, can still be found in the Dash 5 machines.
In India, Hamm is offering its HC series of soil compactors in the 11-ton and 13-ton category, with or without a drum drive, and optional pad foot attachment, and tandem rollers HD 99i and HD 109i. The HD 99i weighs nearly 9 tons, while the HD 109i weighs approx. 10 tons. With a drum width of 2.14m and 1.68 m in soil and tandem, respectively, they can be used in inner-city projects, for compaction on motorways, airports, and other large areas.
The Oscillation system developed by Hamm is a recent advancement that enables the compactors to achieve compaction results that are scientifically proven to be more homogeneous and of higher quality. In an oscillation drum, two eccentric shafts are fitted at a 180° angle to each other. Both unbalanced masses rotate synchronously, which causes the drum to perform a rapidly alternating forwards-backwards rotational movement. This results in the compaction energy being transmitted forwards and backwards tangentially into the ground below in the form of shear forces. The drum is therefore in constant contact with the ground, which means that permanent static compaction also takes place because of the weight of the machine, as well as compaction caused by the shear forces. The result is faster and more significant compaction.
Hamm also offers a variety of compaction monitoring digital tools – starting from basic compaction to full blown systems with longitude and latitude data. Using these digital tools, customers can monitor the compaction in real time and can take corrective measures – also in real time. This ensures a uniform and desired compaction result.
For minimizing passes and adjustment of amplitude and frequency, optimization of all the machine parameters is done through the electronic machine management system "Hammtronic" that monitors and controls all key machine functions. The advantages offered by Hammtronic include automatic adjustment of the diesel engine speed to meet the power requirements of the individual drives (driving, vibration). It controls start-up and braking and distributes the drive torque across the drum axle and/or rear wheels in accordance with real-time operating data (e.g. incline, driving speed, direction). Hammtronic also controls the hydrostatic vibration drive and the various steering programmes (for DV+ series only), guaranteeing even, smooth movement of both drums.
The Hamm Compaction Meter measures and displays the corresponding values for the stiffness of the subsoil via the acceleration sensor on the vibrating drum. Using the Hamm Compaction Meter (HCM), drum acceleration can be determined when vibration is switched on. This raw data reflects the reaction of the soil to the vibrations triggered by the roller, and the HCM Compaction Calculator continuously calculates the Hamm Measurement Value (HMV) of material stiffness from this. By preventing over-compaction, extra passes are reduced, leading to fuel saving.
Escorts Kubota's Compaction products portfolio is one of the most exhaustive in the country. The machines are equipped with the best aggregates from leading international technology companies and laden with high-end features. Ideal for road compaction and relaying, these machines are the most productive, economical and rugged in their segments. For instance, HD 85 Plus is powered with 4 cylinder water cooled turbocharged 76 HP Escorts engine with inline fuel pump. Best in class aggregates and gradeability helps in meeting the requirement of climbing steeper gradients of work site embankments. EC5511 XP, a new styled soil compactor, is powered with reliable and fuel efficient 105 HP Kirloskar engine. Best in class static linear load and centrifugal forces with ease of operation make the machine more productive with less cost of maintenance. KOEL 4R1190TA1 CEV STAGE-IV Emission Norms engine is high on power and traction, low on fuel consumption and maintenance.
The Apollo AP600 Wheeled Hydrostatic Sensor Paver is a reliable and durable paving solution that offers superior quality, productivity, and ease of operation. With the Apollo AP600 Wheeled Hydrostatic Sensor Paver's CEV IV emission standard engine and advanced features such as hydrostatic drive, fingertip controls, swinging console, and best-in-class sensors, this AP600 Wheeled Hydrostatic Sensor Paver is designed to deliver exceptional paving performance on any terrain. AP600 Wheeled Hydrostatic Sensor Paver's double-axle design ensures maximum stability, even at the widest paving width, while additional features like auger lifting/lowering, separate drives for both auger and conveyors, and sensors for material feed enable even and precise paving.
The AP 600 Wheeled Hydrostatic Sensor Paver's hydraulically extendible screed with vibration and tamping, available in TV 4900 and TV4500 models, allows for a basic width of 2.5 meters that can be extended up to 4.9 meters with bolt-on mechanical extensions of 850 mm or 1050 mm on either side.
The AP 600 Wheeled Hydrostatic Sensor Paver's tamping and vibration arrangement meets the Ministry of Road Transport and Highways' accepted international specifications, and Ammann offers LPG or diesel burner options for screed heating. Equipped with sensors, this paver ensures excellent compaction values and delivers exceptional paving results every time.
The small Dynapac soil compactors are vibratory rollers designed for compaction operations in pipe trenches, compacting roads, streets and parking lots. Due to small size and exceptional maneuverability, these rollers are also well suited for compaction on large building foundations and industrial construction sites and in cramped spaces in connection with refilling work. The rollers are also suitable for repair work and give good maneuverability even on very steep slopes. All types of supporting and reinforcement courses can be compacted. The PD version, equipped with pads and drum drive, is especially suitable for the compaction of silt and clayey soils.
When using the ECO-system, the percentile saving is higher during compaction than during idling and transportation. Combine the 15-20% fuel savings with biodegradable hydraulic oil and very low noise levels and the result is "green" rollers.
The Dynapac product range, equipped with a Stage IV engine, is not only compliant with the latest emission stage but is also contributing to great fuel cost savings. Adding to this it provides a better working environment. With the Stage IV engine, the team has measured up to 11 tons (on pavers) of CO2 emission reduction per year. Fuel savings up to 4200 liters on a yearly basis has been made possible.
Alltech's Unifurface, a Micro Surfacing paver, is one of the finest slurry seal and Micro Surfacing Machines in the world. As the flagship product line from Alltech Group, 'Unisurface' represents the quality and reliability that Alltech Group is known for. Better Steel, Better Components, and Operator Friendly design separate 'Unisurface' from other slurry seals and micro-surfacing machines. Alltech Group is India's first company to launch a Micro Surfacing paver (slurry paver) and successfully pave India's major cities.
JCB's range of Compactors offers high level of precision and perfection, which makes them one of the finest compactors in the world so much so that today no construction site looks complete without one of JCB's compactors. Leading the industry in output with more compaction per pass and equipped with unique features and robust structure, these phenomenal compactors deliver exceptional results.
JCB's vibratory tandem road rollers are designed to be class leaders. JCB Tandem Roller is developed for reliability, low cost of operation, operation safety, serviceability, maneuverability, performance, operator comfort and best in class durability. The tandem roller is also powered by the JCB ecoMAX engine, which also makes it highly fuel efficient, providing the lowest fuel consumption in its class. Further, its maintenance free vibration system and articulation joint, makes it a highly efficient vibratory compactor. What's more, the vibratory plate compactor's two operator seats, tiltable steering and rotating seats assure optimum comfort. The vibratory roller also offers 10% higher productivity than the rest of its competitors with the help of exclusive features like the unique drum offset provision. The machinery also has better serviceability due to its maintenance free vibration system and articulation joint. Furthermore, this road roller has better after-sales support, and a single point warranty.
L&T compactor range comprises L&T 1190 Soil Compactor – CEV-IV, L&T 990HF I Tandem Compactor – CEV-IV, L&T 2490 HD Pneumatic Tyred Roller – CEV-IV, and L&T 491 Mini Tandem Compactor. The compactors have been designed to give ease of operation and are fitted with anti-vibration pads that prevent drum vibrations from reaching the operator cabin. Plus, all the controls are within the operator's reach and all refill points can be reached from the ground. In the cabin of L&T Tandem Compactor 'L&T 990 HF-I,' the operator seat can be rotated for a better view and both the drum surfaces are visible from the seat.
L&T compactors have dual amplitude; the amplitude change is achieved by changing the direction of rotation of the eccentric shaft. The compaction forces generated are optimized to ensure the best results. L&T has designed the vibration system in-house and it has proved to be very reliable at work sites. An intelligent compaction system (offered as an option in L&T compactors) enables the operator to get an alert once the desired compaction is achieved, thus avoiding over compaction. The system also optimizes the compaction meter, which keeps a check on the compaction achieved by measuring the rebounce on the drum and gives inputs to the operator on the degree of compression. The operator saves fuel when he stops compacting a bed that has already achieved the desired level of compaction. L&T has optimized the weight ratio in its compactors so that they can continue to be productive in all kinds of terrains. The articulation system has also been designed in-house to achieve the desired result using hydraulic cylinders. The entire drum surface is in contact with the ground throughout the compacting.
At 535 HP and over 123,000 lb. operating weight, the CAT 836K Landfill Compactor leads the class in reliability, performance, safety, operator comfort, serviceability, and efficiency. From a family of machines with over 20 years of landfill experience, the 836K is powered with field-proven technologies to keep operations running at their peak. Cat Compaction Control system uses Machine Drive Power (MDP) technology to measure rolling resistance and correlates it with landfill compaction. 3D mapping indicates where to work and when layers are at optimum density. The system eliminates voids, optimizes cell space and documents results.
Impeller Clutch Torque Converter (ICTC) reduces wheel slippage and tip wear by modulating rim pull from 100 to 20 percent while depressing left pedal. After 20% rim pull is achieved when the left pedal applies the brake. It reduces wheel slippage without reducing hydraulic efficiency and improves fuel efficiency with its lock-up clutch torque converter providing direct drive. Steering and Transmission Integrated Control System (STIC™) enhances operator comfort by integrating steering and transmission control functions in a single lever. Includes finger-controlled gear selection. Low-effort integrated controls deliver faster cycles and help reduce operator fatigue.
The 836K's Steering System offers precise machine control enabled by its load-sensing hydraulic steering system. It provides increased efficiency by use of variable displacement piston pumps and delivers precise positioning for easy operation in tight areas with 43 degree articulation in each direction. Electro-hydraulic controls increase productivity with responsive implements feature. Operate comfortably with easy-to-use soft-detent controls.
The 836K is built to be rebuilt, maximizing machine life, and minimizing environmental impact. Get the most from your investment, with our sustainable options including Cat Reman and Certified Rebuild programs. With these programs, remanufactured components deliver cost savings of 40 to 70%, lowering operating costs while also reducing waste and minimizing the need for raw materials.
Pure power meets performance with BOMAG's line of zero-emissions machines. These battery-electric compactors match their conventional model counterparts for performance, while relying on technology that protects the operator and residents nearby the construction zone as well as the environment. In the trenches or other enclosed environments, their zero-emissions operation is an added benefit for all site workers.
The company is set to feature three new models from the BOMAG e-PERFORMANCE line, including a tamper, single direction plate and tandem ride-on roller. The battery powered BOMAG BT 60 e tamper combines eco-friendliness with unmatched operator comfort. Its plug-and-play design guarantees easy charging without tools, and an optional quick charger allows for the battery to charge in less than 2 hours. A maintenance-free electric motor is protected against shock and dirt by a rugged casing to ensure its longevity.
Whether compacting soils or asphalt, the new BP 18/45 e single direction plate is a climate-friendly, all-around compactor that uses the same battery as the BT 60 e, improving machine efficiencies at the site. It can be used in deep trenches, buildings or tunnels to compact up to 10-in (25-cm) lifts of gravel/sand plus up to 8-in (20-cm) mixed soil lifts. Its optional water tank for asphalt compaction features efficient tool-free operation.
The innovative design of the new BW 120 AD e-5 tandem roller features two long-life rechargeable batteries that provide enough power needed for a typical workday. Two high-efficiency electric motors independently control the drum vibration and travel/steering, so only one motor is needed for travel mode to conserve power. Perfect for working at night or in urban areas with its low noise/zero emissions operation, the BW 120 AD e-5 offers a 47.2-in (1.200-m) drum width, 3,900/3,3360 vpm (65/60 Hz) drum frequency and 0.0197-in (0,50-mm) amplitude.
BOMAG combines innovative equipment design with leading technology to boost operating efficiencies at the jobsite. Featuring 1.97-in (50-mm) crab steering to efficiently compact around buildings and other obstructions, the new BOMAG BW 120 SLC-5 combination roller on display boasts Intelligent Vibration Control (IVC) to alert the operator in real-time when optimum compaction is achieved to save passes and eliminate guess work. Its front vibratory steel drum provides a 47.2-in (1.200-m) working width, while the four rear smooth tires provide a kneading action for optimum compaction.
BOMAP Connect offers networked control and documentation of all machines involved in the compaction process, regardless of brand, across the entire site. This allows the site to be optimized, saving up to 30% on roller passes, cutting costs and lowering CO2 emissions. The most advanced intelligent compaction management system on the market, ASPHALT MANAGER vectors drum vibration from true vertical to horizontal, helping the novice operator to achieve the same results as a seasoned veteran. Requiring only the asphalt lift thickness to be entered, compaction force is automatically adjusted relative to material thickness and temperature, and vibration direction is automatically matched to the roller's travel direction to prevent ripples in the mat.
Into the Future
Many contractors may think that not much has changed with laying a good asphalt mat, but machine technology is evolving to help the industry produce the best quality product with the dwindling labor resources we have available. According to a global media, Paver-mounted thermal profiling (PMTP) is sensor technology mounted on top of a paver that measures the asphalt surface temperature profiles behind a paver at full paving width to indicate potential for temperature segregation. The temperature sensors used by PMTP is a scanning infrared sensor mounted high up on a paver. The temperature profiles are normally divided in 12 inches by 12 inches grids, where an average surface temperature is reported within each grid. Thermal profiling today can incorporate the temperature of the road before paving, the speed and direction of wind, humidity and other factors.
As part of its ambition to lead the transformation journey through electrification and sustainable power, Volvo CE has set up a dedicated business unit for its range of compact equipment machines and solutions, with the aim of driving growth and profitability in this important and growing product segment. The new Compact Business Unit will take advantage of the shift to electrification in the compact equipment segment to secure a fully electric line up of productive and sustainable products across the whole compact range. It will initially be responsible for compact excavators up to 9 tons and compact wheel loaders up to the L50 model.
The construction industry, a vital force in modern society, has long been associated with noise, emissions, and environmental impact. However, in response to the urgent need for more sustainable and eco-conscious practices, industry is undergoing a remarkable transformation. Dynapac has risen to the challenge by unveiling the world's very first electric city paver, an innovation set to redefine construction practices and pave the way for a greener future. The electric city paver represents a fusion of cutting-edge technology and environmental consciousness. With zero emissions, reduced noise levels, and low running costs, this innovative machine is primed to create a more harmonious coexistence between construction and the surrounding environment. One of the most remarkable aspects of the electric city paver is its impressive runtime – it can operate for up to four hours on a single charge. This incredible endurance is made possible by a state-of-the-art Lithium-ion battery and a powerful 55 kW 3-phase Permanent Magnet Synchronous Motor.
Charging infrastructure has been a critical focus of Dynapac's innovation. The electric city paver can handle both AC and DC charging, with the capacity to charge at speeds of up to 80 to 100 kilowatts. This fast-charging capability is a game-changer for construction sites with tight timelines, ensuring the machine can quickly recharge during breaks or lulls in activity. The electric city paver's adaptability to various charging scenarios demonstrates its practicality and efficiency on construction sites.
Similarly, on the path to sustainability, HAMM has recently launched its first fully electric battery-driven tandem rollers. The models form part of the HD CompactLine series and will initially be available for the European market. Some models are fitted with oscillation drums, including the world's first e-combination rollers featuring oscillation. Not only is compacting with these models emission-free, it's also ultra-quiet.
With eight electric rollers in the compact class, HAMM's launch represents a milestone for the compaction industry. The HD 10e model (drum width: 1.00 m, operating weight: 2.5 t) and the HD 12e model (drum width: 1.20 m, operating weight: 2.7 t) boast the same compaction power as their combustion engine counterparts, but produce zero emissions. The e-rollers are operated in exactly the same way as the other models in the HD CompactLine series.
HAMM has fine-tuned every aspect of the e-rollers to preserve resources. For example, the models feature an automatic electric motor stop as standard. This deactivates all functions when the machine is idling, thereby reserving precious battery capacity. When ECO mode is selected, the control limits the working speed. This also saves energy, as does the LED lighting, which is fitted as standard. The innovative steering control also helps to conserve energy: In the parking position, it uses no energy at all. The steering motor does not switch on until the electric driving lever is actuated. Then the machine steers with sensitive responsiveness and an adaptive energy supply with no additional effort.
An increase in population and urbanization has led to the expansion of the construction sector throughout the globe – with a particularly strong increase in the demand for compact equipment. The segment now represents 50% of the total market, compared to 35% a decade ago, with the growth trend likely to continue.
Fast Facts
The compaction machines market is expected to grow at a CAGR of 6.4% between 2023 and 2033. The market is expected to hold a market share of US$10.4 billion by 2033, while it is likely to touch the US$5.6 billion in 2023.
Intelligent compaction offers improved material stiffness or density; reduction of highway repair cost; improved depth of compaction; and lower operating cost.
Heavy compaction machines are set to dominate the market due to increasing investments in building & construction activities and the growing adoption of machines such as heavy tandem rollers, single drum rollers, and pneumatic rollers in large public infrastructure projects and the commercial sector.
With the rising government investments in developing and upgrading road infrastructure, the overall sales of asphalt pavers is poised to surge at 4.4% CAGR between 2022 and 2032, surpassing a total valuation of US$3414 million by 2032.