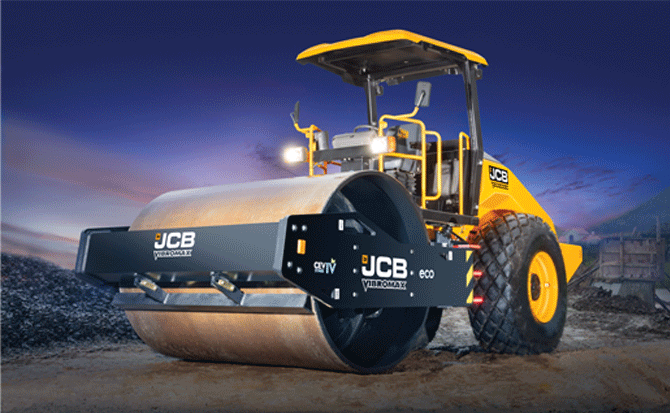 JCB continues to invest in smart technologies and bring in more innovation to offer unmatched benefits to customers and end-users.
JCB India's state-of-the-art facility in Pune manufactures Compactors built to one Global Quality. These 'Made in India' machines are not only building infrastructure in India but are equally popular in other parts of the world. They are exported from India to developed markets such as the USA, UK and Europe.
In July 2021, JCB introduced the new VM 117 Soil compactor, powered by a 74 hp JCB ecoMax 444 engine without needing engine after-treatment. The machine is up to 10% more fuel-efficient as compared to the previous model. It has high productivity, reliability and operator comfort, making it a preferred choice for Compaction needs.
The VMT330 is a small 3T category Tandem Roller. Exclusively designed to cater to the road construction needs of our customers, Every JCB Compactor is equipped with unique features and a robust structure. Designed for productivity, the range is suitable for various projects, depending upon the volume of compaction work. Whether it is a single drum Soil Compactor or a Vibratory Mini Tandem Road roller, every JCB Compactor offers high efficiency and productivity.
Deepak Shetty, CEO & Managing Director, JCB India Limited, says "The JCB117 soil compactor leads the compaction industry in output with one of the best Compaction performances per pass. In addition, the machine is equipped with 'LiveLink' and 'IntelliCompaction' – a Compaction Monitoring System that assists in optimising the number of passes and enables monitoring of performance with real-time compaction information. It is an innovation that is disrupting the way compaction is carried out. It measures relative compaction density which is continuously displayed to the operator using a colour LCD screen. This helps the operator to avoid both excessive and lower than required compaction levels with predetermined set values as reference. It also saves time and resources by avoiding repeated compaction. The machine optimises the number of passes and enables monitoring of performance to achieve high productivity."
The JCB117 has an Operating Weight of 11,400 kg, Engine Power of 74 hp and a Drum Width of 2100 mm. It is backed by JCB premier line solutions, a lifetime lubricated central joint, higher centrifugal force of 256 KN and advanced telematics technology. It is a single drum soil compactor that offers superior productivity and leads the industry in output with the best compaction per pass.
VMT330 is a JCB Mini Tandem Roller that is ideal as an entry-level road construction machine. The machine has a Drum Size of 1250 mm, Maximum Engine Power of 33 hp and a Machine Operating Weight of 3,300 kg. It is best suited for applications such as highway road shoulders, retaining the walls of flyovers, footpaths, trenches, service roads, industrial and residential columns & rural roads. The machine has a fuel-efficient engine, higher productivity, unique drum offset, free vibration system & articulation joint.
The JCB Compaction machines have optimised front and rear weight distribution, amplitude & frequency combinations. They also have high centrifugal forces with a new balanced suspension system to ensure the highest energy transfer, be it soil or asphalt application. The design of the JCB's vibratory system with a single-piece eccentric shaft and overturning weights is well-proven. It delivers excellent compaction performance for all applications.
This also results in improved manoeuvrability as the vibratory drum remains stable on compacted, levels, as well as on gradients. Higher energy transfer ensures minimum passes are required to achieve the required compaction.
While this design offers a high level of performance, it also keeps it simple to operate through two amplitude settings to select from, based on the application. This vibration system keeps the design architecture simple for long life and ease of service. The focus has been to keep the equipment robust and high on productivity.
New Technologies in the Sector – Digital Interventions
IntelliCompaction
JCB IntelliCompaction is an in-built feature that relays real-time data of compaction value live in the cabin helping to avoid re-work and save time. A display shows relative compaction value, vibratory frequency and a warning light during jump operation. It lets you know about hard and soft spots and shares an over-compaction alert and surface conditions. An intelligent compaction measurement, JCB IntelliCompaction eliminates guesswork and takes productivity to a whole new level by giving you better control, saving time and fuel and optimizing the number of passes; thus, removing assumption-based Compaction patterns.
Real-time compaction productivity information is available 24×7 through LiveLink. Weekly and daily performance report data analytics are readily available to customers.
LiveLink
JCB India has pioneered the integration of digital technology in its range of machines through advanced Telematics called 'LiveLink'. These machines work in off-road and often remote locations and LiveLink helps in remote monitoring and fleet management on key parameters of Service, Operations and Security of equipment.
This technology today helps over 2,30,000 JCB machines communicate in real-time on machine location, operations, performance, downtime, service alerts and security. It enables better site management and equipment utilisation, thereby improving operational efficiency and cost-saving. Features such as geofencing and time-fencing have significantly enhanced the security of these machines.
Technology has been transforming the way machine-to-machine and machine-to-customer communication is being done. All vital information about the machine is available to customers on their mobile devices through a web browser or also through the 'LiveLink' mobile application. Additionally, the system also sends out alert SMSs to registered mobile numbers. It incorporates GPS, telecommunications, machine electronics and IoT, enabling the equipment to remain in contact with the owner, dealer and JCB.
Accurate monitoring of machine hours and service alerts improve maintenance. Technical alerts and maintenance history data help customers manage the machine's health for maximum uptime and return on investment. Early warnings with detailed machine history enable users to plan work effectively.
This cutting-edge technology can help lower servicing and running costs by ensuring machines are operated to their optimum performance, reducing fuel consumption and unnecessary machine wear. By monitoring idle-time and real-time fuel consumption, LiveLink helps manage the whole life cost of ownership, driving down costs, driving up productivity. It also helps keep machines safe and improves control over machine misuse.
New trends in Product Support
'After-Sales Support' is one of the key deciding factors in the overall buying cycle of a product. Infrastructure development projects demand specialised, intelligent and technologically advanced Construction Equipment. This has to be supported by consistent, quick and effective after-sales services to achieve the best quality output on tight timelines.
With a wide distribution network of over 60+ dealers and over 700 outlets across India, JCB India provides an unmatched distribution and service network to its customers. It is imperative that well-connected product support minimises downtime and maximises productivity. Our dealers employ about 8,000 professionally trained personnel in India and the dealerships provide vital product support to customers for their equipment.
JCB also invests in the skilling and training of its dealers and product support teams. Additionally, five strategically set up parts warehouses at Pune, Bengaluru, Kolkata, Guwahati and the recently inaugurated warehouse at Bhaproda near New Delhi, which is the industry's largest parts warehouse with an area of about 160,000 sq. ft, support these dealerships for parts supplies.
As we go ahead, we will continue to invest in smart technologies and bring in more innovation to offer unmatched benefits to customers and end-users.
For more details visit: www.jcb.com/en-in