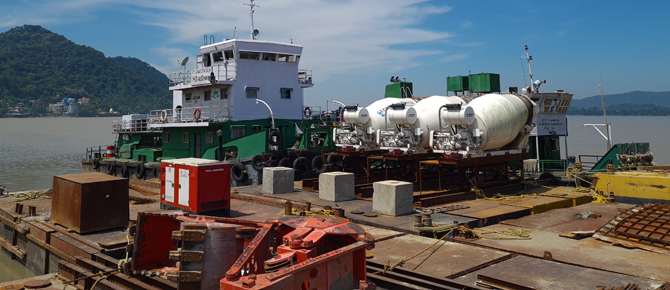 SCHWING Stetter India has planned to roll out a total 25 new products to the market in FY 2023 to commemorate our 25th year in the Indian CE market.
Schwing Stetter is a pioneer in manufacturing equipment for concrete preparation, placement, transportation and recycling. In an exclusive interview to CONSTRUCTION OPPORTUNITIES, V.G. SAKTHIKUMAR, CMD, SCHWING STETTER INDIA, speaks about the latest trends in the RMC industry, game changing technologies and a lot more.
Give us an over view on the RMC Equipment market, latest technology trends and market dynamics. What are the RMC equipment currently in demand
RMC Equipment Market has continued to grow even during the pandemic period and its aftermath. The fact that the manpower, especially the migrant workforce had become scarce for production, transportation and placement of concrete during the pandemic. This scarcity has created a movement towards RMC Equipment with more mechanisation and automation, which has created newer demand and helping the RMC Equipment manufacturing industry.
Regarding the Emerging trends in the RMC field, BOOM PUMPS are finding space in the RMC sector, like never before due to its one man operation, thereby deleting excess manpower. Due to the increased demand for the ready mix concrete in the RMC Sector , clients are opting for Higher output Batching Plants, pumps and mixers rather than smaller capacity equipment.
Tell us about your product portfolio of RMC equipment. Game changing technology/products developed by your company.
SCHWING Stetter range of equipment for RMC Application includes the following popular setups.
In Batching Plants ranging from 18 m3 to 240 m3 capacity in different variations such as compact, Mobile Horizontal and vertical versions.
Stationary Concrete pumps in output ranging from 30 m3 to 240 m3.
Boom Pumps with hight capacity ranging from 20 meters to 48 meters .
Separate Placing Booms with installed capacity from 24 to 32 meters range
Line pumps with a Pumping capacity of 46 m3/hr to 64 m3/hr.
Recycling plants with a continuous output from 6 m3 /hr to 12 m3 /hr
Transit mixers has a wide range of concrete carrying capacity from 2 m3 to 12 m3 of concrete
Out of the above offerings the following are the popular setups in trend in the retail RMC sector.
Cutting edge technology featured in your machines in terms of telematics, smartness and IoT. What are the USP's of your machines. Also please provide details on your emphasis on technology, research, design and innovation? What are the advancements you have introduced in your machines or plan to introduce?
The Spirals in the Stetter Concrete mixer are technologically designed to give better homogeneity in mixing and higher strength. This saves cement and other raw materials for our clients. Savings due to lesser Fuel Consumption across all the all the equipment because of the open loop hydraulic system and optimized prime movers are features that make our machines standout in the market. The batching Plants are designed for faster erection and easy maintenance. Our in-house automation helps us meet the requirement of the Customers in terms of CRM and IOT and tailor made solutions for customer need.
Give us an understanding of their key features in terms of safety, ease of operating your machines, operator comfort, cost efficiency etc their specific advantages.
In SLM the Operator comfort is optimized with AC cabin along Dual Mode operation control of the Mixing drum (Externally & Internally) ,
Optionally GPS system Rear / loading view camera Ground control operation Admixture system Centralized hand operated greasing system/ Cold start kit /Hydraulic wet braking system /Internet of Things (IoT).
In The batching Plants, safety is Ensured with multiple interlocking features and fully customizable accessories. IOT and remote monitoring is a key feature in all plants.
The Pumps are equipped with IOT enabled control panels.
All the equipment give excellent cost effective output, due to its technically advanced hydraulics which is proprietary.
Aftermarket services as a strategic differentiator.
SCHWING Stetter has always been associated with its after-sales support Excellence, be it Service, Spares or Training requirements. With close to 26 Branches pan India, and 12 Service centers and as many Spares depots, SCHWING Stetter provides direct and immediate service to its RMC customers. The Service centers provide Overhauling/refurbishment of equipment with limited warranty. Scheduled Health Check-up of all RMC Plants and Audit of Operators periodically have garnered huge appreciation from the clients. Apart from this, the resident service engineers take care of clustered equipment in remote areas.
Have you launched or planning to launch any new products. Please provide details.
SCHWING Stetter as a strong innovator, continues to launch new products regularly such as the new variant of Self-Loading Mixers with different weight capacities and better control systems. SCHWING Stetter offers Complete RMC solutions such as Recycling plants with sieve arrangement to reuse the residual concrete, dry mortar plant and plastering pumps which makes SCHWING Stetter India a One stop Shop for Concrete equipment requirements.
SCHWING Stetter India has planned to roll out a total 25 new products to the market in FY 2023 to commemorate our 25th year in the Indian CE market. A major portion of these products have already been launched in the market through exhibitions and other events in 2023 and we will coming up with brand new launches in EXCON 2023 as well.
What are the trends driving purchase or hire of readymix concrete equipment market in India? To what extent is consumer behavior influenced by cost? Are you seeing customers moving towards TCO.
Real Estate boom and infra structure projects in the cities like the launch multiple phased expansion of metro rail , smart city projects, largely drive the retail demand for the Ready Mix concrete leading to multiple RMC setups in all construction hotspots in the country.
Tell us about the indigenisation efforts undertaken by the company to meet the market requirements? What is the company's approach to implementing the 'Make in India' drive?
In the wake of the pandemic, equipment manufacturers have come to realize the importance of self-reliance, prompting a renewed focus on drives such as "Atma Nirbhar" and "Make in India." SCHWING Stetter India has been manufacturing indigenous products since its inception, even before "Make in India" became a popular slogan. Today, nearly 60-65% of components are locally manufactured at our five manufacturing bases, with a network of close to 120 vendors for OEM component supply. We continue to explore opportunities for indigenizing imported components, subject to feasibility, technical expertise, and production capacity. SCHWING Stetter's Global Manufacturing Hub is manufacturing and exporting concrete equipment under the "Make in India" drive.
Are you tied up with any equipment financing companies to help potential buyers with equipment purchases
SCHWING Stetter India has formed collaborations with multiple financing partners for our customers to get easy access for equipment financing. Our portfolio includes all the major banking partners in the country and we are consistently adding more financing partners to facilitate more options for our customers.
What kind of government policy will foster growth of the RMC equipment sector?
The Government is already contributing a lot the construction sector by promoting huge infrastructure development in the country. The Govt believes the 5 trillion US $ economy can be realized only if the investment of 1.4 trillion US $ happens in the infrastructure, construction over the next five years. This directly benefits the CE industry in terms of demand creation. SCHWING Stetter India is geared to meet this demand.
We wish that the PLI Scheme given to auto industry will also be extended to the CE manufacturing industry as it is the third largest industry ranked globally, and hence the latent potential for exports in a big way.
Future outlook for the industry and from a company perspective
We expect the growth for India on two levers, one high demand due to the infrastructure development in line with the NIP and second the high potential in the export market. As the Construction Equipment industry in India is poised for a tremendous growth, with a vision plan to be the second largest Construction and concrete equipment in the world, SCHWING Stetter India is aptly Prepared and engaged to cater to this cause. The Global manufacturing hub will be a Global Supplier for Concreting and construction equipment.