Innovation has been the cornerstone of JCB's operations around the world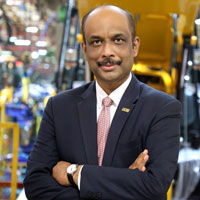 JCB India has a comprehensive range in the 3T to 5T category of mini excavators with the models 30 plus, 50Z and 51R. These machines offer high fuel efficiency and excel in productivity and operator comfort. In an exclusive interview to CONSTRUCTION OPPORTUNITIES, DEEPAK SHETTY, CEO & MANAGING DIRECTOR, JCB INDIA LIMITED, speaks about his company's range of mini excavators, JCB India's Technology & Digital Interventions and a lot more.
Brief us about the JCB range of Mini Excavators, their features etc?
Urban development, rejuvenation of towns and cities, solid waste management, pipelines and trenching work are among the many sectors, which are set to grow. These will have to be executed in space-constricted urban/semi-urban areas, and this is where Mini Excavators will find great utility.
As cities and towns expand, the compact design of the machine makes it useful in trenching, cable laying, power, irrigation, and housing. The concept of Mini Excavators is gradually gaining momentum as customers are today seeing value in the product.
JCB India has a comprehensive range in the 3T to 5T category of excavators with the models 30 plus, 50Z and 51R. These machines offer high fuel efficiency and excel in productivity and operator comfort. They are aimed at intensifying urban infrastructure and come with features like superior structural stability and our advanced Telematics Technology – Livelink to help achieve high productivity and connectivity. The range is compatible with multiple attachments like soil drill, rock breaker etc and gives operators the option of customised mode selection – Light, Eco, Heavy and Heavy+, depending on the work.
The 30 plus is a 3T compact Mini Excavator with a maximum bucket capacity of 0.076 cu.m, engine power of 24.7 hp (18.4 kW) and a maximum operating weight of 2,870 Kg. It has been designed to perform several applications in space-restricted areas, making it an ideal choice for multiple industries.
The next in the range is the JCB 50Z. A compact excavator powered by a 48 hp (35.7 kW) engine, it has been built for the challenging needs of the urban landscape of India. The machine has a compact size, zero tail swing, high-end structural stability, 8 operating modes and auto-idle & one-touch idle feature. The intelligent display with dial-type throttle control makes it capable of handling numerous applications like plantations, pipe laying, narrow drainage cleaning, canal sediment removal, trenching work, railway cable laying and utility work in industrial plants etc. The 50Z has an operating weight of 4.95 tonnes, a 2.7 m boom and a 1.45 m arm.
The 51R has Industry-leading digital screen technology that lets users tailor and store optimum settings which provide total control of the machine. Its compact size, high-end structural stability, higher lifting capacity, uncompromised safety & security features, make it a great business decision.
It is fitted with a 2.7m boom and 1.57m arm combined with a reduced tail swing, which makes this machine an agile and dependable performer. The 51R has a maximum operating weight of 5,266 Kg and an engine power of 48hp (35.7kW).
The 50Z and the 51R come with Bucket Capacities ranging from 0.10cum (trench), 0.14cum (standard) and 0.17 cum & 0.22 cum buckets (for lighter material) the JCB 50Z offers quality, strength, and excellent performance.
Provide us details with regards to the latest in terms of JCB India's Technology & Digital Interventions?
JCB India has pioneered the integration of digital technology in its range of machines through advanced Telematics called 'LiveLink'. These machines work in off-road and often remote locations and LiveLink helps in remote monitoring and fleet management on key parameters of Service, Operations and Security of equipment.
This technology today helps over 2,00,000 JCB machines communicate in real-time on machine location, operations, performance, downtime, service alerts and security. It enables better site management and equipment utilisation, thereby improving operational efficiency and cost-saving. Features such as geofencing and time-fencing have significantly enhanced the security of these machines.
Technology has been transforming the way machine-to-machine and machine-to-customer communication is being done. All vital information about the machine is available to customers on their mobile devices through a web browser or also through the 'LiveLink' mobile application. Additionally, the system also sends out alert SMSs to registered mobile numbers.
It incorporates GPS, telecommunications, machine electronics and IoT, enabling the equipment to remain in contact with the owner, dealer and JCB.
Accurate monitoring of machine hours and service alerts improve maintenance. Technical alerts and maintenance of history data help customers manage the machine's health for maximum uptime and return on investment. Early warnings with detailed machine history enable users to plan work effectively.
This cutting-edge technology can help lower servicing and running costs by ensuring machines are operated to their optimum performance, reducing fuel consumption and unnecessary machine wear. By monitoring idle-time and real-time fuel consumption, LiveLink helps manage the whole life cost of ownership, driving down costs, driving up productivity. It also helps keep machines safe and improves control over machine misuse.
What is the company's approach to implementing the 'Make in India' drive and an Aatmanirbhar Bharat?
The 'Make in India' programme was launched with a focus on making India a manufacturing hub for the world. Today, it has dovetailed into 'Vocal for Local' and an ambition to become 'AatmaNirbhar' or Self Reliant. JCB India is an embodiment of the Hon'ble Prime Minister's vision of an 'Aatma Nirbhar Bharat'. Our machines have been contributing to the building of world-class infrastructure in the country for over 40 years and we are proud that these made-in-India machines have been exported to over 125 countries today. They are building infrastructure the world over.
We today have five state-of-the-art factories in Delhi-NCR, Pune and Jaipur, all of which operate on the principle of 'One Global Quality. Our Jaipur factory is also a gender-diverse facility, with almost 33% of the workforce on the shop floor being women. Our sixth factory at Vadodara which will focus on exports of components is currently being constructed.
Innovation has been the cornerstone of JCB's operations around the world. In India, we have a full Design and Innovation centre at Pune which is our largest outside of the UK. This facility develops exciting and new technologies for the future for Global and Domestic projects. We thus, Innovate, Design, Manufacture, Sell and Export from India. JCB is focusing on the greater adoption of technologies like Telematics, IoT, big data, data analytics, and machine learning in its products.
Aftermarket services as a strategic differentiator.
'After-Sales Support' is one of the key deciding factors in the overall buying cycle of a product. Infrastructure development projects demand specialised intelligent and technologically advanced Construction Equipment. This has to be supported by consistent, quick and effective after-sales services to achieve the best quality output on tight timelines.
With a wide distribution network of over 60+ dealers and over 700 outlets across India, JCB India provides an unmatched distribution and service network to its customers. It is imperative that well-connected product support minimises downtime and maximises productivity. Our dealers employ about 8,000 professionally trained personnel in India and the dealerships provide vital product support to customers for their equipment.
JCB also invests in the skilling and training of its dealers and product support teams. Additionally, five strategically set up parts warehouses at Pune, Bengaluru, Kolkata, Guwahati and the recently inaugurated warehouse at Bhaproda near New Delhi, which is the industry's largest parts warehouse with an area of about 160,000 sq ft, support these dealerships for parts supplies. As we go ahead, we will continue to invest in smart technologies and bring in more innovation to offer unmatched benefits to customers and end-users.