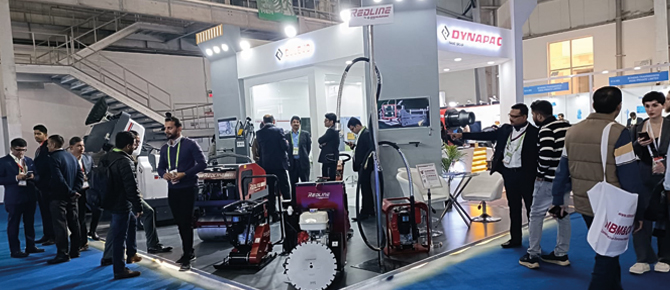 DYNAPAC is Your Partner on the Road Ahead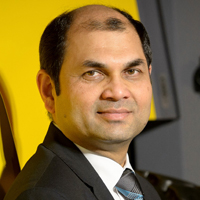 Dynapac started manufacturing of soil compactors in India in 2008 and has since expanded the range to a full line of soil compactors and asphalt rollers to support the Indian and export markets. In an exclusive interview to CONSTRUCTION OPPORTUNITIES, ABHIJIT SOM, MANAGING DIRECTOR, DYNAPAC ROAD CONSTRUCTION EQUIPMENT (INDIA) PVT. LTD. speaks about his company's technological advancements, training initiatives and a lot more.
What was your focus at BAUMA. Did you display any of your products
We came to BAUMA because we see that the market is growing. At the same time, because India has taken a leap into reducing emissions and going for modern technology, we felt, we need to start the conversation about how to get savings for our contractors. Savings can come through fuel economy; savings can also come through optimizing operating costs by offering users the right choice of equipment from Dynapac global product portfolio.
We did not display any big product as we were in an indoor stall but we have a full range of rollers and large pavers. In our stall we had a virtual show for these machines and discussed with our customers our new 10-ton roller for soil. Today if you look at soil rollers, everybody buys an 11-ton roller but in Dynapac we have offered a 10-ton, 11-ton and 13-ton roller and even up to 14-ton for stabilizer.  So, we want to offer options to our customers so that if you are doing a village road or a state highway or a national highway or an expressway, you can choose the right product for the application, the right product means the right operating cost.
Detail us on the technological advancements that you have done in the recent past?
If you look at development of CEV IV; we have electronic engines with bigger controller on the machines and it meant that whatever we did for the Stage V in Europe, we could replicate some of those benefits into our machines. I can give you a few examples of the current soil rollers that have controllers which can optimize the fuel economy by going into different modes due to the electronics on board.  For the pavers, we have an on-board computer that has options available which are like add-on functions that will optimize the paving operation. It can be on fuel saving or lane assist function like in cars. In pavers we can add sensor which will follow the road and they don't need to have operators on the sides to follow the width of the road. We have also got truck assist which is to guide the truck when unloading. So, a lot of electronic functions which were available in Europe yesterday is available today in India with new generation CEV IV machines.
India is a price centric market. So how do you maintain this equilibrium between price and technology?
In Dynapac, we always have a concept that you need to bring the global core technology in all the machines. If I am talking about the vibrating roller, the vibrating unit is a mechanical unit. So, we use optimized vibration unit for all our machines, whether it is in Europe or in India. But when you are selecting controls, we have different levels of controls on electronics and that will decide how big is the on-board controller. In the European machines, we have a bigger computer that can record the compaction data and alter settings which is not available in India. Our Indian machine will be able to do smaller adjustments like changing the engine speed but not doing bigger adjustments. So, control systems can go on a big curve and you can decide on which part of the curve you want to be. So, we can just feed what the customer wants. We are a company with modular design, we work with only global designs. So, we have one design for the world and we choose what fits the market. That's what makes DYNAPAC your partner on the road ahead.
Any challenges that you find in the industry?
Yes, current challenge is that, especially on the bigger engines, we are going to AdBlue, which is a new consumable for our construction industry. While working on asphalt it is not such a big problem but while working with soil, there is so much pollution around, managing AdBlue and handling AdBlue is definitely a challenge. It will also mean that we need to train operators and the teams on how to handle this.
What are your training initiatives basically?
First of all, we are part of ICEMA, we are also registered with IESC. We are driving training modules for operators and mechanics, but when we introduced the new CEV IV machines; on some major sites we have also put onsite service team to look at the practices and bring improvements where needed. What happened earlier is, if you leave it to the customer operators, you get partial feedback. Now with onsite presence we know what are the practices we need to correct and we are doing some machine improvements that can avoid any mistakes. When you move a technology into a country you also have to observe the technology, as to how it's being adopted and make changes to avoid mistakes. That's is a big activity towards technology absorption for our markets that we are doing today.