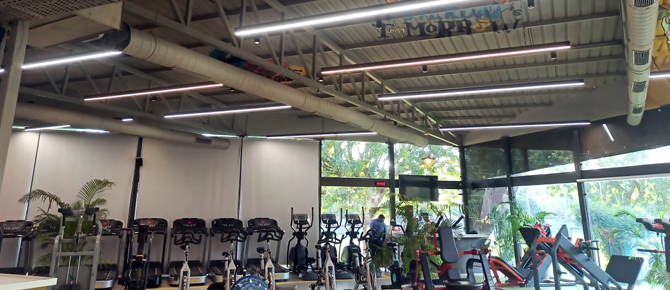 Comfortable Indoors with AeroComfort Insulation/ Improved Insulation with AeroComfort
Aerolam has been known for innovation in the insulation market since its inception in 2011. Ensuring customer satisfaction through innovative products has been our guiding principle. Carrying forward the legacy, the company has introduced a new product under the insulation vertical: AeroComfort.
With this latest offering, Aerolam leads the Indian market by pioneering machine-based foam pasting on galvanised metal sheets. The resultant pre-insulated sheet is available with a wide thickness range, up to 13mm. This pre-insulated sheet has foam insulation with an extra layer of alupet for added protection.
The pre-insulated metal sheet is ready for direct application, bypassing the need for lengthy and complex installation. This feature makes installation easy and quick. AeroComfort is applicable on the roof and the walls, providing an effective defence against extreme weather conditions and keeping a comfortable temperature indoors. Furthermore, this insulation does not let external noise penetrate indoors. AeroComfort insulated space has observed a temperature difference of up to 10°C and controlled moisture in ambient air while adapting to external temperatures accordingly. So, it keeps the indoors cool during summers, retains warmth during winter, and keeps the space noise-free all year round.
Triple Layer Insulation:
Layer 1: Steel sheet with zinc-aluminium coating
Layer 2: Aerolam XLPE sheet
Layer 3: Alupet sheet
Sub-state and Coating available:
Pre-coated galvalume (AZ150) high tensile (550 MPA) steel
RMP/SMP colour coating bare galvalume (AZ150) high tensile (550 MPA) steel.
Colours:
Leaf Green • Brick Red
Sky Blue             •    Off White
Material Specifications:
Total painted thickness (mm): 0.47 mm – 0.50 mm
Insulation thickness (mm): 6mm | 9mm | 13mm
Sheet length (feet): 8 feet | 10 feet | 12 feet 14 feet | 16 feet | 20 feet
Colours and thicknesses are customisable. To enhance its suitability, AeroComfort can be customised further as required.
AeroComfort is suitable for virtually any structure. Possible application areas could be:
Residential Properties
Warehouses/Stores
Hospitals/Clinics
Commercial Complexes
Hotels/Restaurants
Railway Stations and Bus Terminals
Ports and Airports
Manufacturing Industries
Poultry/Livestock Sheds
For more details contact:
Email: info@aerolam.com
Website: www.aerolaminsulations.com  | www.aerolam.com