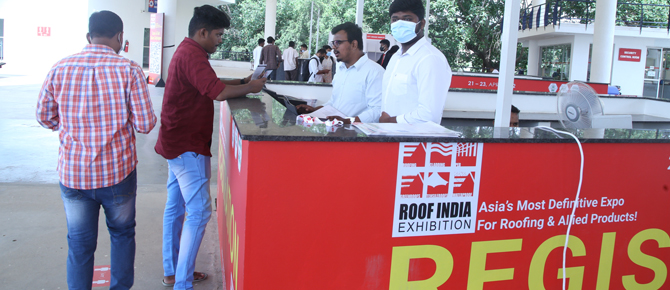 Roofing Industry gears up for the biggest event of the year at Roof India Expo 2023
The 20th edition of ROOF INDIA Exhibition – Asia's Largest Roofing & Allied Products Event, is scheduled to be held between the 27th to 29th, April, 2023 at Bombay Exhibition Centre, Mumbai, India. Benchmarked as 'Asia's most definitive Expo for Roofing & allied Products', Roof India converges the Market Leaders & Newest of the technologies in the segment, and thereby results in striking lucrative business deals.
India leads an impressive yet very short list of fast-growing economies in the world and the infrastructure boom in the country is contributing to this exponential growth. Pre-engineered Buildings/Factories, Airport modernization / new airports projects, Metro Rail, New Hotel / Resorts, IT Parks, Retail Malls, Hypermarkets, Multiplexes, Integrated Townships etc are still buzzwords today in India's booming Building Construction & Infrastructure industry. The Industrial Flooring industry is on the rise too and was valued at $7.9 Billion in 2021; estimated to grow at an imposing CAGR of 5.4%.
Benchmarked as Asia's most definitive Roofing & Allied Products Event, Roof India provides a common place for the building construction and infrastructure industry fraternity to converge, network, strike lucrative business deals and establish business partnerships.
Roof India 2023 is an international exhibition on Roofing and Allied products showcasing latest in products, services & trends from Roofing Systems, Architectural Cladding, Pre-engineered/ Factory Buildings, Metal Building Systems, Structural Steel, Light Steel Framing Technology, Roll Forming Machinery, Spaceframes, Tensile Fabric Architecture, Roof Waterproofing, Roof Insulation, Roofing Fasteners, Tools & Accessories for Roofing, Industrial Doors, Industrial Flooring, Software for Structural Steel / Roofing etc.
Over 200 exhibitors & brands from 12+ countries are slated to attend the premier event with over 10,000+ visitors expected in attendance.
The event is supported by leading trade Bodies including Builders Association of India (BAI- MC), 'The Construction Chemicals Manufacturers Association (CCMA)', Architects Engineers & Surveyors' Association (AESA), Safety Appliances Manufacturers Association (SAMA) as well as the 'World Metal Forum' (WMF).
The event will serve as a conclave for buyers, manufacturers, suppliers, exporters and service providers of Landscaping, Waterproofing, Insulation, Roofing Machinery & Roof Fastening Systems, Space Frames and Daylight Systems, Exterior Metal Envelop & Cladding and Green Roof Technology among others.
Roof India is co-located with the 4th edition of Floor India 2023, a definitive expo for Industrial & Commercial Flooring. With unlimited opportunities to showcase the latest technology, equipment and solutions, the event also provides a platform to promote your brand and products to key industry players to forge lasting business relationships.
The event attracts trade visitors from Building Construction, Infrastructure & Allied industries like Builders, Architects & Designers |Civil Contractors Civil & Structural Engineers | EPC Consultants | Factory Builders | Landscape Architects Large Factories Builders | Large Warehouse Builders | Pre-Engineered Building Contractors | Roofing Contractors | Town Planners |Waterproofing Contractors | Airport Authority personnel | Personnel from Metro Rail Corporations etc.
The event will also play host to 3-day concurrent open seminar sessions- Let's Talk Roofing and Flooring Ideas on a wide range of topics covering the latest innovations in Roofing and Flooring Technologies-
Technology Innovation and New Trends in the Roofing & Flooring Markets
Building a Sustainable Future for the Roofing Market
Innovative Materials for Roof Restoration!
Transforming the Steel Structures with Constructible and Connected Technology
Metal Roof Waterproofing – Problems and solutions
Densification and Polishing of Concrete Floors
New Age Resin Flooring systems
Speakers Guild:
Harshad S. Shah, Chairman, Builders Association of India
Jitesh Donga, Chief of Design, Mahindra Lifespace
Jayaram S Govindaiah, India Head and AVP – Mashreq Bank
Idris Rajkotwala, Executive Director- United Group
N K Gauda, General Manager- Aerolam Insulations Pvt Ltd
Hrishikesh Somani, Deputy Manager- TATA Bluescope
Gaurav Awasthi, Marketing Head- Everest Industries
D. Maruthu Pandi, Director – Pronil India
Sandeep Vaidya, Technical & Global Sales Support – United Group
Sunil Lidkar, National Business Manager (Steel) – Trimble Solutions India Pvt Ltd
For more details visit: www.RoofIndia.com