SCHWING – XCMG is a company that firmly believes in aftermarket services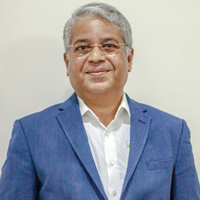 Known for introducing path breaking products Schwing Stetter India is today a complete infrastructure equipment partner in building a new India with equipment of international standards. In an exclusive interview to CONSTRUCTION OPPORTUNITIES, V. G. SAKTHIKUMAR, MD, SCHWING STETTER INDIA speaks about the crane industry, his company's offerings, aftermarket services and a lot more.
Give a brief overview of the Cranes industry in India, latest trends and market dynamics.
The market looks upbeat, especially with the demand drive from the infrastructure development Sector which is witnessing an upward demand growth. One can say the market has picked up very well in tyre mounted medium and heavy-duty cranes, as a high number of SCHWING – XCMG cranes have been deployed in numerous projects of national and domestic importance.
Tell us of your various crane offerings their lifting capacities, applications and their demand in the Indian market.
The machines with higher capacity are mainly used for refineries, green field project, high speed railways and metro. Few large crawler cranes with high weight capacities are also in demand for Wind turbines with increased HUB height. These industries are generating an immense demand drive for our cranes with promise of further surge of projects starting in the near future.
Please provide details on your emphasis on technology – features like intelligent crane control systems and digital platforms imbibed in your cranes and innovations? What are the advancements your have introduced or plan to introduce?
In our machines we have incorporated SLI for accurate & safe handling of material within the rated load capacity & mast sections are split type so while transportation they occupy less space & is easy to handle. It is easy while erecting & commissioning. In terms of safety features, we have the option of ACD (Anti Collision Device) for projects sites having multiple cranes working in close proximity.
Detail us on the USP's of your crane, ease of operating your machines, operator comfort and Safety features in your products.
Patented Telescoping technology from SCHWING – XCMG helps control boom extension and retraction sequences for smoother operation of telescopic structure. We are also the first in India to introduce All Axle steering in Truck cranes to significantly improve manoeuvrability. We have also introduced safety features like the Safe Load Indicator Systems which provides overload prevention, the wind speed alarms, alarm for operation on uneven ground, swing/travel alarms, etc. ensure that operator is well informed of the operating conditions and can avoid any probable operating difficulties.
Detail us about the steps initiated to upgrade the skill sets of technicians and operators?
Along with the high torque and speed, the tool and operator skill play a major role while working in hard strata. We provide best quality tools with application support and training to the operators on-site which will help the machine to display increased performance. We also provide recurring customer training programs through our nationwide dealerships.
Tell us about the indigenisation efforts undertaken by the company to meet the market requirements
SCHWING – XCMG has expansive plans for the coming years to bring out machines with increased tonnage capacity from our global product range to the Indian CE market. Keeping in mind the rising cost of ownership of the machine, our team is ardently trying to source all the required material from indigenous vendors without any compromise in the quality of our products. These localized materials also accelerate our capability to support our customer with any spare part requirement or maintenance requirements.
To what extent are aftermarket services a strategic differentiator.
SCHWING – XCMG is a company that firmly believes in aftermarket services, and we take pride in recognizing ourselves as one of the best client-service providers in the industry. Adding to our existing diligence in aftermarket servicing, the cutting-edge technology embedded in our machinery gives us an edge in premeditating the service and parts need of our machinery and planning the schedule to meet the requirements of our client without delay and fail. We believe that putting the customer first is key to becoming an industry leader in any sector.
Your strategy in this price sensitive market
The current market trends are price sensitive as operating costs of construction and concreting machinery have increased majorly due to the hike in fuel prices. Price increase of steel and freight charges are some backend issues we must tackle in reducing the price of our machines. SCHWING – XCMG's solution to these problems has been the recently launched machine range which assures higher output capacity, economical fuel consumption and decreased logistic costs. With this product range we are able to facilitate a working environment that has higher productivity rates at lesser operating costs for our customers.
Tell us about the new products you have launched or plan to launch in the near future
SCHWING – XCMG has recently added 14 new products to the concreting and construction equipment range. Our new launches are packed with features like IoT, Cloud data integration, increased ergonomics, and much more. SCHWING is also an exporter of product designs with the support of our design department inducted into our R&D wing. With experienced professionals working round-the-clock on various projects, we are always in the process of developing customized and updated machines to the market in the future as we have done in the past. We launched XE 215i KLC to the market adding to our existing product range of heavy-duty excavators.
Future outlook for the industry and from a company perspective
We have a positive outlook towards the growing market of concrete and construction equipment, which has given us the faculties to release a new range of 14 new machines recently. Our team is also working on fresh upgrades on the existing machinery to cater to the developing market and we are ready to release newer models if the demand increases.