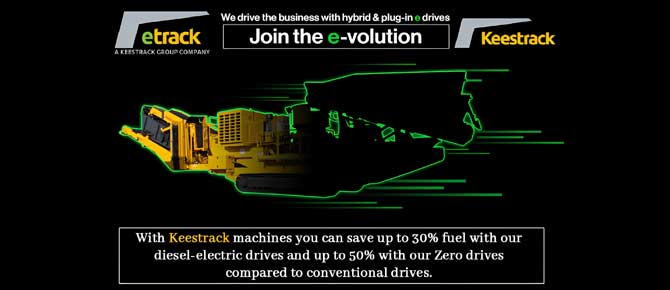 Keestrack's commitment to sustainability extends beyond our products and processes.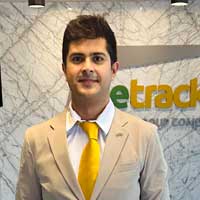 Driven by the idea of continuous improvement, following high demand on innovation and solution orientation, Keestrack machines are always designed to perform in every detail. The company's products are built to make work easier and to reach goals more efficiently. MARCEL KERKHOFS (MK), GLOBAL MARKETING MANAGER, KEESTRACK N.V. & DEEPAK PANDIT (DP), COUNTRY MANAGER – SALES & MARKETING, ETRACK CRUSHERS PVT LTD (A KEESTRACK GROUP COMPANY), in an joint interview to CONSTRUCTION OPPORTUNITIES, speak in detail regards to adopting newer technologies & processes to attain zero waste policy in manufacturing plants, environment friendly machines and a lot more.
What is your company's decarbonization target and approaches in adopting technologies and zero waste policy in manufacturing plants?
(MK) At Keestrack, we recognize the importance of reducing greenhouse gas emissions and transitioning towards a greener future. This is the main reason we innovate our equipment as much as we do because Keestrack, the internationally renowned manufacturer of mobile crushing and screening equipment, intends to be at the forefront of the construction industry's drive toward a zero-emissions future and a circular economy. The construction industry is responsible for 6-10% of the world's greenhouse gases and Keestrack wants to create change in the industry.
A focus on sustainability is at the core of our company as this is the origin of our business as Keestrack started its business in recycling, so saving natural resources is in our DNA!
When expanding our business in other industries like, quarrying & mining and aggregates production we kept on searching to do this in the most economical way, by using as less fuel as possible. As these heavy duty industries need very powerful drive systems Keestrack kept on searching for alternative drive systems. From load sensing hydraulics, to e-drives and now we are going to ZERO drives. This way we want to protect the planet and save money at the same time. All these efforts are having a positive impact on the ecological footprint.
We have set our own decarbonization target to align with global sustainability goals. Our aim is to achieve a significant reduction in our carbon footprint by transitioning to EV electric plug-in company cars and by installing electric charging locations at all facilities.
One of our key approaches is investing in innovative technologies that promote energy efficiency and reduce emissions. We continuously research and develop advanced equipment designs that prioritize fuel efficiency and optimize performance. Our engineering teams focus on incorporating cleaner and more sustainable power sources, such as electric plug-in and hybrid technologies, into our equipment offerings.
Furthermore, we have implemented a comprehensive zero waste policy across our manufacturing plants. Through waste reduction and recycling programs, we strive to minimize waste generation and promote circularity. Our manufacturing processes are constantly evaluated to identify areas for improvement in resource management, waste reduction, and recycling practices.
In addition to our internal efforts, we collaborate closely with our suppliers to encourage sustainable practices throughout the supply chain. We actively seek partners who share our commitment to environmental stewardship and work together to adopt greener technologies and materials.
By combining our dedication to innovation, energy efficiency, waste reduction, and collaboration, Keestrack is actively contributing to India's net-zero emissions goal. We are proud to play a part in supporting India's climate action strategy and are committed to furthering our efforts in line with evolving environmental standards.
What technologies and alternative fuel are being adopted/researched to reduce the greenhouse gases in your equipment?
(DP) To minimize greenhouse gas emissions, we have been actively exploring and implementing various innovative technologies.
E-drive and drop-off engine
Keestrack introduced electric drives in 2012 by the e-drive; electric plug-in with onboard diesel/gen-set in case there is no electric plug-in available. The e-driven machines evolved to equipment with a drop-off engine/gen set unit which could be placed next to the equipment, in less dusty and vibrant circumstances, or on the frame of the machine.
R3e- Plugin Electric- B7e drop off
By replacing traditional diesel engines with electric motors, we significantly reduce carbon emissions. These electric solutions offer efficient performance while promoting cleaner and greener operations.
The interconnectivity between the electric equipment results in an even higher efficiency when producing in a production train.
Zero drive
Nowadays Keestrack introduced the ZERO-drive machines, without any combustion engines on board. Electric motors drive most of the mobile crushing and screening equipment and power some necessary hydraulics systems. The following equipment is available in ZERO-drive: all cone crushers, all impact crushers incl. I4e , all scalper screens except the K8, C6e classifier, all stackers, all jaw crushers except the B3 and the tracked Apron feeder A6.
At this point electric drive systems are the greenest and most effective options on the market, as they are more efficient than conventional hydraulic systems. But it also makes the end-user less dependent on a specific engine supplier. If there is no electric plug-in available, the end-user can choose his own gen set or select one of the Keestrack (tracked)engine/gen-set units.
Keestrack will keep looking into other drive systems like hydrogen, fuel cells, battery packs and will be at the forefront of new innovations. The external drop-off engine/gen set unit, on the complete right, powering up the primary and secondary production line of two No.'s B7e Zero drive machines.
Some figures
Compared to conventional diesel-hydraulic units, diesel-electric driven plants directly save up to 33% of fuel.
While working in production trains, the attributable fuel consumption can be reduced even more, when the hybrid screens and stackers are powered directly via the plug-out supply of an upstream or downstream electric crusher.
When plugged in to the grid savings are even bigger, (depending on the local electricity price), as operational costs and maintenance cost will decrease drastically.
Bio fuels
Keestrack mobile crushing and screening equipment can be run on bio fuels which are normally locally produced, clean-burning and a renewable substitute for petroleum diesel. Using biodiesel increases energy security, improves air quality and the environment.
Using biodiesel reduces life cycle emissions because carbon dioxide released from biodiesel combustion is offset by the carbon dioxide absorbed from growing soybeans or other feedstocks used to produce the fuel.
Research and development
Research on alternative fuels: Keestrack is actively researching and evaluating alternative fuels, including biofuels and hydrogen, as potential options for reducing greenhouse gas emissions. By exploring these alternatives, we aim to further enhance the sustainability of our equipment and contribute to a greener future.
Our ongoing efforts in adopting these technologies and exploring alternative fuels align with our commitment to environmental stewardship. We continue to invest in research and development to ensure that our equipment not only meets but exceeds environmental standards.
Connected machines in the construction industry have the potential to enhance productivity and efficiency while reducing carbon emissions.
(MK) Our Keestrack – er telematics software offers several benefits that align with the industry's green objectives as it can monitor and report all possible parameters of the equipment from a distance without having to travel on-site to the equipment. Also, maintenance, can be planned more accurately which is essential for a smooth-running machine. 
Here are some ways in which the industry can promote the use of technology from a green perspective and encourage the adoption of such technology:
What initiatives or strategies can be implemented to encourage the adoption of such technology?
1. Environmental Awareness Campaigns: Launching educational campaigns to raise awareness among industry stakeholders about the positive environmental impact of connected machines. Highlighting how these machines can help reduce carbon emissions through optimized fuel consumption, intelligent operation, and remote monitoring.
2. Incentives and Subsidies: Governments and regulatory bodies can introduce incentives and subsidies for construction companies that invest in and utilize connected machines. These incentives can be in the form of tax benefits, grants, or financial assistance, making it more financially viable for businesses to adopt sustainable technologies.
3. Collaboration and Knowledge Sharing: Encouraging collaboration between industry players, technology providers, and environmental organizations to share best practices, case studies, and success stories. Establishing platforms for knowledge exchange can accelerate the adoption of connected machines and drive sustainability across the industry.
4. Standards and Certifications: Developing industry-wide standards and certifications that recognize and promote the use of connected machines for their environmental benefits. These standards can be used as benchmarks for evaluating the sustainability performance of construction projects and could play a significant role in procurement decisions.
5. Research and Development: Encouraging research and development in connected machine technologies to continually improve their environmental performance. This can involve investing in innovations such as hybrid or electric-powered equipment, advanced energy management systems, and predictive maintenance capabilities to minimize downtime and optimize efficiency.
6. Training and Skill Development: Providing training programs and workshops to equip industry professionals with the necessary skills and knowledge to operate and maintain connected machines effectively. Upskilling the workforce will foster greater acceptance and utilization of these technologies.
By implementing these initiatives and strategies, the construction industry can actively promote the adoption of connected machines from a green perspective. Together, we can drive productivity, efficiency, and sustainability while reducing the environmental footprint of construction operations.
Are other initiatives taken by your company to reduce emissions?
(DP) In addition to our innovative and efficient machinery, we have implemented several initiatives to further address this issue.
One of our notable initiatives is the integration of advanced eco-friendly technologies in our equipment. We continuously invest in research and development to enhance energy efficiency and reduce emissions across our product range. By optimizing engine performance and incorporating intelligent control systems, we strive to minimize the carbon footprint of our machines without compromising on performance.
The drop-off engine unit, with integrated gen-set, can be placed on the tracked platform, on the chassis of the machine, or just next to the equipment, and can power several electric driven machines in case there is no plug-in connection from the grid available resulting in less CO2, less maintenance and less costs.
Furthermore, we promote the use of alternative fuels and electric power options wherever feasible. Our focus on electrically powered machinery is a significant step towards reducing emissions and creating a sustainable future. These electric models offer zero-emission operation, contributing to cleaner and healthier work environments. We also prioritize recycling and waste management practices within our operations. By implementing effective waste management systems and encouraging responsible disposal of materials, we aim to minimize the environmental impact associated with our manufacturing and production processes.
Keestrack's commitment to sustainability extends beyond our products and processes. We actively collaborate with customers, industry partners, and government bodies to raise awareness about environmental issues and promote sustainable practices throughout the construction and mining sectors.
We remain dedicated to exploring new avenues and technologies that contribute to the reduction of emissions. Our ongoing efforts in this regard reflect our unwavering commitment to environmental stewardship.