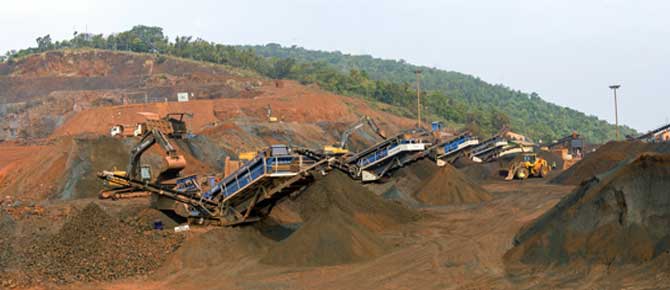 The innovative control panel of Kleemann classifiers allows the operator to start and operate the machine in a single touch.
The WIRTGEN GROUP brand over the years has carved its name for developing niche products which have emerged as best sellers. In an exclusive interview to CONSTRUCTION OPPORTUNITIES, RAMESH PALAGIRI, MD & CEO, WIRTGEN INDIA, gives an overview on the Crushing & Screening industry, his company's offerings, after – market services and the future of the CSE sector.
Briefly give us an overview of the Crushing & Screening equipment industry, the latest trends and market dynamics? What are the types of crushing & screening equipment currently most in demand?
Due to new road projects being rolled out, there is an increased demand for Construction and road building Equipment and with these – the demand for Aggregates is also increasing where green field projects and expansion from 2 to 4 laning and 4 to 6 laning is be-ing taken up . This has boosted the demand for Crushing and Screening units. Also the de-velopment in road and rail sector will see a huge surge in demand for aggregates for construc-tion. The new urban infrastructure projects also add up to the demand for aggregates and consequently for Crushing and Screening equipment. There is a surge in the requirement of waste screening plants, both classifiers and scalpers which can give higher production to the customer. Whereas scalper is the right choice for re-moving fines from the feed, especially in river-rock application.
Detail us on your CSE equipment, types and capacities. Please provide details on your emphasis on technology, research, design and innovation?
On the classification plants we have four models of two deck and three deck versions having capacities of 350 TPH and 500 TPH which can give 3 and 4 product output to customers Mod-els: Mobi-Screen Classifier (MSC) 702/703/952/953. On scalpers we have one model Mobi-Screen Scalper (MSS) – 802, which is a 500 TPH model with 2 deck configurations can give 3 product output to the customer.
Technologically these machines are far superior with regards to spective controls, interlinkages of plants, Wirtgen telematics as well as its core design elements which enables the customer to have a flexibility in operation and thereby achieve optimum production without compromising on the quality of aggregates crushed.
The walkway design on the Kleemann classifier enables the operator an easy access to mesh, as well the new hydraulic design concept allows the operator to open the fine grain conveyor from the screen box there by access the bottom deck for clean and change.
The innovative control panel of Kleemann classifiers allows the operator to start and operate the machine in a single touch.
Intelligent machines, telematics and IoT are becoming a trend with equipment, your comments. Cutting edge technology featured in your machines. What distinguishes your equipment from competitors.
All Kleemann machines are equipped with telematics, we have named it WITOS (Wirtgen Telematics) as standard feature inbuilt with the machine, this helps the customer to know the machine location, major machine breakdowns, engine parameters and service intervals sitting at his office. Our machines are equipped with an optional EPS (Electrical Power Supply) sys-tem, which will enable the machine to work with grid power apart from diesel.
Factors such as safety, operator comfort, ease of operations are crucial. What are the steps undertak-en by you for providing the same.
In Kleemann we provide rigid and anti-skid walkway access all along the screen box, which enables ease of cleaning and changing of the screen mesh. For the comfort and safety of op-eration, we provide wired remote as a standard option with all our scalpers and classifiers, with a touch of a button all the machine parameters are started automatically from a safe distance. Our controller of both the machines are current monitored controller, which means the control system detects that the joystick doesn't returns to the zero potions once it is set into operation by the automatic function.
On our scalpers, we provide fuel filling aids on either side of the machine – this helps easy refueling at confined spaces. By push of a button our screen box can be positioned horizontally thereby enable a comfortable and ergonomic change of the screen media for both the top and bottom deck.
Aftermarket services as a strategic differentiator.
We provide worldwide service and on-site application support. Therefore, optimal customer care and performance and availability of spares are guaranteed at all times. Quick technical support is our main priority. We ensure short response times and quick solutions through our experienced service technicians. Customer Support at Kleemann is primarily focused on : Min-imum downtimes, minimum wear costs, maximum customer proximity.
What are the trends driving purchase CSE equipment market in India? To what extent is consumer behavior influenced by cost? Are you seeing a shift from purchase of machines to rental or leasing, your comments.
Increase in fuel cost has seen a shift of road contracting customers towards dual power plants to reduce their operating cost. Rental segment will see a definite growth due to the stiff target for project completion as well the cost appreciation due to steel price increase. As financiers are yet to adopt leasing, so it is still not a preferred model for deployment of C&S plants in India.
What sort of government policies or measures will foster growth for the CSE industry.
Government policies like smart city initiative will give more focus to waste screen opportunity of classifiers and scalpers. Faster clearance and allotment of Iron ore mines will entrust the demand for C&S plants requirement in the mining sector. The government should focus more on the production output and should link it with bonus and performance clause which will give a good boost to C&S industry in these segments.