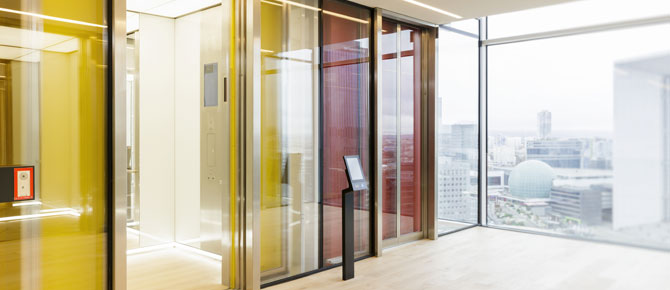 At TK Elevator, customer service and satisfaction are our top priorities
TK ELEVATOR has pioneered a significant advancement in mobility solutions by inventing new game changing technologies in the people mobility business. The company has a basket of offerings that are best suited for any application. In an exclusive interview to CONSTRUCTION OPPORTUNITIES, MANISH MEHAN, CEO & MD, TK ELEVATOR (INDIA) speaks about his company's products, cutting edge technologies, aftermarket services and a lot more.
Briefly provide us an over view of the High rise construction trends in India, challenges and opportunities.
India is the most populated country globally, and its ever-growing urbanization is leading to a scarcity of land. Continuous migration to metropolitans, insufficient space, and high population density in cities have resulted in congestion. This makes high-rise building a necessity in today's day and age, being the only practical way to meet the growing needs of the expanding cities. Be it in the inner cities, suburbs, or tier-II towns, high-rise building has been witnessing rapid growth in the last decade.
With the growth in tall buildings, there needs to be an advancement in the elevator industry for feasible and hassle-free traveling. Vertical development in the cities, both residential and commercial, presents vast opportunities for smart, high speed and sustainable elevating systems and solutions.
High-rise elevator systems demand meticulous and impartial capacity analysis and detailed simulation. Not only should the building, its population and peak demands be correctly modelled, but elevator configuration and physical and/or dynamic zoning should also be determined. The correct choice of group control system plays a vital role, as does the correct choice of group sizing, elevator capacity and nominal speed. A reliable, high-performing and well-chosen elevator system is necessary for the development of vertical cities in India.
Innovative elevator solutions such as TKE's TWIN used in newly-built skyscrapers and high-rises can effectively reduce urban sprawl and its associated impacts, but older buildings can also be turned into more sustainable or "greener" ones by modernizing its vertical mobility system. Digital solutions such as TKE's MAX and AGILE DSC can also bring the operation and energy efficiency benefits to older buildings by means of modernization.
Briefly give us an understanding of your company's offerings for HIGHRISE projects. Detail us on the innovative technology/products developed by your company.
TK Elevator's product portfolio is one of the broadest in the industry. Our superior service and preventive maintenance solutions ensure reliably high availability, including for any third-party equipment.
TK Elevator has pioneered a significant advancement in elevator technology by introducing:
TWIN: TK Elevator's revolutionary TWIN elevator system allows two elevators to operate independently in one shaft, TWIN offers the benefits of significantly increasing system capacity, without the need for extra elevator shafts. One of the most innovative advantages of the TWIN is its ability to park one of the two cars while the other stays in operation. This means when passenger volumes are low, very little energy is consumed by the non-moving cars. Additionally, the TWIN can be equipped with energy recovery devices that can feed about 30% of energy back into the building's power grid.
MAX: MAX is a ground-breaking predictive and pre-emptive service solution that expands remote monitoring capabilities to significantly boost the current availability levels of both new and old elevators. By utilizing the Internet of Things (IoT) capabilities of Microsoft Azure, MAX enables an elevator to "inform" service workers about its actual needs, including real-time identification of problems, component replacements, and preventative system maintenance.
AGILE: TK Elevator's AGILE Destination Control (DSC) improves system and energy efficiency as well as passenger experience by effectively shortening wait and travel times. Compared to conventional elevator control systems, the AGILE DSC increases passenger handling capacity by up to 30%, minimizes passengers' travel times to their destination and reduces crowding in lift lobbies. DSC also allows for much more flexibility in elevator grouping, lift core layouts and overall building design.
We offer our customers and users not only world-class elevator and escalator products, but a comprehensive user experience which encompass our products and our services. Purchasing our products is the start of a journey, which introduces our customers and users to the unparalleled user experience with our precision German-engineered elevators and escalators, however it is our reliable service and maintenance that keeps that experience alive and fresh throughout the service life of our products.
As a manufacturer tell us about the critical challenges faced while introducing niche, green, and energy efficient products in India. To what extent does cost influence a customer's purchasing decision.
A popular view against green buildings involve higher operation and maintenance costs in comparison to conventional buildings. Rather, the truth is by optimizing key systems such as lighting, air-conditioning, electrical and vertical transportation, green buildings can over a longer term help reduce energy consumption and operation cost thanks to their higher operational efficiency.
Locally, popularity of green building is still hindered somewhat by funds and budget constraints of owners and developers, limited awareness on operation and maintenance requirements, and most importantly the environmental and financial benefits green buildings can offer in the longer term.
What distinguish your products vis-a-vis competition. Do you plan to add any new products
The demand for smart elevators such as IoT-based elevators' that can monitor performance, make real-time maintenance decisions, provide updated status, advance reporting, control, and monitor the elevator remotely, is growing significantly. AI elevators can provide real-time insights, productive maintenance, and enable communication in elevators. These IoT based innovative digital solutions has enhanced technology like data, extended reality technology, algorithms, and detectors to reach efficiency and safety for the consumer.
As an innovation leader in the industry, TK Elevator puts special focus on its digital offerings to help our customers achieve more sustainable building design. For instance, AGILE Destination Control is one of our key offerings to make this possible. AGILE is designed to work with new installation or modernization projects, enabling elevators old or new to be deployed more intelligently and flexibly, not only saving energy consumption by optimizing elevator deployment during peak and non-peak hours, AGILE also effectively provide passengers with a better travel experience by reducing waiting and travelling time.
What is your company's approach towards R&D, innovation & sustainability
As a company, TK Elevator aims to be on the forefront of providing innovative mobility solutions, and has consistently distinguished itself in providing such solutions that are tailored for rapidly developing urban areas.
TK Elevator worldwide invests significant resources in R&D activities to provide the customers with the latest equipment. Our products are designed with a simple philosophy of higher efficiency, lower maintenance and the least emissions. Strong design & engineering which is our core strength, forms the basis of our business.
TK Elevator invests significant resources in R&D activities to provide the customers with the latest equipment. Our products are designed with a simple philosophy of higher efficiency, lower maintenance and the least emissions. Strong design & engineering, which is our core strength, forms the basis of our business.
We are proud to operate a multi-purpose facility in Chakan, Pune which we have strategically included a R&D centre to serve the local market. India's elevator market is uniquely driven by rapid economic development and urbanization, operating a R&D centre locally outlines TK Elevator's commitment in serving and developing tailored solutions for the Indian market.
In line with the emerging global trend toward designing and constructing sustainable buildings and cities, TK Elevator provides complete turn-key elevator products and maintenance solutions that optimizes efficiency and reduce downtimes. Our elevator offerings for example, uses permanent magnetic traction machines which allow us to bring to market energy-efficient high-speed and high-capacity solutions for high-rise buildings. We also offer an array of modernization solutions for older elevators and escalators, which is designed to give not only our own products but also those made by third-parties a complete and more energy-efficient makeover.
Designed with sustainability in mind, we also offer highly-efficient moving walks that provide advanced mobility solutions inside and between major infrastructures. Moving walk networks provide an emission-free solution for airports, railway stations and central business districts.
Your strategy in a price sensitive market.
India certainly is a price sensitive market, but our dedication and focus on local R&D and manufacturing help us stand out from competition. We operate a world-class manufacturing facility in Pune, and have nation-wide sales and service representation, and the capability to service elevators and escalators of any make. We know our market well and differentiate ourselves by showing our customers that we are there to help them improve their business. We offer world-class engineered and reliable elevators at optimal price levels, with shorter delivery cycles as well as easy adaptability and interface to future design changes. That's a true win-win for the customer and us.
Operating a large-scale manufacturing and R&D facility locally in Chakan, Pune also allows us to respond to local market demands in a more efficient manner, bringing to market our popular class-leading products including the enta100 and enta200, as well as the meta100 and meta200.
Aftermarket services as a strategic differentiator
TK Elevator offers a comprehensive range of mobility products and services, including passenger, freight and panoramic elevators, for both low and high-rise properties, its commitment to quality and innovation covers the entire life cycle of elevators, escalators and moving walks. TK Elevator's capability to service elevators, escalators and moving walks of all makes across 22 countries in Asia Pacific, makes it the ideal one-stop maintenance partner for developers, property managers and REITs.
At TK Elevator, customer service and satisfaction are our top priorities. Our maintenance and modernization services enable property owners and managers to save costs and boost profits as they grow and expand. TK Elevator's modernization service, together with its digital solutions MAX and AGILE Destination Control, are especially ideal for property overhauls, repurposing and upgrades. Customers benefit from improved accessibility and passenger capacity in older buildings, resulting in short and long-term economic and administrative advantages like higher rent returns.
Briefly tell us about your manufacturing units – location, size, investment, technologies etc.
TK Elevator has always been a staunch supporter of the Government's "Make in India" initiative through localized R&D and manufacturing of elevators and escalators. Through localized R&D and manufacturing of TKE's various elevator and escalator solutions, we are committed to empower the local economy with innovation and state-of-the-art technology. India is a market where TK Elevator sees immense growth potential and one that we will continue to invest more resources in.
We have set-up a state- of- the- art multi-purpose facility (MPF) in line with the Indian government's "Make in India" initiative to promote local manufacturing. This Multi-Purpose Facility (MPF), is built on 84,000 square metres of land with an investment of about `300 Cr. at Chakan, Pune. True to its name, MPF includes corporate office aka business support center, production facility, central warehouse, centralized call center, customer experience center, training center/SEED, product showroom and test shafts. It is designed for an initial capacity of manufacturing 6,000 elevator units, extendable to over 10,000 units in the foreseeable future.
In addition to this, our Multi-Purpose Facility at Chakan, Pune has started offering Made in India escalators including our much sought after velino, tugela and victoria series. Adding a comprehensive range of escalators to our locally-manufactured product portfolio allows us to stay close to our customers' needs and serve them better.
As far as sell globally initiative is concerned, we have high confidence in the quality and competitiveness of our locally manufactured products. While the local market in India will remain our key focus, we are also offering our "Make in India" products to the neighbouring countries.
Expanding our reach does not only benefit TK Elevator from a market development perspective, as a staunch supporter of the "Make in India" initiative, promoting India-made products to our neighbours also reinforces the country's branding and its ambition to become a global manufacturing base.
Your future outlook on the high rise construction industry and from a company perspective.
India's total population is growing at only 1.7 per cent annually. However, the nation's urban population is growing much faster at six per cent with 380 million people already living in 8,000 cities and towns. Around 30 per cent of India is urbanized and 53 cities already have a population of more than one million.
This huge surge in population within an already congested geographical area will ensure that development and construction goes vertical leading to increasing number of skyscrapers. To cater to the mobility needs within these skyscrapers, the demand for high-speed modern elevators will rise exponentially in the future.