A STRONG BOND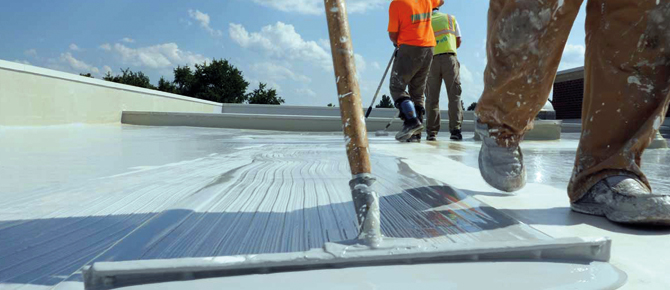 Construction chemicals have been proving their worth in speeding up the process of strengthening and extending the life of structures in new or current construction projects. These chemicals, such as adhesives, cementitious materials, waterproofing chemicals, sanding grout, and chemicals for structural maintenance and repair, enhance the functionality, effectiveness, and security of a structure's constituent parts. With the growing thrust on sustainability, which is further driving the expanse of green building globally, construction chemicals & waterproofing market is set to play a catalytic role in the near future…. writes, PRERNA SHARMA.
The growth of the global construction chemicals market can majorly be attributed to an uptick in construction activities. For instance, it is anticipated that 3,500 new structures will be put up every day by the year 2050. Furthermore, infrastructure corrosion is particularly prevented by and strengthened by construction chemicals. Additionally, there has been a surge in investment in the construction sector, which is expected to drive market expansion. Additionally, the growing urbanization and the rising demand for housing are estimated to accelerate market expansion. A Research Nester report highlighted that during the year 2023-2033, the global construction chemicals market is expected to reach an estimated value of ~US$100 billion by 2033, by expanding at a CAGR of ~7%. The market generated revenue of ~US$55 billion in the year 2022.
The waterproofing chemicals market grows at a high rate and cost effectiveness of the product drives the market. Asia-Pacific leads the waterproofing chemicals market followed by North America, Europe, and LAMEA due to the augment demand of waterproofing chemicals by the end user industries such as construction and various technological developments such as increased R&D activities, expansion, and acquisition in the Asia-Pacific region. Improvement in the quality of construction increases the demand for the waterproofing chemicals from the end users. As per Persistence Market Research, the construction chemicals consumption market across India is expected to reach a value of US$5206 million by 2033. North India and South India are anticipated to remain key markets in this growth story, owing to the development of major infrastructural projects. India is expected to account for 6-8% of the global construction chemicals market. The market in India had witnessed about 7% growth y-o-y in the past few years. The demand for construction chemicals has been rising consistently due to the extensive usage of concrete admixtures, waterproofing, adhesives & sealants, protective coatings, concrete repair mortars, plaster, and asphalt additives.
Driving the demand
Construction chemicals are of increasing importance to the construction industry because they impart design flexibility through their ability to modify and enhance the physical and chemicals properties of structures, such as compressive strength, durability, the surface finish, and resistance to adverse climatic and working conditions, according to Markets and Markets. Many construction chemicals are also designed to improve workability, performance, and the compatibility of different construction materials, as well as protect construction materials and finished structures. Depending on their intended use, construction chemicals enhance the durability and improve the aesthetics of a building, as well as reduce reliance on natural resources used in construction projects, and conserve time, money, and energy during construction and throughout a building's lifespan.
Due to increasing demand from building owners for construction technologies that help minimize both cost and environmental footprint, newer technologies help to prolong the life of assets. Construction chemicals that enable the restoration of roofs rather than replacement are one such example. Sophisticated technologies, such as infrared scanning, are used to evaluate a roof and determine if its condition is acceptable (structurally sound and no wet insulation, for instance). Infrared roof inspection is a proven method for detecting trapped moisture problems in flat roofs. Infrared roof Thermography can prevent equipment down time, production losses and help building owners and property management companies find roof problems. Due to the high cost of replacing a damaged roof, thermographic roof inspections should be performed whenever a building is purchased, sold or leased.
Moreover, elastomeric coatings also provide great performance and are cost-effective. Elastomeric coatings are fluid-applied roofing membranes with elastic properties that allow it to expand and contract with the substrate. Elongation in roof coatings typically ranges from 300 – 800%. Without good elongation, a roof coating is no longer considered an elastomeric. As the membrane thickness goes up, elongation increases while tensile strength decreases. Elongation is important because roofs tend to expand and contract to allow the coating to move with the substrate and not crack or peel off. Elastomeric roof coatings are an attractive roofing option for many reasons. It's more cost-effective than completely tearing off your existing roof. The white color will add reflectivity, which will lower energy costs. It can be installed faster. It seals leaks and makes your roof a monolithic layer of waterproofing. It provides the building owner with a new 10-20-year warranty. It's considered maintenance and/or repair and doesn't count as another roofing system.
According to Exactitude Consultancy, the bitumen waterproofing chemicals market is expected to witness lucrative growth in the coming years because of its wide applications across the construction segment, which helps in laying down a bituminous waterproof membrane over the roof structures. It captured more than 40% of the global volume. Due to the high viscosity and stickiness of bitumen, the demand for waterproofing chemicals is likely to increase in the years to come. Better demand for waterproofing polymers has also been noticed with the mounting need for thermoplastic polyolefins (TPOs). TPO is utilized in energy-efficient roofing systems.
Green building is one of the few sectors of the construction market that has experienced virtually uninterrupted growth over the past decade. The growing emphasis on long-term, life-cycle costs is favourable to waterproofing contractors who focus on quality and craftsmanship, and the green/sustainable building movement will give environmentally-friendly products an edge.
Major construction chemical manufacturers are now focusing on developing novel concrete admixture products by mixing plasticizers, retarders, accelerators, and air-entrainers as concrete admixtures are extremely important for any construction project and are majorly used in the country. Additionally, admixtures such as those based on polycarboxyles (PCE) offer various advantages such as high strength, relatively faster strength gains, self-compacting, and durability, among others. PCE admixtures presently have about 10% penetration in the Indian construction chemicals market, whereas it is about 25% in China, 50% in Europe and 80% in Japan.
Innovative offerings
The cost of construction continues to rise, driven by escalating raw material and labor costs. In response, project developers and owners are increasingly choosing cutting-edge waterproofing products and solutions. But the same trend holds true in all aspects of waterproofing. Crystalline admixtures, polyurethane coatings, and acrylic polymer-based cementitious coatings are all gaining in popularity.
Global player Evonik´s Coating Additives Business Line has developed a new, multifunctional polymer additive for powder coating formulations: TEGO® Powder Aid D01 makes the formulation easier to disperse during extrusion by promoting pigment wetting and effectively reducing melt viscosity. The lower melt viscosity also leads to better degassing, which aids flow and leveling as the formulation cures and prevents pinholes in the coating. Thus, the new additive optimizes gloss development and ensures better DOI (Distinctness of Image) on the coating surface.
Another plus point of TEGO® Powder Aid D01 is its particularly versatile applicability in formulations with inorganic fillers and pigments, along with organic pigments including carbon black. "Our new product thus offers a wide range of benefits for formulators who desire one multifunctional additive for various powder coating systems," says Maximilian Morin, Head – Industrial & Transportation Coatings. "TEGO® Powder Aid D01 generates a large effect in small amounts and acts as a synergist with other additives."
A good waterproofing not only increases durability of buildings but helps in improving health and safety of residents. Hence, before evaluating waterproofing for buildings, it's essential to take into account detailed specifications of every element starting from foundation till roof. Tikidan has innovated and manufactured solution which can help enable comfortable living indoors by keeping buildings safe from water leaks and damages. 80 dBs is the action level for noise exposure! With the growth in population and construction, building residents are constantly exposed to noise from neighbouring constructions, traffic noise, noise of airplanes, loudspeaker, etc., and the exposure elevates up to risky noise levels in many areas in India. Handling the external noise through its high performance complete acoustic system help in preventing constant noise exposure and irreversible damages to the ears and brain. The company's innovative solution helps in creating thermally insulated building covers, which can minimize the energy bill expenses by up to 40% by improving indoor temperature, reducing AC utilization and reducing the environmental carbon footprint.
Concrete is the most used construction material worldwide, popular for its durability and stability. It is easily available, inexpensive, and provides high strength to the structure. However, concrete is also highly porous, and often runs the risk of damage through chemical and water penetration. The movement of water in concrete enables the waterborne chlorides to penetrate the reinforcing steel and cause corrosion, leading to expansive pressure and cracks that negatively impact the structure's durability.
The conventional method for preventing water ingress in concrete utilizes a liquid or pre-formed waterproofing membrane. However, sheet membranes can easily lose efficiency by a separated seam or puncture and the thickness of liquid-applied membranes is harder to control over uneven surfaces. In contemporary solutions, integrated waterproofing products like crystalline admixtures are added to the concrete during batching, which makes the concrete water-resistant by blocking its capillary pores and voids. Crystalline waterproofing admixtures by ECMAS Group like ECMACRYSTAL 203, ECMACRYSTAL ADMIX 204, and ECMACRYSTAL 205 react with water and un-hydrated cement particles by forming needle-shaped crystals to block the routes for entry and movement of water and the water-borne contaminants. Any moisture introduced during the concrete structure's life will initiate the crystallization process, thereby ensuring a permanent solution against leakages.
According to various tests performed by various researchers, crystalline admixtures reduced the permeability of concrete by >50%. Also, some long-term studies have reported out that crystalline waterproofing admixtures outperformed other corrosion inhibitors and permeability-reducing admixtures, leading to a structure with increased durability & lifespan, along with lower costs for repairs making such solutions a preferred choice for waterproofing of sub-structures and water retaining structures.
Given that concrete is used twice as much in construction over all other building materials, emphasis on quality, performance and sustainability is essential for the industry to grow and thrive. One of the most important ingredients in high performance, long-lasting, durable and beautiful concrete produced today are concrete admixtures. Concrete admixtures are natural or manufactured chemicals or additives added during concrete mixing to enhance specific properties of the fresh or hardened concrete, such as workability, durability, or early and final strength.
From cement to binder, 100 million tons of cement are saved by using SikaGrind®. By replacing clinker in cement with alternative fines, companies can make the biggest impact to reduce CO2 in the world's most important construction material.
Engineering of concrete structures is a continuously evolving process. Invention and development of new construction methods place increasing demands on the building materials. Concrete producers face this technological challenge daily alongside other factors such as economy, ecology, raw material and energy costs and logistical complexity. In the duration of the whole construction process, time itself is an increasingly important factor. Sika provides a wide range of concrete admixtures with innovative options for concrete mix design, whether it's for substantially reducing the water content of a mix (e.g. with Sika® ViscoCrete), using a more economical mix design or achieving sufficient early strength.
The case in point is Chicago's City Hall that illustrates how installing a Sarnafil® green roof can be transformational. It saves the City of Chicago over US$10,000 annually in energy costs. During the scorching summers and brutal winters, the roof exhibits excellent insulation properties, increasing comfort for the people inside this very high-traffic building. Additionally, it reduces storm water runoff by absorbing as much as 75% of the rainwater that falls on it. The vegetated roof improves air quality and absorbs noise. Finally, it extends its own life by moderating the extreme temperatures that are typical to Chicago.
Pidilite Industries Ltd., a leading manufacturer of adhesives, sealants and construction chemicals, has partnered with GCP Applied Technologies Inc, a global leader in construction products, to offer high-performance waterproofing solutions for challenging sites that have exposure to high temperature variation and water table, under its brand Dr.Fixit®. Pidilite, with its brand Dr.Fixit®, is the pioneer of waterproofing in India. GCP products are globally renowned for their technology, performance and ease of application, and have many international standard test certifications to their credit. As a part of the partnership, Pidilite's Dr.Fixit® will offer GCP's PREPRUFE® – differentiated, fully adhered waterproofing membranes and SILCOR® 1100 – fast and secure liquid waterproofing membranes in the Indian market.
PREPRUFE® is a high performing, pre-applied waterproofing system for critical below grade applications. Water can easily permeate through the seams of a poorly designed or installed membrane and can adversely affect the foundation of building or structure. This is where application of a membrane like PREPRUFE® can prove extremely effective. PREPRUFE® is easy to install and provides a strong protection against migration of water, moisture and gas. It is also UV resistant and delivers great results even in harsh conditions or environment.
SILCOR® 1100 is a structural waterproofing membrane designed for buried application and the protection of concrete structures. SILCOR® 1100 is formulated by using the unique ESSELAC® advanced resin technology that has been used for several prestigious projects across globe. It is economical, fast, easy to apply, seamless, durable, and its unlimited overcoat time reduces wastage and ensures longevity of the structure.
Drythane is a 100% Solids, two component polyurethane coating system that contains no volatile organic compounds (VOC) or solvents. It has been specifically formulated as a seamless and tough waterproofing membrane. It comprises of the PIV Primer along with a choice between (or combination of) three liquid-applied fused layers — Drythane Standard, Plus, and Aliphatic. It is a 100% solids damp tolerant, two-component polyurethane primer with excellent adhesion to damp and dry concrete. It penetrates and reinforces concrete surfaces, seals to prevent out-gassing and pin-holing, and also reacts with moisture present in the concrete.
As a partial by-product of the crude oil refinery process, the price of asphalt is directly correlated to oil prices. Over the last 10 years, asphalt rose an average of 0.7% for every 1% increase in the price of crude oil. Rising oil prices can impact transportation and asphalt installation expenses for paving projects, further adding to the cost.
"Sometimes there's a shift in asphalt prices that goes beyond the price of oil because some refineries don't make asphalt. Instead, they will use the bottoms of the refinery for petroleum coke or other products rather than make asphalt," says Arlis Kadrmas, Senior Technical Specialist, BASF. Rising prices is only one reason to keep pavement in good shape. Effective pavement preservation means fewer repairs down the road, ultimately saving on maintenance costs in the long run. More importantly, it also promotes a safer and more comfortable driving experience for everyone. By incorporating a proactive approach, the damage from freeze-thaw cycles, water, heavy traffic and solar rays can be mitigated before more extensive work or repairs are needed.
From filling small cracks and voids to completing thin lift overlays, BASF offers polymer solutions for all types of asphalt maintenance. Two of the most common preservation techniques are chip seals and micro-surfacing. "Chip seals used to be widely seen as a method used on low volume roads, but the quality of chip seals has improved enough over time to be used on higher volume roads," says Kadrmas. "Chip seals not only help to seal the road and keep the environment away from the pavement underneath, but they also provide a safe and skid-resistant driving surface for the public because of the aggregates used on the road."
In a similar vein, micro-surfacing is a treatment that combines polymer-modified emulsified asphalt, mineral aggregate, mineral filler, water and other additives that are mixed and spread with a machine over the road surface. "Micro-surfacing also helps to seal the road from the environment," says Kadrmas. "Its application looks very similar to a hot mix, and it can be used to fill in any ruts that might be in the pavement from wheel paths. It also helps to level and improve the smoothness of the road, and the aggregate provides skid resistance."
Another benefit of micro-surfacing comes in the form of how it "breaks" or hardens: while chip sealing relies partially on the evaporation of the water in the asphalt emulsion, the asphalt emulsion used in micro-surfacing contains additives that allow it to break without relying on the sun or heat for evaporation to occur. This means road work can be done overnight, reducing unnecessary traffic hold-ups and offering a cooler work environment for road work crews in hotter states.
Pavement preservation is an important and effective way to keep road infrastructure safer, more durable and more comfortable for longer periods of time. Studies have shown that there are sustainability benefits to the practice as well. "BASF has conducted some eco-efficiency studies on these asphalt emulsion pavement preservation techniques and compared them what's called 'mill and fill' procedures," says Kadrmas. "These studies have shown that these pavement preservation techniques are very eco-efficient, both in terms of the products themselves as well as the reduced volume of materials that they use," says Kadrmas. "The polymers may cost a little more, but they pay for themselves in the extra lifetime that they provide the roads."
Energy efficiency is more important than ever. 30% of energy waste is caused by losses through the building envelope, and air tightness codes around the world are demanding a fix. NEW 3M™ Air and Vapor Barrier 3015NP provides building protection that installs quickly and easily even under extreme conditions without sacrificing performance. 3M acrylic adhesive technology allows for primer-free application from lightweight rolls that saves you up to 40% on installation time* compared to traditional air and vapor barriers that require a primer.
3M™ Air and Vapor Barrier 3015 is an air, moisture and water impermeable film membrane with an aggressive, high-tack pressure sensitive acrylic adhesive. It reduces air leakage and uncontrolled airflow from the building envelope, prevents moisture ingress and helps improve indoor air quality. It does not require the use of a primer on most construction surfaces. It is an innovative, translucent air and vapor barrier that uses non-asphaltic-based adhesives, which permits an extended application surface temperature range between 0°F (-18°C) to 150°F (66°C) and a service temperature range from -40°F (-40°C) to 240°F (116°C). These increased temperature ranges can reduce or eliminate cold-weather related delays, extending the construction season in cold climates and enabling year-round construction in moderate zones.
Fosroc's recently launched Nitoflor PAFS is a new and innovative low odour, taint-free polyaspartic-based high build floor coating system. This FeRFA Type 3 system, offers the user a seamless and durable surface finish that can have anti-slip aggregates, flakes or coloured quartz incorporated within it. Nitoflor PAFS is fast curing – around 1 hour per coat depending on temperature. Unlike traditional fast curing resin flooring systems, Nitoflor PAFS creates very little odour on application, and as it has been certified as having no potential to taint by Camden BRI, this makes it ideal for use in food and beverage projects. Nitoflor PAFS can be used internally and externally, and it is this versatility that makes it an excellent choice for a variety of commercial and industrial flooring projects.
webertec mixIL is a specially designed integral waterproofing additive for cement mortar, plaster and concrete to prevent against water ingress. This additive is compatible with different grade of cement and reacts with the cementitious matrix to provide water repellent properties by improving workability and cohesiveness of mortar and concrete. Permeability of water gets reduced in concrete & mortar, resulting in more durable concrete.
Dampstop Advanced by Berger Paints is a ready to use, one component penetrative cum film-forming barrier system. An excellent interior waterproofing/damp proofing barrier system, it blocks the porosities of the substrate through partial penetration coupled with controlled film formation on the substrate surface. The nano additives in the emulsion act as pore blocker and impart hydrophobicity to the substrate, making the substrate watertight.
As businesses and governments around the world try to balance the aesthetics and functionality of commercial buildings with economic and environmental sustainability goals, the high performance building market continues to shift. A recent Global Silicones Council life cycle assessment study confirmed that silicone products can significantly reduce the carbon footprint of commercial construction. The study established that use of silicone products can help save, on average, nine times the amount of greenhouse gases required to manufacture them. Dow High Performance Building Solutions delivers the advanced silicon technology innovation necessary to help create a high-performance building: one that is energy-efficient, cost-effective, safe, flexible, aesthetically pleasing, and, most importantly, sustainable.
DOWSIL™ AllGuard Silicone Elastomeric Coating is designed to waterproof above-grade exterior masonry substrates, such as concrete block, fluted block, brick, stucco, synthetic stucco, poured concrete, precast concrete, exterior insulation finish systems (EIFS), and previously coated masonry substrates. It provides long-term waterproofing protection and maintains water protection properties even when exposed to sunlight, rain, snow, or temperature extremes.
Future prospects
Part of the difficulty stems from the cyclical nature of waterproofing. Economic cycles, building booms, weather conditions, competition, and building codes all play a role. In the years ahead, green building mandates, changing insulation requirements, and tighter building envelopes will be deciding the prospects and expanse of the waterproofing industry.
Residential waterproofing is changing, with an emphasis on better products, better technology, and better craftsmanship. For instance, carbon fibre is revolutionizing basement crack repair. The technology has been around for more than a decade, but it is now widely accepted and cost competitive. Successful waterproofing companies in the future will offer a broad range of basement repair services, which will help smooth out the bumps of cyclical waterproofing.
According to Market Research Future report, the waterproofing chemicals market has been estimated to grow at CAGR of 9.86% to reach US$32,915.00 million till 2030. The demand for waterproofing chemicals is growing because of its several benefits like sustainable edifice, low cost of building maintenance, and the protection of buildings from extreme conditions and quick weather changes. The rapid urbanization growth across the world is projected to drive the global market growth throughout the research timeframe. Moreover, the increasing demand for waterproofing chemicals among the various industries due to their lightweight, durable, strong, and versatile nature is projected to boost the global market growth during the forecast period.
Fast Facts
Rising awareness about the benefits of using waterproofing chemicals in construction projects among architects, engineers, and contractors.
Growing demand for green and sustainable construction practices that use less water and fewer resources.
The proliferation of new technologies and products that offer better performance and sustainability than traditional waterproofing methods.
The global Concrete Surface Retarders Market is expected to grow at 5% CAGR from 2022 to 2029. It is expected to reach above US$76.80 million by 2029 from US$73.4 million in 2020.
The Global Adhesives & Sealants Market is expected to grow at 4.5% CAGR from 2019 to 2028. It is expected to reach above US$85 billion by 2028 from US$57 billion in 2019.