Thermax has been upgrading its product basket year after year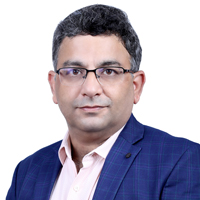 Thermax Chemical Division based on its rich experience in the field of specialty chemicals offers "Sustainable Construction Solutions" with its extensive range of products for the Indian subcontinent. In an exclusive interview to CONSTRUCTION OPPORTUNITIES, PRAVEEN KHANNA, NATIONAL SALES HEAD, CONSTRUCTION CHEMICALS, THERMAX LIMITED, speaks on the latest trends, his company's range of products, company's approach towards innovation, environment and sustainability and a lot more.
Give us an overview of the CC & Waterproofing chemicals market in India, latest trends and sector challenges.
Construction chemicals is a growing market, and with the Indian construction market on the rise, it is expected to grow further. This is one field that goes hand in hand with the construction industry. Developments in the construction industry will trigger development in construction chemicals.
Moreover, our infrastructure and residential sector projects are exhibiting a multi-fold increase, and 'construction chemicals' is a major building block to this. The construction chemicals industry is projected to grow at a CAGR of 14% in 2023-2028, which is a huge jump from 11% in the last five years.
Detail us on the range of CC & Waterproofing chemicals and its applications offered by your company. What are the USP's of your products/solutions Vis-à-vis competition. Advantages of using your CC & Waterproofing chemicals in terms of savings on construction cost, time, and labour?
Thermax, headquartered in India, is a leading conglomerate in energy and the environment space, strategically spreading its operations to markets worldwide, catering to a gamut of industries. We bring together global technologies, advanced products and innovative solutions under one basket. Thermax offers the entire spectrum of construction chemicals, namely admixtures, adhesives, grouts and anchors, industrial flooring, protective coating, repair and rehabilitation, surface treatment, sealants and waterproofing chemicals. Our USP is that we not only provide products but our highly skilled team engineers solutions for each project according to the needs of that particular client. We work out customised and economical solutions that can be executed to perfection within the time frame given to us. We also help them execute the job with our trained applicators that have years of experience and the expertise to carry these jobs out successfully.
What is the company's approach towards innovation, environment and sustainability?
Thermax is focussed on bringing sustainability to the entire production process – right from sourcing, manufacturing, supply chain management, distribution, and consumption. Thermax's offerings in green technologies, waste heat recovery, biofuels, solar, bio-CNG, waste to energy etc., show its commitment to protecting the environment. In addition to contributing to global sustainability, Thermax's solutions also strive to contribute substantially to the global priority areas of energy conservation, environment protection and enrichment of society. Gradually, we are aligning ourselves to the sustainable development goals by making our products and services environment-friendly. Our research and development team is constantly on the lookout for innovation to produce green products. Our ultimate goal is to provide our customers with sustainable construction solutions.
Have you launched any new products or launching new products in the near future?
Thermax has been upgrading its product basket year after year. Every year we come up with new products after a great deal of market research as to what our customers need and are looking forward to. Product development never stops at Thermax. As we speak, we have a few other products in the development and trial phase, which will enter the market soon.
As a manufacturer tell us about the critical challenges faced while introducing high end products in India? To what extent does cost influence a customer's purchasing decision?
There is no second thought to the fact that even the richest of the rich look for a cost-effective product. Cost has been and always will be a major parameter in judging a product, but that has never been the only parameter. However, we strongly feel that project specifications driven by consultants and architects, who are the actual brains behind new structures, must be the ones to introduce such high-end products to the market.
Challenges faced in terms of availability of skilled labor in your industry and how to overcome them.
Needless to say, the scarcity of skilled labour is one of the most critical challenges that the construction chemicals industry faces today. A major fraction of the labour market is unskilled, which heavily influences the performance of an undertaking. The projected growth of the industry takes a direct hit due to this reduced efficiency due to the unavailability of skilled labourers. The key is to train the unskilled group and brush up their skills from time to time to get them acquainted with advancements in the application processes. Building a network on which we can trust with any job is also vital to this business since it is not just about choosing the right products but also executing them flawlessly.
Thermax is well connected with a good network of applicators with an experienced team to execute the jobs to perfection. We regularly organise training programmes for our applicators to equip them with the skills required to carry out the execution seamlessly.
What is your outlook on the opportunities from renovation and repair of old existing structures for the construction chemical and waterproofing business? Can this area be considered as a new growth driver to strengthen business volumes for players like you?
Every structure needs to be taken care of at every stage of its life, be it pre-construction, construction or post-construction. Old structures often deteriorate gradually with time due to exposure to various extremities. Contrary to our beliefs, demolition and reconstruction might not be the first or ideal solution for most of the structures. They need a scientifically driven approach involving all the stakeholders coupled with expertise in material science to enhance the longevity of the structures. With the advancement in technologies, we have been able to achieve this with minimum effort, and it has been a watershed moment in the history of construction chemicals. Heritage structures that were built long back have legacy and human emotions attached to them, which makes their preservation of utmost importance. Adding strength while conserving the look and feel of it is an art we have mastered. Going forward, repair and rehabilitation will be one of our key focus areas too.
What is your strategy in a price sensitive market like India.
Thermax strongly believes in value selling. We have and will always put our customers first, from inception to execution, guiding them at every step. We have never adopted a product-based selling approach and have focussed on imparting value for the customers to make an informed decision benefitting them in the long run. We believe in the quality of our products and strive to develop the best and cost-effective solutions for the market. This not only reinforces the customer's trust in us but also brings us closer to understanding the needs and requirements better. Thermax also puts safety at the topmost level, which accentuates the value- based approach.
Which sectors are major demand drivers for CC & Waterproofing chemicals in India.
The industrial, residential and infrastructure sectors are our major demand drivers. Most of our products cater to these three sectors in abundance.
Brief us on your manufacturing facilities, current capacities, and planned upgrades?
Thermax has its construction chemicals manufacturing facility at Jhagadia, Gujarat, which has sufficient capacity to cater to the appropriate growth of the business. We are looking forward to expanding our business in other Indian geographies with upgrades when and wherever necessary.
What kind of government policy would foster growth of the Roofing & PEB industry in India
Introduction of stringent codal provisions better suited to incorporate designing solutions for the roofing and PEB industry in a tropical environment is one policy that we are looking forward to.
Future outlook on the industry and from a company perspective.
The Indian construction chemicals industry is growing with the development of infrastructure and residential space. Thermax is very keen on capturing a major chunk of this market with a combination of expert solutions and sophisticated technologies. Our goal going forward will be to become a one-stop utility partner to both industrial and commercial segments, helping customers achieve better resource productivity and bottom lines while maintaining a better environment.