Caterpillar Showcases Latest Range Of Large Hydraulic Excavators At Its Customer Meeting In Hyderabad
Caterpillar Inc., the world's leading manufacturer of construction and mining equipment, off-highway diesel and natural gas engines, industrial gas turbines and diesel-electric locomotives and long-standing Cat® dealer Gmmco organized a one-day customer meeting at GMR Arena in Hyderabad, on 8 May 2023, to showcase the latest range of Next Gen Cat Large Hydraulic Excavators. The event aided customers in understanding the cutting-edge technological innovations of the machines and helped them select the right tool for the right job.
The recently launched Cat 350 Excavator along with the 374 and 395 Excavators were displayed at the event. These products are equipped with the best-in-class technology which can help increase productivity, provide better cost efficiency, enhance safety, and offer more customizable features compared to its predecessors to meet the multi-functional requirements of the customers.
"With customer-centricity as the focal point of this event, we desire to demonstrate our unwavering commitment to providing best-in-class, 360-degree solutions to our customers". said Mukul Dixit, India Director of Sales and Marketing in Caterpillar's Global Construction and Infrastructure Division "Our Next-Gen Excavators on display are designed to maximize productivity and help increase efficiency in their business operations."
Customers could also check out the latest Caterpillar technologies at the event. These offerings are built to accommodate a wide range of job requirements, raising the bar on performance and fuel efficiency in helping customers hit their bold production and cost targets. With low owning and operating costs and easy-to-use Caterpillar technology, these excavators help the customers get tons of work done on grade and on time.
Cat 350 Excavator – High productivity and low operating cost for demanding applications
High digging force and swing torque, large bucket size minimizing cycle time and maximizing payload.
Highly efficient electro-hydraulic system and long-life filters limiting operating costs.
Reinforced structure achieving superior durability.
Supporting operations in rugged conditions up to 4,500m (14,764 ft) above sea level.
Standard high-ambient temperature capability of 52°C (125°F) and a standard cold start capability of -18°C (0°F). Optional cold start capability of -32°C (-25°F) is available for extreme conditions.
Cat 374 & 395 Excavators- Greater Productivity with 2x more Structural Durability and Lower Maintenance Costs
Loads more quickly with up to 10% higher swing torque compared to previous models. Additionally, the dedicated hydrostatic swing circuit increases productivity and efficiency.
The boom, stick, and frame are up to two times stronger compared to previous models.
Up to 20% lower maintenance costs than previous models.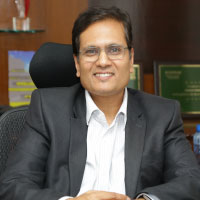 "As one of Caterpillar's long-standing dealers in India, we offer world class products and support solutions to meet customer requirement. We provide a range of solutions like buyback, trade ins, equipment rental, used machine sales and extended life programs. We constantly redefine ourselves by embracing new to exceed customer expectations." said Chandrashekar V, Managing Director & CEO, Gmmco Ltd.
The customer meeting put on by Caterpillar and Gmmco was a resounding success as it allowed customers to witness the strengths of Next Gen Cat Excavators.
About Caterpillar: With 2022 sales and revenues of $59.4 billion, Caterpillar Inc. is the world's leading manufacturer of construction and mining equipment, off-highway diesel and natural gas engines, industrial gas turbines and diesel-electric locomotives. For nearly 100 years, we've been helping customers build a better, more sustainable world and are committed and contributing to a reduced-carbon future. Our innovative products and services, backed by our global dealer network, provide exceptional value that helps customers succeed. Caterpillar does business on every continent, principally operating through three primary segments – Construction Industries, Resource Industries and Energy & Transportation – and providing financing and related services through our Financial Products segment.
Visit us at: www.caterpillar.com
About Caterpillar India: Caterpillar has been active in India since the 1930s. In India, at present there are over 7,300 people work at Caterpillar and about 4,000 people work at Cat dealers. Our presence in India includes state-of-the art manufacturing facilities, high-tech research and development, as well as numerous global support organizations. Caterpillar team and Cat dealers are spread across hundreds of locations in India to serve and support our customers and respond quickly to their needs.
To know more visit: www.caterpillar.com/india
About Gmmco: Gmmco is one of the leading construction equipment dealers in India, serving as a one-stop shop for infrastructure, mining, and road-laying equipment, DG sets, Cat products, and other construction services for all construction and infrastructure project enterprises. Gmmco is a renowned Cat dealer with a wide range of customer solutions.
To know more visit: www.gmmco.in