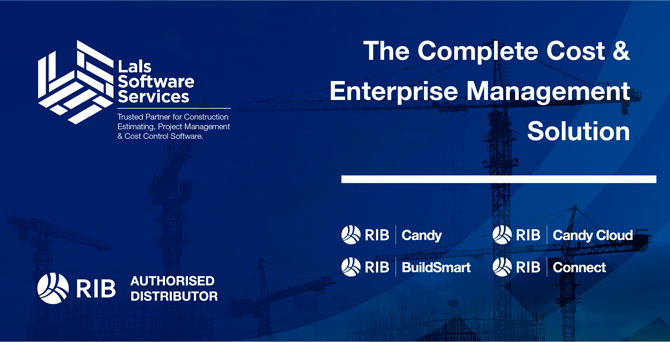 RIB products are continually evolving in line with industry and technology trends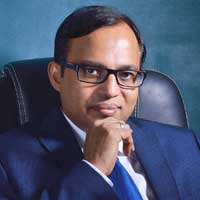 A growing number of users in India and across the world have profited from using two leading software products Candy and Buildsmart, as an integrated cost management solution. In an exclusive interview to CONSTRUCTION OPPORTUNITIES, LALU VARGHESE, MD, LALS SOFTWARE SERVICES, RIB authorised & exclusive distributor for India gives an overview on the CPM software industry, role played by his company's software solutions in bringing time cost and time overruns in projects.
Give us an overview of the CONSTRUCTION & PROJECT MANAGEMENT SOFTWARE industry, the latest trends and the business drivers?
Software solutions play a critical role in cost control to ensure that cost overruns on projects are avoided and where possible projects are even delivered under budget to the benefit of the contractor and all stakeholders. Project Management and cost control are processes that should be continued throughout the project life cycle from first estimate to final account sign-off to ensure that the cost of a project is kept within the agreed budget. Integrated software solutions that span the project life cycle, that integrate budget and actual cost and provide real-time analysis are key differentiators to contractors in a high risk, low margin industry.
Emerging technology trends could encompass the likes of BIM, 4D, 5D and 6D, which could add significant value to accurate and streamlined cost and execution of projects. However, the success of these technology advances is still hinged on the fundamentals of proper resource based and analytical estimates, critical path precedence network planning and accurate forecasting/cash flow projections. Many construction companies aren't even getting the fundamentals right yet.
RIB has been developed by contractors, for contractors to provide specialist software solutions to the construction industry – and has been doing so for over 40 years. With more than 40,000 users in over 80 countries, our solutions are trusted and loved in every corner of the globe. Users, from small and medium construction companies to some of the largest construction entities in the world have implemented RIB solutions on some of the biggest and most prestigious projects on the planet.
Having spent many years in construction, RIB has defined and refined a computerized construction management solution that allows construction organisations to evaluate, monitor and control their spend in real time – effectively integrating their cost management and reporting with their books of account. The solution makes use of the web to allow for the accumulation of daily costing data, from remote locations to a central server. The information gathered is used to compare with budgeting information prepared during the bid phase of the project.
Tell us about the solutions and services offered by your firm in the Construction and Project Management space? Brief us about software solution, its applicability to various sectors of construction and infrastructure.
Candy is the ultimate construction project management software for the built environment. From on-screen quantity take-off, estimating and project planning through to final certificate, Candy targets the unique requirements of construction and engineering contractors; providing an interactive link between the bill of quantity (BOQ), estimate and program in one exceptional project management solution.
BuildSmart is a web-based, ERP solution facility to record actuals and expenditures of a construction project (and business). From protecting margins with fit-for-purpose systems that intelligently enhance productivity while addressing siloed and uncoordinated data to delivering accurate costing and financial information; BuildSmart is legislatively compliant software equipped for the nuances of construction accounting. As a feature rich enterprise financial accounting and cost management solution, it empowers contractors to take control of procurement, plant and equipment management, stock and inventory management, and payroll and subcontractor management.
Connect transforms Candy and BuildSmart solution data into one central place so that you and your team can review, analyse and deliver accurate answers to your business critical questions – anywhere, anytime, on any device – in real-time. Helps unlock insights into each of your projects, across all stages, with project management tools designed for greater control. Customisable dashboards deliver key-project and company-wide information utilising a single view that features live updates.
What are the USP's of your products Vis-à-vis competition
First and foremost, RIB products are designed and developed from the bottom up for the construction industry by construction industry professionals. So, our direction has always been to service the construction industry's needs with technology, rather than produce a generic software package. In other words, the company's emphasis is on people and their tasks-at-hand, not technology for its own sake.
RIB Candy and BuildSmart together include modules for estimating, planning, valuations, forecasting, cash flow, procurement, accounting, wages, plant, yard and stock management and document control. Separately these are available from a myriad of suppliers, but what distinguishes RIB from all other software offerings is the degree of interconnectedness of these modules. BuildSmart is unique and sets itself apart from your typical general accounting ERP systems in that it is customized and designed to cater to the unique demands of construction where information is project based, needs to be tracked by activity as well as cost type, is being produced and processed in many different locations and is needed by management in real-time for effective cost control. This is highly scalable system seamlessly integrates all functions and stages of the construction processes and is entirely focused on and designed for construction – it is not a set of relational databases pressed onto construction people. Because the construction process is unique, complex and organic and more crucially because RIB has developed over 40 years through a highly interactive and consultative process with the industry, RIB manages the numerous links between all functions and all the people involved in the construction process in a systematic way based on how these things were done manually.
In terms of individual clients' use, both Candy and BuildSmart are extremely versatile and powerful systems and we often find that organisations under-utilise the software. It's plain to us (and them) that full use of these control systems brings massive improvement in productivity and profitability, so part of our forward customer interaction is to assist our clients in the region to realise the full potential benefits to their company through the proper use of our products without buying add-on products.
Which are the important projects with which your software has been associated with. Tell us of the role played by your software in bringing time cost and time overruns in projects with examples from some projects?
Some of the projects in which RIB solutions have left an indelible mark include:
Cable Bridge at Mupusa – Goa (AFCONS)
Oberoi Garden City (Capacite Infraprojects)
Mumbai Metro 3 Project (ITD-CEC-TPL)
Cochin Metro Rail (Cherian Varkey Construction)
Burj Al Arab ( Murray & Roberts AND AI Habtoor Engineering)
Museum of the Future – Dubai (Al Tayer Stocks)
Dubai International Airport – Concourse A
Cape Town Stadium (Murray & Roberts /WBHO)
Afcons Infrastructure Limited
The Challenge:
AFCONS was seeking software that would boost their tendering system in a highly competitive business like infrastructure development. As margins were gradually diminishing and competition increasing, the company felt the need for a more advanced tool to sharpen its tendering system.
Why they engaged RIB
AFCONS chose Candy designed by RIB to perform a dual task. Candy helped the company to not just calculate tender cost but also to provide a near-accurate analysis of tenders. By selecting Candy, the company managed to arrive at quick and correct estimation while tendering.
The Results:
The client's decision to choose Candy was justified as it surpassed their expectations and performed in the following ways:
Ease of use
The front end of the software looks like excel making it familiar to any new user. Moreover, the BOQ comes in excel format and Candy has the facility to directly upload the excel format into the system.
Fast and accurate
As required by the client, Candy provided fast and accurate estimation of tender cost and was able to accommodate even last-minute amendments from clients. With its efficient and reliable performance, Candy has become the standard for tendering for all infrastructure-related projects of AFCONS.
Could you talk of the challenges associated with convincing clients of the efficacy and profitability of software solutions and services offered by firms such as yours?
A construction company's financial sustainability is often determined at the time of tendering when the projects they decide to embark on are least well defined and numerous uncertainties exist. In order to protect their margin and financial sustainability, contractors need to undertake comprehensive feasibility studies to answer the key question all contractors should be asking: "Should we proceed with this project and if so, how will be manage our rise, cost and time?" The key elements to be considered in this process are the scope of the project, the maturity design, the supply chain and sub-contractor competency and readiness and the various project specific risks. Collaboration between owner, designer and constructor is key to improving the feasibility process, where an open exchange of information is encouraged so that contractors can more accurately estimate the time and budget to complete a project resulting in more certainly to the owner and enhanced financial sustainability of the contractors.
Our business model is very adaptable to the construction industry which is versatile. Construction companies need the control that our software brings. As a matter of fact, we are one of the few companies that have penetrated the market during its downturn. RIB Candy allows for this as it is on a rental model and scalable to the amount of work a contractor may have. If you have a lot of work require more licenses and as you complete projects, you relinquish a few. It is case sensitive. Depending on the market situation, we have certain flexibility in the way we price the products.
Please provide details on your emphasis on research, design and innovation?
RIB products are continually evolving in line with industry and technology trends. Candy, our estimation & Project control software offering, is not sold but rented on a monthly basis and new releases and upgrades are made available free of charge to Users on a regular basis. BuildSmart, our Construction Costing and Management solutions is web-based and regular upgrades are made and done centrally on the client server. RIB has a rather unique approach of adding modules or enhancements to the existing software rather than developing and releasing separate "new" applications. RIB has an active development and research team of highly qualified construction industry experts concentrating on producing focused and tailored products that ensure the integrity of data in all phases of the construction process and beyond. From the production of quantity take-offs, Estimates, Planning, Cash flows, Sub Contract Management Budget Production and Cost and Allowable reporting to the complete Procure to Pay cycle and the timeous daily cost information covering all cost elements in real time – Labour, Plant and Equipment, Materials and Sub Contractors, right through to the final books of account.
RIB system addresses the daily challenges of a construction business in a unique way.
What kind of government policy would foster growth of the Construction Software industry in India?
The Indian government's aggressive push into infrastructure has opened the gates for software technology companies catering to the project management sector. The success of any project is a result of the perfect blending of management and implementation.
RIB products are continually evolving in line with industry and technology trends. Candy, our Estimation & Project Control software offering, is not sold but rented on a monthly basis with new releases and upgrades made available free of charge to Users on a regular basis. BuildSmart, our Construction Costing and Management solution, is web-based and includes regular upgrades hosted centrally on the client server. RIB has a rather unique approach of adding modules or enhancements to the existing software, rather than developing and releasing separate 'new' applications.
Future outlook for the industry and from a company perspective
RIB is growing fast and improving every day. The future of the construction and project management software market is highly positive. Globally there is a lot of demand for construction and project management software in countries such as India, UK, USA, Canada, South Africa, Middle East, all of Asia and major parts of the African continent. RIB will certainly continue to target these markets.
We are actively engaging in new markets and at the same time supplementing their own human capital and capacity to deliver new and exciting developments, enhancements and requirements faster and more efficiently to its ever-growing and changing clientele and industry. RIB wants to keep everyone happy and has only one direction to go – up.