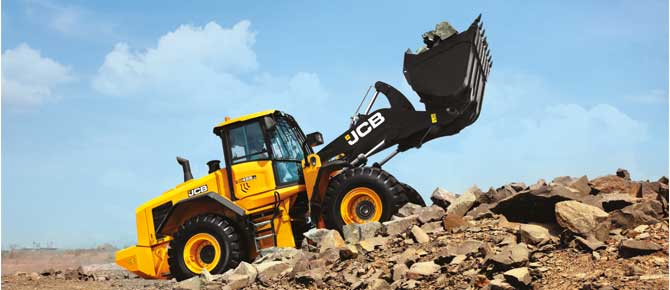 BHARAT KA JCB
JCB India Limited is a leading manufacturer of earthmoving and construction equipment in India. It started as a joint venture in 1979 and is a fully owned subsidiary of J.C Bamford Excavators UK. An embodiment of the vision of an Atmanirbhar Bharat, JCB has Six state-of-the-art factories in India at Ballabgarh, Jaipur, Pune and Vadodara (Halol). It also has a design centre at Pune which works on Domestic as well as Global projects. All factories operate to 'One Global Quality', and JCB's 'Made in India' products are being used in over 125 countries.
Investment in Infrastructure and Sales of Equipment
The Union Budget 2022-23 continues to give a strong push to infrastructure development by increasing the capital investment outlay by 33% to Rs 10 lakh crore, almost three times the outlay in 2019-20. This will create demand for construction equipment and create jobs, apart from removing the infrastructure bottlenecks. This budget lays foundation for India's development path to become a $5 trillion economy. Continuing provision of 50-year interest free loan to state governments for one more year will spur investment in infrastructure.
Supporting Urban Infrastructure and the move to prioritise 100 critical transport infrastructure projects, for last and first mile connectivity for ports, coal, steel, fertilizer, and food grains sectors is also a great step towards growth. For this, the investment of Rs 75,000 crore, including Rs 15,000 crore from private sources, will further create demand for construction and create jobs, apart from removing the infrastructure bottlenecks. While focusing on the short – term the Government has also looked at the long term by laying out the vision on Green Hydrogen and setting a target of 30 mmt by 2030. We look forward to partner with the Government's exciting journey to make India the growth engine of the world.
There has been a direct correlation between infrastructure development and equipment sales in the past. Last yea,r we witnessed a slow beginning in terms of equipment sales. This was due to a few reasons : the Russia-Ukraine conflict disrupted supply chains, and a steep increase in commodity prices led to lower demand in the year's first quarter. However, with the government's increased focus on the infrastructure sector, the cooling off of commodity and fuel prices, and the resumption of supply chains, we are seeing a steady rise in sales for construction equipment. Current trends indicate that the increase in the sale of machines with continue through this year. It is predicted that the industry will see a growth of 15-20%.
Demand for JCB equipment for government-led infrastructure projects
"For over four decades JCB has remained committed to the India growth story. From introducing the Backhoe Loaders in India in 1979, to the global manufacturing force the company has become today, JCB India has been making the nation and its communities stronger every day. With six state-of-the-art
factories in India, it manufactures a wide range of world-class equipment, not only for India, but for over 125 countries. Driven by constant innovation, revolutionary products, and adherence to global quality standards, JCB has sold over 3,50,000 machines – furthering the 'Make in India' initiative and steering millions towards empowerment. India is today not only an important market for JCB but is also the global manufacturing hub for the Group. Our focus on One Global Quality has led JCB to explore Global markets on such a large scale." says Deepak Shetty, CEO & MD, JCB India Ltd.
The JCB Backhoe Loader continues to be a favourite for Infrastructure projects for the last 42 years since it is a versatile, easy-to-use, and easy-to-transport machine. It is suitable for government projects like the Pradhan Mantri Gram Sadak Yojana (PMGSY) and Har Ghar Jal in rural areas. PMGSY was launched by the Govt. of India to provide connectivity to unconnected habitations as part of a poverty reduction strategy. According to the latest figures, about 167 thousand unconnected habitations are eligible for coverage under the programme. This involves the construction of about 371thousand km of roads for New Connectivity and 368 thousand km under upgradation. The Har Ghar Jal mission is envisioned to provide safe and adequate drinking water through individual household tap connections by 2024 to all households in rural India.
While the Backhoe Loader is an ideal machine to reach remote/rural areas, with new road development projects coming up in remote areas, we are also seeing an increase in the purchase of Excavators and Mini Excavators.
Projects of significant National Importance are gaining encouraging momentum across the country. Large-scale Infrastructure development will require larger and more productive machines, and a recently launched new range of Excavators (JCB NXT 225LC M) addresses that need.
We are also observing an increase in government tenders floated to acquire construction equipment. The municipal corporations of big states like Maharashtra, Gujarat and Uttar Pradesh regularly acquire JCB machines. In rural sectors, Gram Panchayats across the country float tenders for equipment that is regularly fulfilled by JCB.
Sales of construction equipment — a barometer of economic activity — is expected to increase in healthy double digits in the ongoing financial year on the back of increased government spending on infrastructure projects, especially in rural areas.
The industry estimates sales of construction equipment (domestic sales and exports) to grow 15-20% in fiscal 2023. Since JCB has a high market share in the sector, the demand for JCB equipment will increase accordingly. One in every two machines is a JCB and we expect that we will continue to support the government at the same level.
Growth of Electric Equipment
As an industry, Construction Equipment manufacturers are looking at the viability of electric equipment quite seriously. JCB India has been working on its 'Road to Zero' initiative for the past few years. Early this year we introduced the industry's first fully Electric Excavator, the JCB 19C-1E at Excon, Bengaluru. JCB 19C-1E is a zero-emission machine and has four lithium-ion batteries that power the machine for a full day on a single charge. With a significant focus on safety and productivity, JCB's 2GO system safely isolates all controls as a secondary safety system. Its auto-idle and auto kick-up redistribute power to preserve battery life. The machine has been introduced after rigorous testing and validation.
Manufacturers need to focus on smaller machines to make the Electric segment popular in the Construction Equipment category. These machines can work well in urban areas and indoor projects. Smaller machines can also work well inside tunnels for hydro, metro, and road construction projects. We will require a robust infrastructure to support Electric Construction Equipment. India right now is at the initial steps of the electric equipment revolution. The Government has a relentless focus on the development of EV-compliant infrastructure across the country. A private consumer expectation survey recently showed that around 66% of Indians said that electric vehicles will surpass petrol and diesel cars by 2030. For electric construction equipment, popularity will depend on manufacturers' investment to develop smaller engines that can provide a powerful experience without compromising on the overall cost of the machine.
Biggest Infrastructure Projects in India in 2023
India's infrastructure development for the next decade is lined with huge projects and government schemes. Plans to develop India's infrastructure have been given impetus through the National Infrastructure Pipeline (NIP), the National Monetisation Plan (NMP) and Gati Shakti and the National Single Window System (NSWS).
NIP is an aggregation of social and economic infrastructure projects. It aims to enhance investor confidence through better access to financing resources, and better management of projects. The NMP monetises previously government-operated sectors by transferring the operations to private companies in sectors like railways, roadways, airports, energy etc.
Gati Shakti is India's master plan for multi-modal connectivity that brings together 16 ministries to coordinate infrastructure development to ensure last-mile connectivity and network between the various modes of transportation. The NSWS is another strategic policy to implement NIP and NMP. It is an online platform where investors can apply for clearances. The issues of delays in approvals and provision of information are dealt with through NSWS.
Under the Bharatmala programme, the government is planning the construction of 22 greenfield expressways, 23 tunnels and bridges and 35 multi-modal logistics parks.
Cargo traffic in India is expected to reach 2,500 MTPA by 2025. In 2021, the Indian government announced plans to upgrade port infrastructure and an investment of $82 billion in port projects. It has identified 92 non-major ports for capacity expansion, adding 712 MTPA to the existing capacity. The government's `6,50,000 crore ($97.5 billion) Sagarmala programme will address this need by undertaking projects such as national waterways, last-mile road and rail connectivity, construction of multi-modal logistics parks, and connecting ports to freight corridors.
India has the world's fourth largest Railway Network and for FY 2023, `1,40,000 crore ($21.5 billion) have been allocated to the Railways. The government also plans to improve Railways' freight movement to 45% from the existing 26%. Railway development plans include the renovation of 400 existing stations and the development of 40 new stations. We are slated to become the world's third-largest aviation market for passenger traffic. The government plans to increase the total number of airports from 140 in 2022, to 220 by 2024. Passenger traffic is estimated to grow to 520 million by 2037. Early this year construction of 21 airport projects was approved and the government plans to build airports in Tier 2 and 3 cities. The Government of India has also introduced the National Logistics Policy (NLP) and the National Bank for Financing Infrastructure and Development Bill (NBFID) to back up infrastructure projects nationally.
The NLP 2022 developed by the Commerce and Industry Ministry aims to increase India's ability to compete internationally, generate more jobs, boost its standing in international rankings, and open the door for India to develop into a logistics powerhouse. The policy aims to make Indian goods more competitive while also promoting economic growth and expanding job possibilities.
To increase long-term funding for infrastructure projects, the NBFID bill was introduced in March 22, 2021. It seeks to establish the National Bank for Financing Infrastructure and Development (NBFID) as the principal development financial institution (DFIs) for infrastructure financing. DFIs source long-term funds from the market, government, as well as multilateral institutions, and are supported through government guarantees. Among the people of the country, there resides a sense of faith in the India Growth Story owing to its political stability and policy reforms in the past decade.
We continue to invest in Research and Development towards waste eliminations and are hopeful of elimination maximum waste in the coming years.
Sustainability at JCB
Advancing our Sustainability agenda in India, we introduced targeted interventions in our operations, packaging, and distribution, with a focus on saving waste, reducing carbon, and improving people's lives. Our Ballabgarh unit has achieved Zero waste to land fill and other plants will achieve this by end of this year. We have collected and recycled 42 MT of post-consumer plastic as part of our Extended Producer Responsibility commitment. We have completed our carbon inventory for scope-1 and scope-2 and more projects are being identified to reduce carbon intensity through addition of renewable energy and resource optimization.
We are the first in industry to shift the mode of logistics from road to rail for transport of backhoes. Total 2691 Backhoe machines have been transported by rail through 32 rail trips in 2021-22.
The Company continued to make concerted efforts to conserve and optimize use of energy and adopted various measures for the purpose, including the following:
Healthy power factor ratio of 0.99 has been maintained at all manufacturing locations.
Energy Conservation of 2400 KWH/Day is achieved through Synchronization, Monitoring, Controlling & arresting of air leakages and achieved air leakage reduction of 426 CFM
Energy consumption reduction (1400 KWH/Day) by installing LED lights for plant.
Energy Conservation of 823 KWH/Day by Installing new Energy Efficient Air Washer
Energy efficient (Low KW/CFM) Air compressor for MANUFACTURING.
Optimized use of production facilities like paint and assembly lines to reduce Specific energy per machine.
Monitoring & Control of Harmonics in power system by installing AHF to achieve best in industry THD (< 5%).
The Company has taken several steps for utilizing alternate sources of energy which may be summarized as under:
4 MW Roof top solar plant at Pune and Jaipur.
Usages of solar power bank of 40 kW (Outside periphery streetlights)
Use of electric/battery operated tools, Forklifts instead of pneumatic tools and diesel forklifts for better efficiency & reducing operating cost.
Use of PNG in place of LPG in kitchen.
Number one on our priority list is reducing total waste. Linked to this is the issue of single use plastics which, for many years, have been a wasteful use of resources. We also now recognise that they contribute to pollution of our oceans, harming wildlife, and prevent recovery of this valuable resource. We're currently working hard to understand how we can avoid single use plastics and packaging in our business.
All the manufacturing locations have taken at least 2 waste reduction projects. This has helped to reduce packaging waste by 15% and we are all set to achieve zero single use plastic usage.
Two have our manufacturing locations have achieved "Zero waste to landfill". This has been possible as the locations have started giving hazardous waste to cement industries, who co process this waste for their internal use. So all our waste becomes their raw material. This is a perfect example of circular economy wherein everything is utilised and nothing goes out as waste.
For more details visit: www.jcb.com/en-in