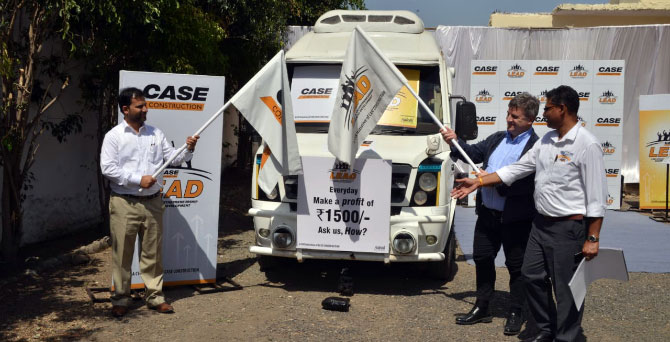 CASE Construction Equipment commemorates its Skill Development initiatives
CASE Construction Equipment reaffirms its commitment towards guiding and providing employability skills to aspiring youth through vocational training as a part of their conscientious CSR efforts in the country.
CASE Construction Equipment, a 180-year-old global brand under CNH Industrial umbrella, commemorates its various Skill Development initiatives at the CASE Skill Development Centre in Pithampur. The brand celebrates a successful year of its Hunar initiative that provides employability skills to youngsters by training them as Backhoe Loader Operators. The Hunar Skill development program curriculum is aligned with National Skill Development Corporation (NSDC) and Infrastructure Equipment Sector Skill Council. The center has trained 145 people over the past year, and is looking at adding 400 trained operators to the industry by the end of the calendar year. As of now, the company has helped get employment for 100 operators within the industry through dealer partners, industry players, vendors and suppliers or other possible opportunities in the industry within & outside the state.
Additionally, CASE also flagged-off Livelihood & Entrepreneurship Awareness Development (LEAD) initiative for the Eastern region. Initiated in March, LEAD initiative is focused towards encouraging entrepreneurship among rural youth in India. In the first year, CASE is aiming to impact over 30,000 young aspirants across 3000 plus villages across India.
Commemorating both the initiatives, Stefano Pampalone, President – Construction segment, CNH Industrial said, "Visiting our brand Skill Centre has been an incredible experience. Being able to provide excellent guidance to the aspirational youth, makes me proud of our India team. Our commitment to empowering people with the skills they require for success extends beyond the walls of our company and into the larger community. By providing access to quality training and development, we are creating opportunities for people to build better lives for themselves and their families. It is truly inspiring to see the passion and dedication of those who are enga ging with these initiatives, and I am gratified to be part of a company that is making a positive impact in the communities where we operate. With our existing as well as upcoming initiatives we aim to provide necessary tools and resources to local communities to contribute towards the country's economic progress."
The Hunar Skill Centre, which is based in Sonway, Rau, trains several professionals each year as part of the Central Government's Skill India Mission. CASE Construction is committed to imparting training through a short duration vocational training program to the self-motivated youth and also help them find employment in the ecosystem. Aligned with NSDC's vision to fulfil the growing need in India for skilled manpower and narrow the existing gap. The construction equipment sector's growth has led to the requirement of skilled operators, mechanics and supervisors for the industry.
CASE Construction has also started the LEAD initiative which focuses on subsidiary or allied activities in infrastructure & agricultural sectors to generate income, create livelihood opportunities through awareness creation and training. The door-to-door awareness program will educate youth about the entrepreneurial ventures in local areas across the eastern region, under agriculture, rural industries (poultry, dairy, bee farming, and fisheries) and rural infrastructure (road construction initiatives and irrigation). The initiative is intended to interact with local youth to stem the tide of migration to urban areas in search of jobs and also encourage reverse migration.
CASE is committed to promoting the expansion of rural entrepreneurship in India with the help of regional partners and stakeholders. The brand focuses on providing up with innovative solutions to the unique concerns that the communities experience in the context of problems like unemployment and economic inequality. By cultivating rural youth to become professional operators and assisting them in finding employment in the industry, CASE Construction seeks to meet the requirements of the community as well as the industry.
A global leader in Construction Equipment since 1842, CASE has been present in India since 1989. It has consistently remained a market leader in the Vibratory Compactor segment and a leading player in the backhoe loader segment, since inception. CASE offers a full range of construction equipment in the country and produces Made-in-India machines at its state-of-the-art manufacturing facility in Pithampur, Madhya Pradesh for domestic as well as over 75 export markets.
For more details visit: www.CASEce.com