Interaction- Rijul Sankhla, Co-Founder & MD, Sakshi Resources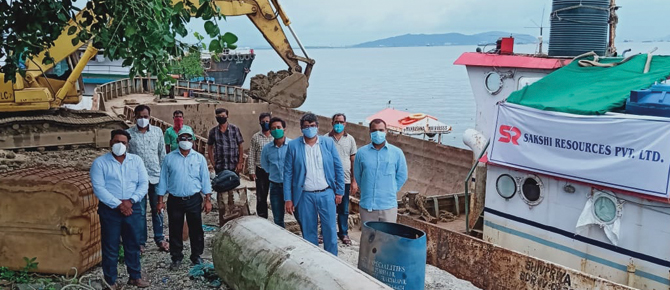 Sakshi Resources will definitely play a major role in building a New India
Sakshi Resources Private Limited was established with a motive to provide supreme solutions for all the complex urban and industrial infrastructure projects. As one of the fastest-growing infrastructure companies, the company provides its best services in Marine Engineering, Civil Construction, Electrical Engineering, Road Engineering/Slip form paying, and Quarrying business. The main motive of the company is to deliver projects on time using the latest infrastructure technologies and world-class management techniques. In an exclusive interview to CONSTRUCTION OPPORTUNITIES, RIJUL SANKHLA, CO-FOUNDER & MANAGING DIRECTOR, SAKSHI RESOURCES, speaks about company's journey, his company's approach towards adopting best construction practices and technologies and a lot more.
Give us a brief of your company and its services. How has been your journey till date?
We are a decade old company having operations in India & the UAE. We specialize in marine engineering, electrical engineering and concrete road works. We have also been focusing on mass excavation and sub-structure jobs which we have success fully done at New Delhi airport and MLDP at Okhla as-well. Presently, our flagship project is with the Mumbai Port Trust, wherein we are reclaiming 8 hectares in the middle of the Arabian Sea under the 'Sagar Mala' which is the Maritime Welfare policy of the country. Over here HPCL & BPCL are to develop their silos to add to the fuel security of the country, this is the Phase 2 of the project wherein bund creation and bulk water work is to be done which we are also targeting.
In the UAE we started our operations three years back and we have reached a turnover of close to INR 400 crores this year which is quite impressive with the supportive and stable vision of the of the UAE government. In the UAE the prospective major client would be the RTA for concrete works for the up-incoming highways in the region. Our journey has been steady, we haven't over achieved or over expected and our focus has always been to provide the best of services to all our clients in the shortest possible time.
Give us an understanding about the company's approach towards adopting best construction practices and technologies that has contributed in strengthening its footprint in India?
I would like to go back to the rock bottom i.e. the construction equipment which is the most important factor in delivering top quality projects on time. We have exclusively partnered with Schwing Stetter India for our equipment requirement. We have recently purchased the largest slip form paving package in the country which paves 16 meters in a single pass, top quality batching plants etc. Apart from the machines ,we also invest a lot on top quality man power so that the advanced machines can be operated to the best of its capacity in order to deliver top quality projects to our esteemed clients. So in short the quality of your machine and your man power is the base for any good construction project.
What is the reason you have exclusively tied up with Schwing Stetter
Quality and the support we have received from Schwing Stetter is far superior, we do not have to worry about spare parts which we may require or any trouble shooting to be done at site or during transport even to the remotest location, in fact one of our large format batching plants, a 160 cu.m/hour r situated at the  Samrruddhi Expressway project nearby Shiridi went astray and the same was replaced even without my knowledge. We are small clients of Schwing Stetter but the top management along with its team are always available at any given point of time. Also Schwing Stetter have a very consultative approach wherein they customize their equipment according to our needs and requirement.
Give us a critical assessment on the technology trends driving the construction practices in India?
India is briming with technology which is no way inferior to countries like China and Europe. Lot of advancements have happened in the last 5 years, technology is accessible to all. Technology is driving the economy forward and helping the industry to optimize its resources which in turn helps the profitability of the company and boosts the economy of the country.
As a contractor  tell us of the crucial challenges faced by players like you while executing projects in India? Is there a concern on smooth availability of financial resources and what is the company's approach in funding projects?
I wouldn't say challenges but sometimes we do come across minor speed bumps. With regards to funding of projects we are very conservative and do not cross our boundaries to get a project. We aim to always fund our company internally before resorting to external lending.
Which mode of project execution — EPC/BOT/BOOT/DBFOT – can be considered as a favorable approach for road projects in India?
EPC would be my 1st choice but from a government or clients point of view BOOT would be the preferred choice.
Future outlook for the industry and from a company perspective
The industry on the whole is on a fast forward when it comes to infrastructure development. The government has clear plans and the MORTH under the able leadership of Honourable Sh. Nitin Gadkari is playing a great role in India's infrastructure development. He inspires and we aspire.
With regards to Sakshi Resources in the next five years, we will be expanding to UK and other African countries and would only be doing niche jobs and would definitely play a major role in building a New India.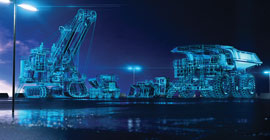 LEAD STORY - Next Gen Construction Equipment