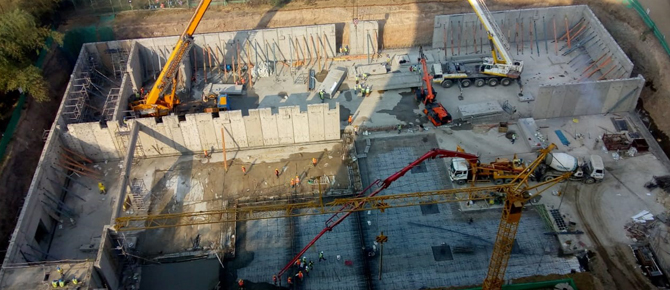 Eliminate Cast In Situ Joints in Precast Projects for long term sustenance and profitability
Kapilesh Ajit Bhate, MD,  Precast India Connections, a young Civil Engineer from Pune, has completed some key end to end projects which have received multiple National Level Awards from Indian Concrete Institute, Association of Consulting Civil Engineers, Institution of Engineers and Builder's Association of India. Under his leadership Precast India has conceived, innovated and patented a method of achieving a dowel sleeve connection even in the horizontal direction and launched the Precast India Connector (PIC) via its new venture, Precast India Connections
Precast India Connections is a new venture from the team of Precast India Infrastructures Pvt. Ltd. Precast India has conceived, innovated and patented a method of achieving a
Dowel-Sleeve connection that functions even in the horizontal direction.
Various Plug and Play applications in beam to beam and wall to wall connections
ready to use in your Precast Projects instead of the usual "Cast In Situ Open
Junction" or "Stitch Junction"
What are the Current methods of Wall to Wall connections across the vertical joint (ie in horizontal direction)
1. Wire loop system
This connection is widely used in the residential sector or sometimes even the commercial projects however, it is well known that these connections cannot be classified as ductile connections and often known as "soft connections" or notional connections to just align the wall panels together and to avoid a progressive collapse, which also relies more on the shear keys provided in concrete more than the loop itself. Also, in such cases, these wall panels are designed as individual panels with dedicated vertical reinforcement required for each panel right from footing top level to the terrace level. In other words, despite of the presence of say, 2-3 walls next to each other, their combined effect cannot be considered in design to increase the length of shear wall in plan and hence, cannot act as one single long wall to gain srtuctural benefit. Furthermore, this connection isn't recommended in seismic areas by most Structural Engineers
2. Cast in Situ Stitch Joint (also known as the "Steel loop system")
The design challenge of "individual panel design" which is posed by the wire loop system is somewhat overcome by adopting the steel loop system. By having overlapping loop bars and certain vertical reinforcement inside them, it is assumed to act as a force transferring mechanism from one panel to another, and hence, if there are multiple panels next to each other, then they can be assumed as a single long panel, in the structural analysis and design stage. However, as simple as it may sound on paper, the actual manner in which it is achieved on site is very difficult. There is tremendous congestion in the junction, which is often open for a width of around 300mm. Miniscule quantities of shuttering and concreting (or grouting) is very time consuming, costly and quality assurance of such minor quantum of work is difficult. It is prone to bulging and the joint looks aesthetically different and is difficult to treat. Not only is it difficult on site, but it is also difficult to have protruding loops from the mould shutters as well, at the time of casting, which may include bending/ rebending etc.
What is the PIC?
PIC is based on a simple and proven precast connection technique – DOWEL and SLEEVE
The Dowel-sleeve connection is used very widely for panel to panel connections across the horizontal joint
Usually, the material of the sleeves in such cases is corrugated pipes or sometimes even cast iron couplers.
The use of dowel sleeve method in the horizontal connection (across the vertical joint) was hitherto conceived IMPOSSIBLE by the precasters or structural engineers due to clash between the sideways projecting dowels while lowering panels during installation
However, Precast India has conceived, innovated and patented a method of achieving a dowel sleeve connection even in the horizontal direction and launched the Precast India Connector (PIC) via its new venture, Precast India Connections.
Why go for the PIC?
1. Vs Wire Loop
The PIC is NOT comparable to the wire loop. The PIC is a stronger and ductile connection whereby we get an emulative monolithic connection and the multiple panels connected via the PIC can be considered as one long wall, thereby reducing the vertical reinforcement and related costs to the precaster by almost 30-40%
2. Vs CIS Stitch Joint
Since the PIC is an emulative monolithic connection, it can be planned to replace the "CIS Stitch Joint", but in a very efficient manner, in terms of Time saving, Manpower saving, Ease of Operations, Higher Quality Assurance but at the same cost.
The PIC is also a much professional, quantifiable and qualitative substitute to the messy and labourious "CIS Stitch joint"
PIC is Conceived in India, Designed in India, Made in India, By an Indian Precaster
Precast India, is a fellow Precaster just like the other daring precasters in India who chose to adopt the new technology.
Precast India is not a pure hard core connection suppliers working in the market
This product and system is an ode from one Indian Precaster to the other precasters who are facing issues in terms of cost overruns or time overruns like we were, way back in 2016 or for those who desperately seek an alternative to the CIS joints in Precast Projects who often induce risks
The product is carefully designed by feedback from our own production and installation engineers and under guidance of able product designers and consultants from all over the world. After nurturing and developing the idea for almost 7 years in our own projects, we feel that we are ready to share this with other fellow Indian precasters at very economical rates
Applications already performed in Precast India
Shear wall to shear wall connection
Retaining wall to retaining wall connection
Rebar continuity in beams to avoid in-situ junction by casting column upto beam top instead of beam bottom
Positive feedbacks from Leading Professors worldwide
Prof. Rolf Eligehausen, Germany – Mentor in European Technical Approvals and overall guidance
Prof. Akira Wada, Japan – Original guidance and test support
IIT Madras – Guidance in Indian Testing and approvals
IIT Bombay – Peer reviewer of some Projects in which this system is used
Positive feedbacks from Leading Structural Consultants from India
Dr K Shantharaju
SW Mone and Associates
TRC Internationanl
Melior
Metey
Precision Precast Solutions
Features of the Product
Proven Dowel-Sleeve methodology
Multiple options to slide the bar from Donor to Receptor
GSI Attachments to indicate grouting completion and non spillage
Optional Holdfast cum Supplementary Reinforcement Plates to fix in position
Indication can be provided to denote that the bar travel is complete
Tolerance Analysis performed for 12mm to 20mm rebar sizes
Aligner Plate and end caps to fix to shuttering in an easy manner
Minimum re-training required to staff for grouting and shuttering
Least amount of openings seen in elements
Factory assembled product so it is very comfortable and convenient to use and fit in the reinforcement cages
Can be used in horizontal as well as vertical casting
Same product can be used in left or right orientation
There is Universal size of Donor whereas Receptor is in 2 sizes, Small and Medium
a. Small – for 10 and 12mm dia bars
b. Medium – for 16 and 20mm dia bars
Message from the MD's desk
Being a Precaster in India ourselves, since more than a decade, in the first 3-4 years of operations itself we conculded that if Precast as a Technology and Industry as a whole, has to survive and succeed or in fact, "not fail", like several notable ventures/ projects over the past decade unfortunately have, it is very important to DE-LINK the Precast Concrete elements (almost 95% of the quantum) and the CIS junctions (hardly 5%)
The whole advantage of precasting is lost when at site, one has to again pour CIS concrete, that too in miniscule quantities at the junctions. This takes time, effort, energy and resources while creating coordination issues and ultimately, gives birth to an overall time and cost overrun which more often than not, cannot even be quantified and ultimately kills profits by increasing overheads and rising tensions due to uncontrollable delays
According to us, similar to the technological advancement in the production process of Precast Technology, there was an urgent need to also innovate the connection processes, but not necessarily in an expensive manner, but by thinking of some ingenious and simple ideas which can be implemented easily in the design, detailing, production and installation stages
Usually dividing the Precast Project into multiple agencies is a recipe for disaster. While companies need to take their own decisions whether to hire cranes or trailers via agencies or invest in them as capital, is a difficult decision, but certainly, by eliminating CIS junctions, the business owners can definitely eliminate one agency and reduce the risk of dependency on multiple agencies. Usually, it is observed that since the quantum of CIS junctions in walls and columns is low, the rates demanded by such agencies are unreasonably high, but unfortunately, rightly so. Although the quantum (from cost and effort) is low compared to the project cost, believe it or not, the critical path of the entire project then depends on these CIS junctions and their few labour. We are of the firm view, based on our experience that Installation of upper floors should not be halted due to CIS junctions. Installation of columns and walls of upper floor should take place independent of CIS screed or CIS junctions
The birth of the PIC has taken place by this very thought – if you want to succeed and be profitable to take the real advantage of the Precasting in the factory, then the junctions must be done without CIS concrete, and rather with the help of a chosen trusted few in-house labour who are trained well in grouting
One of the reasons of Precast India's successes is this mind-set and continuous innovation and the blessings of good Structural Engineers and of course, Clients, along the way who appreciated this approach and allowed us to implement these innovations for the past 6-7 years.
For more details visit: www.precastindia.co.in